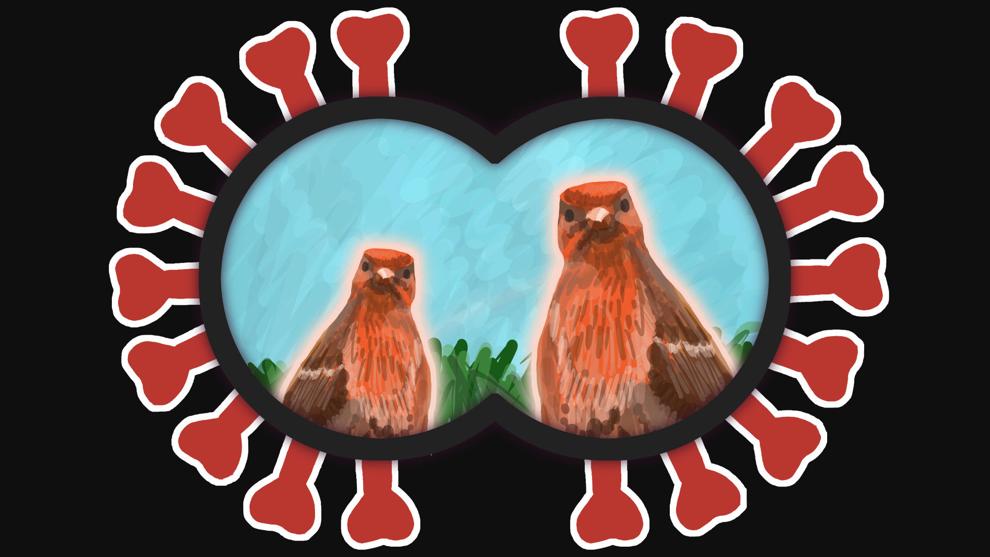 Do pigeons think we went extinct? Are crows bummed that they can no longer hit up their favorite UW students for snacks? Are the birds that start singing outside your window at 5 a.m. rejoicing in our recent worldwide drop in carbon emissions, or are they just celebrating springtime?
Like many students, Olivia Sanderfoot, a Ph.D. candidate in the school of environmental and forest sciences, has had to adjust her research topic in the wake of COVID-19. She initially set out to research the effects of prescribed forest burns on wild bird populations. Birds, compared to humans, have more sensitive respiratory systems and can be more vulnerable to airborne pollutants, but there has been little published research on pollution's effects on birds. When Washington state started shutting down, Sanderfoot decided to turn to crowdsourcing data on bird behavior with the UW's quantitative ecology lab during this period of social distancing.
Air pollution and noise pollution have both decreased in our region lately, largely thanks to the reduction in traffic. Air pollution may generally be more noticeable — it's often visible and has short- and long-term effects on human health — and noise pollution is often overlooked, but noise also has significant impacts on animal behavior and the health of entire ecosystems.
In this (temporarily) clearer, quieter world, you may be noticing more bird activity than before: different songs, louder vocalizations, or increased bird movement throughout the day. But at this stage, it's hard to say whether these changes are an indirect result of social distancing measures or whether staying home has simply enabled people to more closely observe behaviors that were already happening.
"There's a lot of cool stuff that we could see, but that doesn't necessarily mean it's different," Sanderfoot said. "It just means that we finally have the opportunity to observe it, which is pretty cool, too."
Her research asks volunteers to devote at least 10 minutes a week to bird observation and recording their findings; they will repeat this process in spring 2021 to compare the yearly data.
There are a number of potential variables on bird activity during this pandemic that are impossible to predict. Sanderfoot gave the example of outdoor cats to demonstrate how there could be multiple reverberations of social distancing's effects on wildlife.
"Cats are very bad for wild bird populations," Sanderfoot said. "They're one of the number one risks to birds. And maybe with people being home, they're keeping their cats inside more because they want to hang out with their cats … But with vehicles off the road, that also allows invasive species like cats to more freely roam between neighborhoods. So there could be greater movement of invasive species that wouldn't normally be able to cross roads."
A happy side effect of Sanderfoot's research model which relies on citizen (i.e. non-"scientist") volunteers, is that it encourages deeper community connection with nature.
"We're all spending a lot more time inside; I thought if we could get people outside for 10 minutes a day connecting to the birds in their backyard, that would be good for their mental health," Sanderfoot said.
Birds can offer surprising benefits to our own (human) lives, in addition to the vital functions they serve in ecosystems. Sanderfoot mentioned a 2017 study that showed that the number of birds people could see around their home environments correlated to better mental health.
"That really shows that biodiversity is important not just for ecosystem health and sustainability, but for our own mental health," Sanderfoot said. "We need to know that there are lots of living things out there that are part of our world too."
You don't have to be an experienced birder to be able to appreciate avian life around you on your daily government-sanctioned walk. It can start with slowing down, consciously tuning in to the sounds and movements around you, noticing flashes of color and song.
As certain counties in Washington continue to transition out of strict stay-at-home orders, Sanderfoot is curious about how people's relationship with the environment will have been altered by this period of isolation.
"I think it's going to be really interesting to see how we treat green space moving forward," Sanderfoot said, noting that people may be newly appreciative of the natural world, or may instead overcrowd parks and resume littering and polluting.
Sanderfoot got into birding as an undergraduate almost by accident. Seeking an easy course to finish up her senior year — which had been filled with personal and family heartache — she enrolled in a birding class which would forever alter the trajectory of her research and career.
"It was difficult to focus in school, and yet it was not hard to focus [on] birding," Sanderfoot said. "It was like this very cool, productive thing that I could do that took me away from my own problems, and I could just spend hours doing it."
Birds, which have been facing devastating environmental challenges over the last few decades, are a symbol of hope, beauty, and survival for many (think Emily Dickinson and Maya Angelou), in addition to serving indispensable ecological functions. 
"I feel like when I am birding, I am lighter," Sanderfoot said. "I know that sounds super corny, but truly, I think that birds have the ability to connect us with nature and take us away from our own life for a moment and walk into this whole other world that's just outside our window. I think it can be very good for our mental health. It certainly has been for me."
Anyone can participate in Sanderfoot's research, which will wrap up for the year June 30; for more info and to sign up to be a birdwatcher in your own community, click here.
Reach Health & Wellness Editor Mac Murray at science@dailyuw.com. Twitter: @merqto
Like what you're reading? Support high-quality student journalism by donating here.