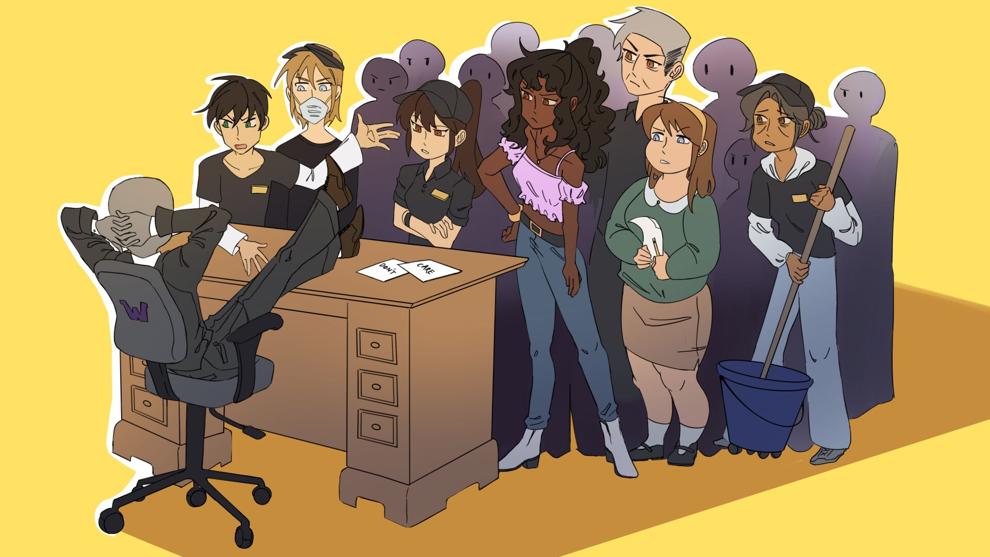 Housing & Food Services (HFS) workers are the student employees who sort through your plentiful Amazon packages, serve you meals, and assist you through the perils of dorm life. They are the unsung heroes on campus, with HFS providing jobs for over 1,000 students.
Yet, for the Resident Advisers (RAs) on campus, working for HFS means they're on the clock even when they're at home. While HFS claims to "enhance student life" for its employees, the threat of losing housing or unfair compensation makes life as an RA much more difficult than just writing up noise complaints.
According to the 2020-2021 Residential Adviser Contract, RAs agree to "[defer] all requests from the press including [T]he Daily, to a supervisor or HFS Communications and Marketing." 
In order to speak on this topic, an anonymous group of RAs wrote a collective statement to address issues within their workplace. The simple fact that HFS workers can't speak to their experiences without the threat of being fired is another added stress to the already high demands of their job. The silencing of RAs does nothing except serve as a feeble attempt to maintain HFS's public image.  
"It is overall just really hard to live where you work," the RAs wrote. 
Per the Resident Adviser contract, RAs are compensated "at a rate equal to the cost of the room and $18.21 per academic quarter day on their Dining Account," along with funds for laundry. While we can all agree that free housing is desirable, is it enough to support students financially? 
"We're not actually employees that are protected by worker laws," the RAs wrote. "Many people need supplemental jobs even with the time commitment of this job."
RAs are also faced with the threat of losing their housing if they breach the standards laid out in the Position Agreement contract. If RAs are terminated from their position, they have just 72 hours to find alternative housing and are financially responsible for all housing costs.
"The constant threat of losing our housing over any mistakes we make adds such a high level of stress to our already high-demand lives," the RAs wrote. "There is just a high emotional toll it takes to be an RA and a student within ... a system that does not value our work while also having housing threatened."
The threat of being fired for not fulfilling standards, such as having a 2.45 cumulative GPA, is stressful enough, adding to the terrifying reality of having to find alternate housing within three days.
"The burnout rate is incredibly high, as we are trying to juggle our full course loads on top of all the responsibilities we have in this role," the RAs wrote. 
So for those living in the dorms on campus, let's treat our RAs and student workers around campus with respect. We must acknowledge that those who assist us in our daily needs deserve stable housing and fair compensation at the very bare minimum. 
Reach contributing writer Adysen Barkhurst at opinion@dailyuw.com. Twitter: @adybarks
Like what you're reading? Support high-quality student journalism by donating here.