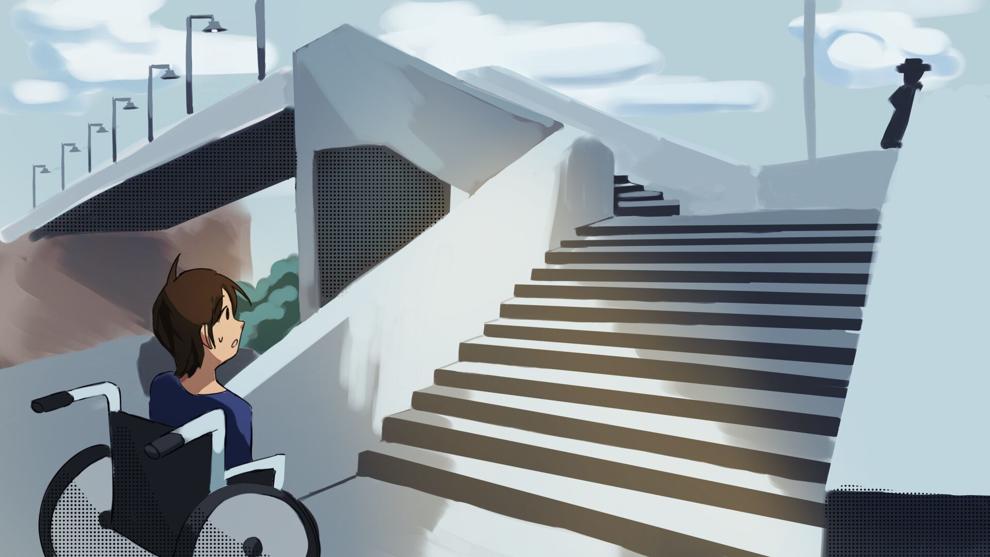 All across UW, we're experiencing worker shortages and understaffed departments –– Disability Resources for Students (DRS) is unfortunately no exception.
Especially considering autumn quarter's sudden shift to extensive in-person programming, many students are needing accommodations from DRS, with physical space on campus a consideration now — rather than just accommodations for online courses. Across the three UW campuses, around 5,000 students are receiving accommodations from DRS.
However, DRS accommodations aren't all that easy of a process.
For sophomore Thomas Sefair-Lopez, an undergraduate with cerebral palsy, it was a months long ordeal to get the room accommodations he needed. Sefair-Lopez requested a studio in North Campus, due to the convenience of physical proximity to his classes, and was initially told he would be granted this. However, in July, due to the June pipe burst in Oak Hall, Sefair-Lopez was informed that his options were just a single room in Lander Hall or Mercer Court, which are both located on West Campus.
Sefair-Lopez ended up taking the single room in Lander Hall, as he lived there during his freshman year, but it wasn't an ideal situation for physical mobility, having to park his walker in the bathroom, for instance.
The night he moved into his room, the fire alarm went off, and Sefair-Lopez had to get down from the sixth floor using the staircase with a walker, and there was no one else in the hallway that could assist him. He didn't have an evacuation plan and only knew that things were fine once the fire department showed up and let him know that it was a false alarm.
"I think the fire department has to report something in their records that they found someone, because a few days after, I heard back from Housing and Accommodations that, supposedly, a studio on North Campus randomly opened up that met my accommodation needs and that they were able to move me in that weekend," Sefair-Lopez said. "So I thought that was a weird coincidence … They solved most of the problems, but … I believe it's still important to call them out on these situations because it shouldn't have taken months and also so many hurdles just to get a [room] change done."
In addition, Sefair-Lopez found that there was a big issue with ADA-compliant rooms at UW, with how few rooms there were that could actually fit his needs.
"For example, that issue I had with housing — I was told that, technically, there were only two rooms on North Campus that are able to fit my needs," Sefair-Lopez said. "Just the thought that there are only two rooms that meet my accommodations and the fact that these buildings are all new is really shocking to me."
This long and arduous process of actually getting what he needed is terrible, but, sadly, not uncommon. In general, there is a problem with the DRS process being strenuous, complicated, and time-consuming. Disabled students have to very actively advocate for themselves, rather than get automatic support from DRS.
"It's really up to the student to be their own self-advocate, and that's really an issue of [UW's] accessibility model," Toby Gallant, interim director of the Student Disability Commission (SDC) said. "Accessibility should be put in place. It's really seen as an afterthought, and DRS is much more reactive than proactive."
Peyton Goodwin, a junior who sought accommodations during her freshman year, said that despite the importance of self-advocacy, she wishes it wasn't necessary for so many disabled students to get the help they need.
"When it comes to disability, disabled students have such unique struggles that the barriers and boundaries that someone would have to persevere over are in direct conflict with their disabled identity," Goodwin said.
On top of this, it is abundantly clear that there's a general stigma in the UW community regarding the idea of getting accommodations and how some individuals believe that it gives unfair "advantages" to students — which is absolutely false and contributes to some students not even seeking out the support they would benefit from.
"Some professors and students see accommodations as an unfair advantage, when in reality accommodations level the playing field," Gallant said in a text message. "Because of this stigma and lack of understanding of accommodations/disability, many students who may need accommodations are too scared to reach out to DRS. So even though we technically only have '[5,000]' students in DRS, the actual population of students who need accommodations is much higher."
There's also just an issue of misunderstanding what exactly accommodations are and how they work, especially considering the experience of professors navigating DRS. This is an important part of Ph.D. student Kelly Mack's research on accessibility and adaptive technology at the School of Computer Science & Engineering.
"A lot of times, there's kind of a misunderstanding around handling accommodations, like sometimes, professors think that if they set something up with DRS, then that automatically means it's accessible," Mack said. "When actually, there's a longtime delay and the student won't actually get that in time for class, for example. Or other times, the student will be waiting on DRS to get something … and then it turns out the professor never sent it to DRS."
This issue is multiplied when considering that there is still the prevailing issue of how disability is so narrowly defined, and that you are only considered disabled if it is visibly apparent, which is simply not the case.
During her freshman year, Goodwin interacted with a worker at DRS to discuss getting accommodations and was met with this myth of "real disabilities" and an overall lack of support.
"He essentially told me that the system was almost always at full capacity and that they had to deal with a lot of students with 'real disabilities.' That was his language. He was like, 'We have a lot of people who need a lot of help and we have people with real, serious disabilities, and so we're almost always at capacity and it's really hard to get an accommodation,'" Goodwin said. "When he said that about the 'real disabilities,' there was this insinuation that my psychiatric disabilities were not the kind of disabilities that they were in support of and that they were covering."
Before the COVID-19 pandemic, the SDC collected 19 anonymous testimonials from Deaf students and students with disabilities regarding their experiences with DRS and whether they chose to get accommodations or not.
Across these submissions, there was a recurring theme of students mentioning the difficulties of communicating with DRS staff, as well as the process being lengthy and complicated. 
A few students said they had some good experiences with DRS, but it seems that the bad tends to outweigh the good. 
One student wrote about the frustrations of needing an official diagnosis and the necessity of having to be on certain medications to actually get the accommodation. Gallant and Goodwin expressed these frustrations as well.
Sometimes, it seems that it's easier to individually ask your professors and TAs for accommodations, especially when they're more understanding and willing to do so. 
A big issue mentioned in these anonymous testimonials — and that both Sefair-Lopez and Gallant have experienced — is that students have to talk to DRS weeks in advance of the start of the quarter to possibly get an accommodation.
"I was gonna try to go through DRS for accommodations but I had to go through that weeks before the start of the quarter," Gallant said, speaking in regard to medication for his mental disabilities.
In some cases, sending in an accommodation request is doable, but in some cases, it just isn't feasible, and this needs to be accounted for.
"They told me, 'Generally, it's a student's responsibility to go inside the classroom themselves before the quarter starts to determine if the room's accessible or not,'" Sefair-Lopez said, regarding his classroom relocation accommodation. "The issue is, DRS wants these accommodations sent in weeks in advance, and if I were to be an out-of-state student or a freshman or something, then that could be an issue … Overall, it kinda sucks … when you request something [and] you're basically listening to an able-bodied person tell you 'no.'"
However, it's also super important to recognize that we can become disabled at any point, Gallant said, so it's really frustrating that you can't actually get your accommodations until the next quarter starts. Gallant himself won't be able to get accommodations until winter quarter.
A part of the problem is that the accommodation process is different on the university level when compared to high school, where accommodations are frequently customized for the individual, according to Sefair-Lopez.
"But here at UW, and supposedly other institutions … it sounds like DRS, when you request accommodations, they're clicking on buttons," Sefair-Lopez said. "So there's basically just pre-made set accommodations in their system, and they're not able to be customized to fit your specific needs."
It's clear that there is an issue with the DRS accommodation process and that sweeping changes are necessary. However, it goes beyond DRS — though DRS is culpable as well.
"DRS is extremely understaffed right now, as well as underfunded, so a lot of that comes from the top of UW, so I really don't wanna put all this blame on DRS because it really is an institutional thing," Gallant said.
It's really easy to start pointing fingers and blaming individuals, but like all other systemic issues in this country, we must look at the institution of UW as a whole.
These institutional problems, especially the understaffing, are very much tied to our capitalist culture where we promote scarcity and a very defeatist "it is what it is" nature. This absolutely applies to the accommodations process, both in regard to students getting the help they need and in letting these students feel confident and supported in asking for help. Help and support have been rebranded into something that is also apparently a "scarcity."
"I think there's this idea that the university's resources are spread so thin, and so I myself, as someone from a background of privilege, really struggle with asking for help because I'm worried that that's going to negate the help offered for others," Goodwin said.
I mean, just look at the setup of UW, whether it be through our attitudes or the literal make-up of the physical campus. It's no secret that UW fails on accessibility and properly supporting our disabled communities. See, for example, Sefair-Lopez's housing issue, where there were only two rooms on North Campus that could fit his needs.
This is ridiculous and unacceptable and is an excellent example of UW's failure to prioritize disabled students — one of our many vulnerable communities not being properly supported.
UW has become even more inaccessible with our transition to in-person learning — given that the vast majority of us actually have to be on the physical campus now.
"That's already a big transition for all individuals, especially disabled-identifying individuals, whether they be wheelchair users [or] mobility aid users," Gallant said. "We not only have the issue of academic ableism and inaccessibility in the academic sphere, but now our physical campus is also inaccessible, as well."
Zoom learning during the earlier part of the pandemic is incredibly relevant to achieving quality accessibility today and in the future, but it's also a show of UW's blatant disregard for disabled and/or immunocompromised students, especially with how quickly the university has shifted gears to being back in person.
"We just had a year of online learning, and we learned all these great resources and tools, and we came back here, and it feels like we just forgot everything," Gallant said. "I don't think people understand the importance of hybrid and asynchronous materials, and I really thought that the pandemic would really be a learning moment for a lot of higher education institutes, but it's kind of sad to see that … it seems like the administration wants to completely move away from it because they constantly keep promoting in-person."
If UW hopes to stay true to their statements of supporting diversity, equity, and inclusion, they must make disabled communities and accessibility a priority. UW must be invested in every community and every student, and that needs to show through actions and students' lived experiences, not just milquetoast press releases.
Reach Opinion Editor Deborah Kwon at opinion@dailyuw.com. Twitter: @scoobydeeby
Like what you're reading? Support high-quality student journalism by donating here.