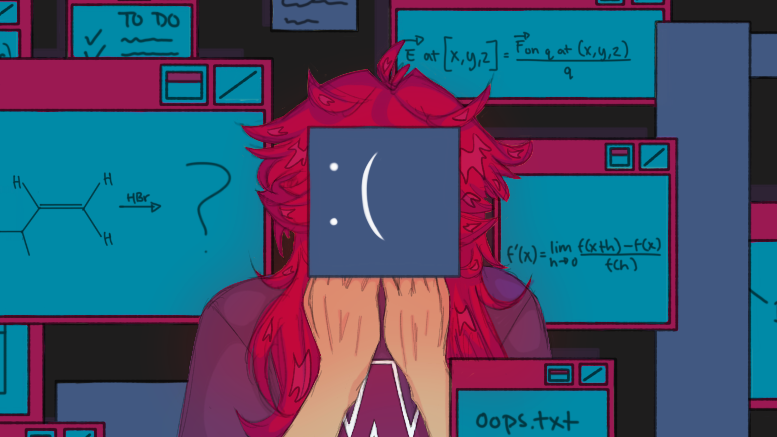 Trigger warning: This article contains mentions of suicidal ideation.
Editor's note: Sources interviewed in this article chose to use pseudonyms out of fear of repercussions.
It's a tale as old as UW itself: hard classes create stress, which can inflict lasting damage on students' mental health. But for many students in UW STEM classes, the stress that comes with the university's most notorious majors is snowballing into something much more insidious — sometimes to the point of suicidal ideation.
The environment that pushes students to this point begins with what many view as an unmanageable workload: a seemingly never-ending list of assignments, readings, and labs, which can feel, in the end, only tangentially applicable to the culminating test.
"Some people go to sleep at 3 a.m. and they wake up the next day at 6 a.m.," Ali, an undeclared second-year currently taking BIO 220 and organic chemistry, said. "Three hours of sleep just because there's so much to do. Professors say 'Do the reading,' and it's a 100-page reading, and then you go to the lecture and they teach you something that's not in the textbook."
For all this work, students find it difficult to ask for extensions. The culture in STEM classes suggests to students that getting more time during a particularly hard week would be unlikely at best and impossible at worst.
Then, of course, there are the exams themselves, frequently cited as one of the most stress-inducing aspects of an already stressful body of classes. The difficulty of these exams begets its own set of mental health struggles.
"I feel like the STEM system at UW has made all STEM majors have really bad test anxiety," Hannah, a third-year studying physiology, said. "In high school, I was like 'Oh, it's test day? Give it to me. Let me take it. I'm not stressed at all.' But I get to college and I shake on my way to classes, and I shake in my seat, heart rate elevated the entire time. As I'm taking my test, I'm thinking 'Your whole career is lined up on this freaking test.'"
The difficulty of exams, which Ali described as "outrageous," is not always due to inherently difficult concepts. The tests can be geared toward memorization, include content not covered thoroughly enough in class, or test students on obscure keywords rather than focusing on concept mastery.
How does a stressful environment like this turn into a mental health crisis?
The reported lack of sleep, lack of support, competitive environment, and difficult content adds up, but at least a part of the answer may lie in the students who gravitate toward these classes.
"I know the problem that I had specifically was that all my life I was a 4.0 student," Dan, a second-year studying aerospace engineering, explained. "Perfect grades, perfect everything. Getting into UW and seeing my grades just plummet when I'd set this mandate for myself — being the best student because that's what I've been all my life — and then getting here and just getting beat down to the bottom with seemingly no remorse took a toll."
Upon finding themselves in classes not designed for students to excel — Hannah noted that professors often explicitly mention and expect test averages around 60% to dominate their classes — students who thrived in high school found themselves facing an identity crisis. High expectations for themselves and for the future make inevitable failures in STEM classes all the more devastating.
There's a certain pressure to look collected and in control in front of fellow students, so struggling STEM students often turn to online spaces for support. It's in these online spaces that the gravity of the situation often becomes apparent.
"There have been multiple sites online and class Discords that have mentioned suicide, depression, and mental health lowering due to the lack of help people receive from these classes," Ali said. "There is a huge crisis happening in STEM classes."
Luckily, these online spaces have just as much inter-student support as they do commiseration. It makes it clear, though, that the culture around mental health in UW's STEM classes is characterized by silence, stoicism, and a "just get through it" mentality.
"It all piles together," Hannah said. "All the exams at the same time — it's just death to your brain. I'm in year three and I focus all of my time on studying … I study every single day and just push the thoughts back, push them down. Sometimes it all comes out in one spree, but I just push it down, and eventually the quarter ends and I can breathe for a week. Then it's back to the same stuff."
The UW Counseling Center offers professional mental health services, and the crisis hotline can be reached at 1-866-775-0608.
Reach reporter Ariana Sutherland at news@dailyuw.com. Twitter: @aristhrlnd.
Like what you're reading? Support high-quality student journalism by donating here.