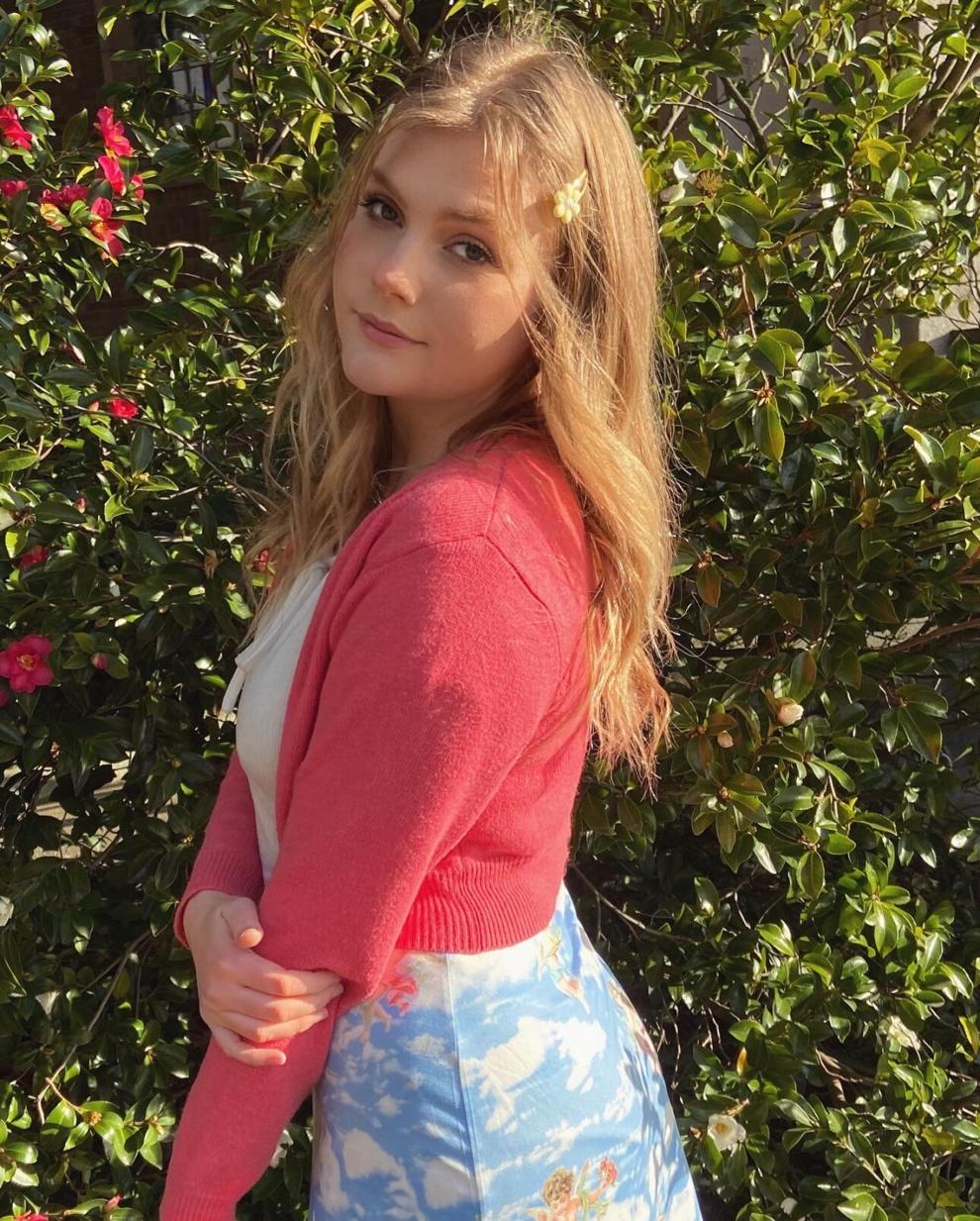 Last week, I was at a real, big-girl job interview with an older journalist guy. I call him a "journalist guy" because he would probably refer to me as a "journalist girl." Y'know, a writer with tits. 
When he told me the unimpressive salary, I nodded and said, "Yeah, journalism is the kind of profession that requires a husband," followed by "women weren't supposed to work anyway."
Totally inappropriate of me.
He pointed at me and said, "I like you." At that moment, I knew I did not like him.
This seems like an odd start to a "senior goodbye," but The Daily gave me a lot of things, one of them being a space to lament about men in my column (and baby) Thirst Trap. It only feels right that my senior goodbye would be a place for that as well — at least, in part. 
In 2020, I caught the "news bug" from the man, the myth, the legend, Jake Goldstein-Street. Jake, you are the only man I thank in this goodbye, though Anthony Edwards is an honorable mention. In writing news for The Daily, I spoke with a lot of professors (one joking that he wouldn't tell his wife about our interview) and students. 
One student I spoke with, who was a part of a political RSO on campus, made a sexist comment about women who write at The Daily — a pretty niche critique, might I add —  unknowingly in front of one of my close friends. Of course, said close friend told me immediately. 
I won't repeat the comment here, but when I told you I freaked out on the phone with my friend, I freaked out. This was coincidentally the night that Twitter found out Trump got COVID-19. It nearly ruined the internet festivities.
I have been referred to as a "girl writer" on numerous occasions, most notably when a professor used the term to compare me to another journalist in my class. She was also a woman. I know I usually complain about men. They give me plenty of material. But for my last thoughts for The Daily, I want to show some appreciation to the women of The Daily. 
Ash Shah, it feels like a lifetime ago that we were both staff writers, gossiping in the podcast room. I am so proud of you and your journey at The Daily. You have come so far from the days of debating whether or not to apply for science editor. I admire your dedication to your reporting. The Daily will need to do a nationwide search to find someone who even comes close to filling your shoes as news editor. 
Chamidae Ford, I remember the first time we FaceTimed. I think it was over two hours of complaining about men. I like that about you. You have undeniable cool girl energy. If anyone asks if I know Chamidae, I am likely to say, "Of course I f---ing know who Chamidae is." Getting to know you as a person these past two quarters has been even more delightful than reading your work. That's saying a lot. You're a very talented writer and I hope you go on to be the next Joan Didion. 
Rachel Morgan, I did not know that managing was an important position until you took it on. This has been one hell of a year and I know without you it would have been pretty much a disaster. Thank you for keeping us alive, especially staying another quarter after you have graduated. I hope your new job is everything you want and more. 
To the women who will run The Daily next year:
Dylan McKone, when I see that little umbrella-hat icon on Slack, I breathe a sigh of relief. Dylan, you are truly a rock. I do not know how you do it all, but I'm glad you do. Thank you for all your work on Bark & Byte. There is no one I would rather copy/paste code from. Besides all of your hard work (remember the maps for the Greek Row piece? That was fucking awesome), you are also a delightful presence to work with. 
Estey Chen, you have an eye for editing. I was impressed every time I would turn in an article for Pacific Wave by your diligence and attention to detail. The Daily is lucky to have someone as thoughtful as you. 
Brooke Kaufman, as a newsletter writer myself, I am very proud of you and your work on Welcome Basket. What a cute name! You're a genius. I wish we would have had the chance to work together in person. 
Deb Kwon, even though I see you shitpost on Twitter, I think you are one of the most insightful people I know. I hope you keep things spicy here at The Daily. I know you are a business major, but the world needs writers like you. 
Maya Tizon, I am a big fan of you. I think your coverage is just what The Daily (and broader journalism) needs. I can tell you care about what you are writing. Keep up the hard work. It does not go unnoticed.
Kat Grganto, I love your energy and sense of humor. I hope you move up the ranks at The Daily. I can tell you would be a newsroom favorite on production night. Thank you for your spirit.
Zoe Schenk, you are one prolific writer. I would see your name on the budget twice a night sometimes in winter quarter. Thank you for sharing your writing and your recipes.
Zoe Luderman Miller, we used to say your name in the newsroom. It just rolls off the tongue. I'm so proud of your writing, especially how you adapted your column about farmers markets when COVID-19 hit. That's the creativity we need. 
I went on a date recently and I told him how a professor referred to me as a "girl writer." Like I did initially, the date took this as an insult to my work, respectability, and intelligence. After a night of conversation he told me that he thinks my professor is crazy, I'm not a "girl writer," I'm brilliant.
I'm both. And I'm in good company. 
Best wishes to the women of The Daily. 
Hannah Krieg
Engagement Editor Spring 2020 - Spring 2021
The Daily Fall 2018 - Spring 2021