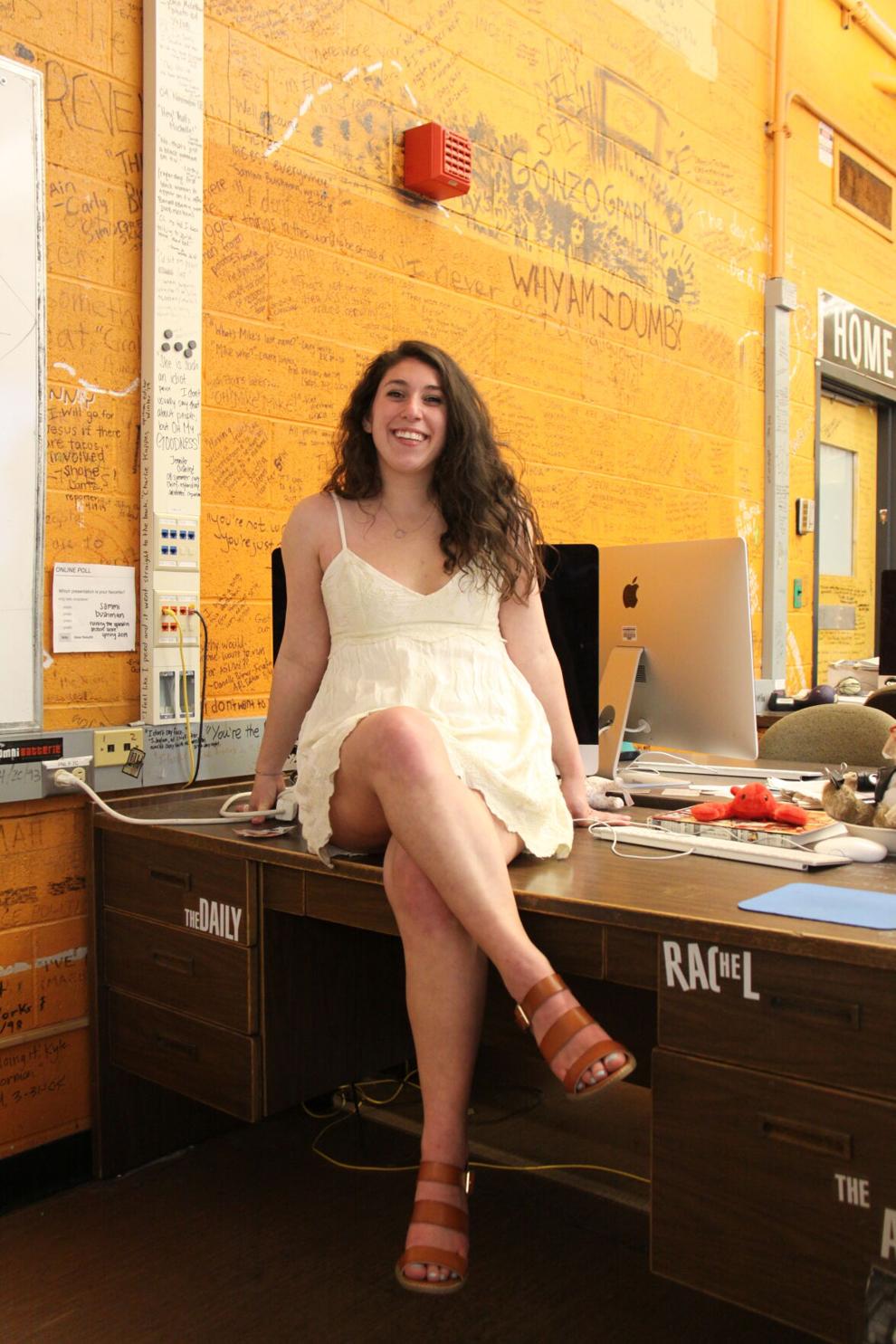 I knew writing this wasn't going to be easy, but damn, this is a lot harder than I thought.
I have been a part of The Daily since I was hired out of Development in December 2017 of my freshman year of college. Writing it out, it feels like a long time ago. I was a part of The Daily before I was accepted to either of my majors. I was writing for the Opinion section before I met the group of friends I rely on to this day. I didn't know what a Seattle winter looked like by the time I published my first piece in the paper. 
Looking back now, I can't envision a time in my adult life where I wasn't writing. My college experience has been most notably spent in a dusty, disorganized, mismatched orange room that nobody besides Daily staffers could ever learn to love. I found a true place to call home in this newsroom, and I wouldn't have it any other way.
But when I imagined my senior year at The Daily as a freshman, it didn't look like this. Over the years, production has dwindled from five days of print to one, and this year marks the first where we didn't produce a regular print paper. My late nights — well, not late in the eyes of Jake, Ash, and Armon — in the newsroom asking to be let in "Quad side" were no longer. Releasing the stress of the quarter at Hurricane virtually instead of in person didn't give me the same gratification.
The Daily looked different this year. We truly became a digital-first organization, both staff- and content-wise. We adapted: improving our methods of communication, revamping our budget, and changing the content that we published. It was hard to move away from tradition, but this year's staff built a solid platform for future generations to work on and improve even further. 
And now to get sappy. 
Mac, it has been an absolute honor to be your right-hand woman this year. We have worked as a team better than I could have ever imagined. Thank you for trusting me to take on this role and to run the newsroom with you; you made this job enjoyable through the hardest parts of it. After the hell we've been through, I consider you to be a lifelong friend. 
Trevor, one of the parts of this year that I have missed the most is being an honorary copy editor. The late nights that we spent together are some of my favorite memories in the newsroom. Thank you for staying around Seattle so we can make up for some of those lost opportunities; I'm so looking forward to it.
Andre, thank you for the amazing job you have done with the Opinion section this year. It was a pleasure to watch you grow as a columnist and take over the role with such confidence. The Opinion desk will always hold a place in my heart, and I hope it will in yours as well. 
Sammi, my most favorite deskmate I have ever had, you have been a rock throughout my college experience and within The Daily (even though you left me and graduated last year). I will never be able to forget the article you wrote on the floor of our hostel during our Camino trek, but that doesn't even begin to cover the list of memorable things we have done together. To quote your final written words back to you: "You better invite me to your wedding or I'll sue." 
And now for the editors who guided my journey at The Daily. Andreas, thank you for giving me the chance to run the Opinion section and start my leadership journey in this organization. Mira, it was a pleasure to work with you for a whole year. Under your tenure, you allowed me to grow into a confident, informed staff member, preparing me to take on the role of managing editor this year. To my first opinion editor, Madelaine, you truly inspired my love for the section. To every other editor I have ever worked with, thank you for letting me contribute to your sections even though my heart was in a different desk of the newsroom, clearly.
To Diana Kramer, I have never once doubted that you were in mine and Mac's corner. I will miss your guidance, but mostly, I will miss Kelly and the brownies. I hope you understand.  
To the editors that I have worked with throughout my editorial tenure — Sierra, Armon, Alec, Josh, Hailey, and all of the countless others — there are no words to describe how grateful I am that our paths crossed. My time at The Daily was undoubtedly made better by all of you. 
To all the graduating seniors who have been on the editorial staff this year, it has been an incredible experience working with you. Many of us have been around the newsroom for years, and it is great to be able to finish out my time at The Daily with such a strong group of graduates. Jake and Ash, you are rock stars at writing on the fly and I will never be able to use the word "amid" without thinking of you two. Eli, thank you for pioneering the Cartoons section and doing an excellent job at running it. Hannah, your wit is unmatched, and I hope you know that I think of Thirst Trap very often. Nicole, your photography is beautiful and your ability to play music AND march amazes me. Conor, thank you for returning to the editorial staff after a year off; it was a pleasure to have you. Andy, the Giants are better than the A's, stop thinking otherwise. Sam, thank you for taking your extensive copy knowledge and teaching this year's class of Development kids; here's to hoping they never spell out the number 10 like I did for years. Charlotte and Chamidae, thank you for being some of my first friends at The Daily and for your dedication to Specials and Pacific Wave. 
And to the future of The Daily, our rising seniors and juniors — Brooke, Diana, Dylan, Anthony, Sydney, Turlove, Estey, Kyle, and Iseabel — I could not feel more confident leaving the newsroom in your hands. You are all so talented and capable, I can't wait to see what The Daily looks like one year from today. 
I'm not sad to be graduating from the UW. I've had a good run at being a Husky. But I didn't have enough time at The Daily, and to be fair, I don't think I ever could have. This is the most unimaginable goodbye; after all, you can never really say goodbye to your home. 
Rachel Morgan
Managing Editor Summer 2020 - Spring 2021
Opinion Editor Spring 2019 - Spring 2020
The Daily Fall 2017 - Spring 2021