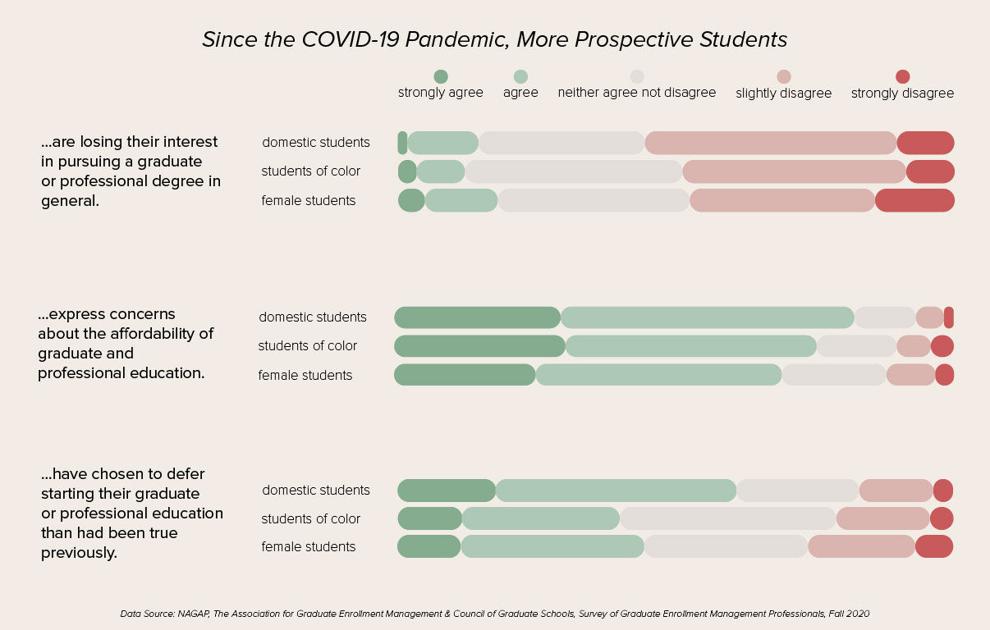 During economic slowdowns, graduate schools generally receive a rise in applications. More students pursue graduate degrees during recessions to delay entering, or to take a break from hostile job markets. In the meantime, graduate school serves as an opportunity for students to develop knowledge and skills relevant to industries of interest and to increase their future salaries. For professional degrees, this mindset seems to persist in 2020. 
The UW Law School, for example, received a 40% increase in applications this year, according to assistant dean for admissions & financial aid, Cristina Arteaga. This mirrors the national trend, as the Law School Admission Council reports that applications increased 30.9% over the previous year. Similarly, two out of three business school programs reported an increase in applications during the 2020 season, as indicated by a Graduate Management Admission Council survey released in November 2020.
Meanwhile, other students might have been drawn to graduate school this year in particular after witnessing the outsized role of health care providers in managing the pandemic. 
UW Graduate School Dean Joy Williamson-Lott, whose office processes graduate school applications before review by their respective departments, noticed that programs at the UW related to public health, nursing, and epidemiology received a larger number of applications than in years prior.
"People want to be a part of that solution," Williamson-Lott said. 
However, this last year's economic downturn has been unlike any previous recession in its severity and reach, with the World Economic Forum reporting that "COVID-19 has caused an economic shock three times worse than the 2008 financial crisis." As such, graduate schools and students have not experienced the effects of the COVID-19 pandemic uniformly, and adaptations to remote learning have reignited conversations about the value of graduate education. 
Programs across the country that enroll large numbers of international students, as is true for many of the programs and schools at the UW, have seen some decline in enrollment over the last year. The Council of Graduate Schools reported that "first-time enrollment of international graduate students dropped 39[%] from fall 2019 to fall 2020." 
Discrepancies also exist in the types of programs that have been suspended or deferred, often out of a desire to save graduate funding for existing students, rather than extending additional multi-year funding offers to new doctoral students, according to Jackson School of International Studies graduate program advisor Jesús Hidalgo. 
Still, the changes brought by the pandemic haven't been all grim. In the interest of increasing equity and safely navigating public health guidelines, graduate schools have temporarily lowered some barriers to the application process. 
To apply to the UW Graduate School, for example, prospective international students may submit the Duolingo English Test in lieu of the TOEFL exam, making it easier for students to satisfy the requirement .
Similarly, many programs suspended the GRE requirement for the 2021-2022 admission cycle, instead embracing a more holistic admissions process. 
"When students applied last year, let's say October, they managed to take the GRE, but as the deadline got closer, certain students started asking if the GRE requirement could be waived because they couldn't take the test or it was not offered," Hidalgo said. "Or even students said, 'I come from an unprivileged population, even if it's $75 dollars [to take the GRE], that's a lot of money for me.'"
Recognizing the hardships students were facing, Hidalgo consulted the Jackson School's program chairs about the possibility of waiving the GRE requirement, which they all agreed to do — with the exception of students applying for Foreign Language and Area Studies Fellowships for fall 2020. 
"I contacted some people who were undecided about finishing the application or not, and some of them did say it was a game-changer … because once the requirement was waived, they actually submitted the application," Hidalgo said. 
As of 2020, 32% of graduate programs at the UW do not require the GRE, while 6% have made it optional. The GRE's ability to predict student success is "dubious," Williamson-Lott explained, which is one of the reasons the Graduate School has offered Holistic Admissions Workshops at least once a year since 2018. Williamson-Lott speculated that while all programs, especially those that are quantitative-based, will never abandon the GRE, the pandemic might have sparked greater interest in incorporating holistic admissions processes that de-emphasize standardized testing.
"It's unclear if the requirement is going to be waived next year, it's a little early to decide," Hidalgo said. "I have started having some conversations with the MA programs to see if they should waive it again. This has to do with not only the pandemic but with equity, because you already have the TOEFL or Duolingo test to certify language proficiency for international students."
Other pandemic-related changes were of an administrative nature, making the experience of being a graduate student more streamlined. 
To complete their graduate programs, Jackson School students used to have to fill out a slew of forms and secure wet signatures from administrators and all participating professors to complete arrangements for their thesis committees — forms for professors to confirm their participation on a committee, forms to indicate the agreed time for the oral exam, forms to confirm approval of a thesis for final submission, the list goes on. 
Given that Hidalgo and professors are all working far away from one another, within their own homes, it made little sense to Hidalgo to require physical copies of the necessary forms. 
"What I have decided is, let's just get email confirmations," Hidalgo said. "If a student says professor A and professor B are going to be on my committee, I just email the students, the two professors, and the director of the program the instructions ... [to] just reply to this email saying 'I confirm I'm going to be on this committee.' Some professors are tech savvy and manage to sign the PDF. Some professors are not tech savvy and are thankful they don't have to sign the PDF. This might be a silly example, but it's important here, especially at a very bureaucratic university."
Many individual programs have not decided whether to abandon policies adopted during the pandemic. The circumstances have at least prompted program chairs to reevaluate the purpose and efficacy of all their policies.  
And for graduate students interested in pursuing degrees in the social sciences or humanities, but nervous about the economy they're entering, UW alum Jessica Lee encourages students to not feel discouraged by the dwindling job prospects in academia, which have been made more abysmal by the pandemic. 
Lee received her Ph.D. in history from the UW in 2010, a mere two years after the 2008 financial crisis. Although she intended to become a professor all throughout her graduate program, Lee has since successfully pivoted to opportunities outside of academia.
"There were just no jobs that year," Lee said. "But [graduate school] gives you so many skills that it's about being able to talk about those skills in the way that that industry talks about those skills. Being able to express yourself clearly and articulate yourself in writing and in presentations, all of that experience was helpful for public speaking. And there's the teaching side to it. I TA'd my whole way through … and learning to manage conversation[s] for 25 people who may not want to be there talking to each other is a really good skill to have." 
To graduating seniors considering graduate school, Lee advises that students take a break from school before making the commitment. 
"I'm so glad I did that, because I think I would've burned out [if I went straight into graduate school]," Lee said. "And be sure about your reasons for going. It's two to seven, eight years, and that's not a small amount of time."
Finally, Lee recommends that students keep themselves open to new opportunities, something many students have had experience with while navigating remote learning over the last year. 
"You really don't know who you're going to end up meeting in all of the different things you do, and so staying open to possibilities is the big piece of it," Lee said. 
Reach Co-Special Sections Editor Estey Chen at specials@dailyuw.com. Twitter: @esteychen
Like what you're reading? Support high-quality student journalism by donating here.