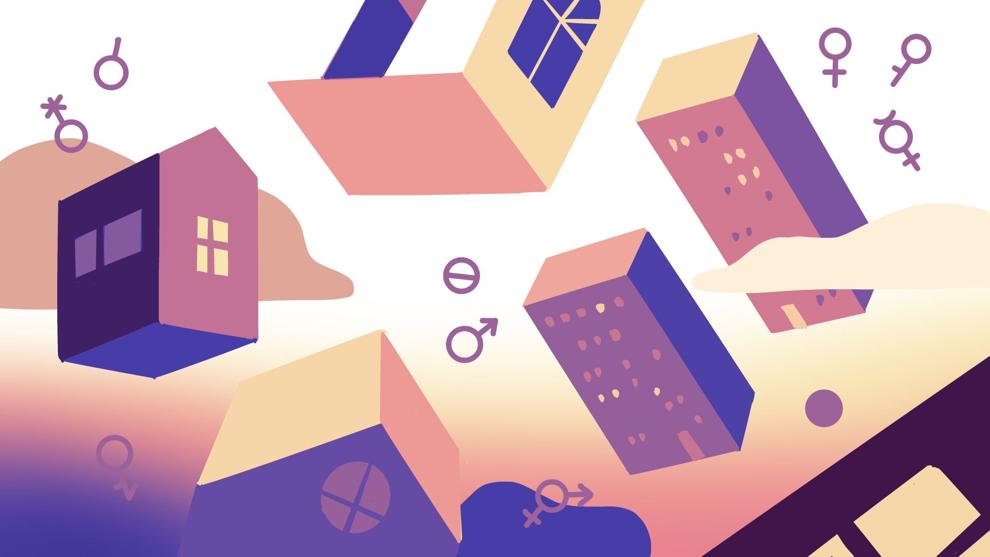 When coming to the University of Washington, almost every student faces anxiety, whether it be about connecting with others, how they will perform in classes, or what it'll be like to live away from friends and family, but LGBTQIA+ students have additional anxiety about their safety to overcome.
The UW offers gender-inclusive housing to assist LGBTQIA+ students with navigating the housing process. 
While this resource does not completely eliminate the fear these students face daily, and more steps should be taken to improve the quality of life for LGBTQIA+ students, there are a plethora of options that many have found to be helpful.
On campus, there are options for gender-inclusive housing (which is aimed at LGBTQIA+ students) or mixed-gender housing (an option that is intended "for any student who wants to live with a friend of a different gender," according to HFS). In Greek life, Delta Lambda Phi is a fraternity for "gay, bisexual, transgender, and progressive men and non-binary individuals," according to their Instagram.
Additional safe spaces beyond these housing options can be found through the Q Center and the Queer Student Commission (QSC).
Every year the QSC director sets their own standards in terms of what type of advocacy, programming, and outreach they want to do. This year, QSC Director Juan Torres wanted to prioritize accessibility, diversity, and intersectional storytelling organizations on campus. Torres himself went through the process of mixed-gender dorming. 
"My first year I was very anxious about this particular issue," Torres said. "As a gay man, I was kind of apprehensive about rooming with another cisgender heterosexual man until I started looking to the LGBTQ+ supportive option, where you could opt to room with a female or another person you already know. I remember writing about my queerness and my roommates having to do the same thing."
Mixed-gender dorming is limited because it must be facilitated through mutual special requests and involves an application process. The gender-inclusive housing process is tailored for students of any gender who are in the process of exploring their identity or currently transitioning.
"I think [we should be] making the process a lot more accessible to students and by that, I mean not making students jump so many hurdles to get their desired housing," Torres said. "I feel like housing …  that's your place of peace, relaxation, and sleep, you do everything … It should be somewhere you're comfortable in."
Reach contributing writer Alena Alvarez-Saldivar at specials@dailyuw.com. Twitter: @alenasaladbar
Like what you're reading? Support high-quality student journalism by donating here.