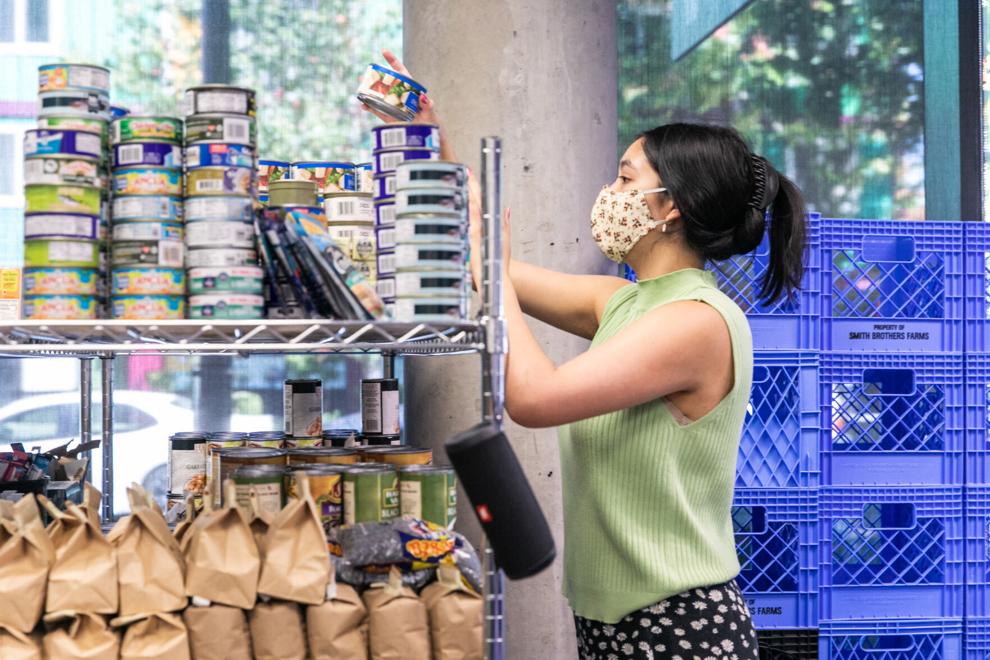 If you're interested in giving back to your community, the U-District offers a multitude of opportunities for students to get involved. From registered student organizations and intramural sports to internships and on-campus jobs, there are many ways for students to engage with the campus community of over 48,000 and the surrounding neighborhood. 
While getting paid for your work is rewarding, engaging in community service can help deepen your ties to Seattle and the UW community. Giving back to your fellow students and neighbors can cultivate a rewarding sense of purpose, help foster meaningful relationships, and, most of all, fulfills critical, underserved needs.
Volunteering doesn't have to feel like work; picking a volunteer opportunity in an area you are passionate about can benefit you and those you serve.
Food Access
UW Food Pantry 
The Any Hungry Husky initiative, housed within the Office of the Vice President of Student Life, hosts the only food pantry dedicated to UW students, staff, and faculty. The UW Food Pantry provides non-perishable items, fresh UW Farm produce, ready-to-eat packaged food from campus dining, and hygiene products for free, with no need-based requirement. Volunteers assist during shopping hours by checking in visitors, sorting donations, and preparing online orders. Outside of the shopping hours, volunteers on the gleaning team help pick up fresh food items from on-campus dining locations. 
UW Farm
For students and community members interested in urban agriculture and sustainability, the UW Farm is the perfect place for an educational, hands-on experience that has an impact. Volunteer shifts take place at any of the farm's three locations: Mercer Court, McMahon Hall, and the Center for Urban Horticulture. The farm spans 1.5 acres and yields over six tons of produce, all of which is distributed to campus dining, the UW Food Pantry, and the surrounding community. 
Subvert UD 
Formally UW Black Lives Matter, Subvert UD is a collective of students and neighbors working to "build alternatives to the oppressive systems" that exist within our country. The group aims for people to be fed, clothed, housed, safe, and have health and full access to life and liberty. Volunteers can assist Subvert UD's free lunch program on Sundays at the University Heights basketball court by shopping for, transporting, and cooking food. 
U-District Food Bank 
Located just a few minutes off campus on Roosevelt Way Northeast, the U-District Food Bank provides the area surrounding UW with reliable access to food and resources. Volunteers help by unloading food deliveries, shopping for customers, sorting and restocking donations, and delivering food to homebound seniors. 
Governance
Associated Students of the University of Washington (ASUW)
The ASUW has volunteer options with various ASUW entities, including the Office of Government Relations, Asian Student Commission, ASUW Senate, Student Food Cooperative, and Middle Eastern Student Commission. Most offices accept volunteer applications on a rolling basis, and volunteers can expect to participate in activities specific to their chosen entity's unique programming. 
Education & Youth
Dream Project 
Students can earn credits and volunteer hours during this service-learning course that focuses on educational equity and post-secondary planning. Dream Project mentors support middle school and high school students in the greater Puget Sound region with financial aid applications, college applications, and career readiness. Mentors spend an average of four hours each week attending lectures about education and equity and applying it to their work at the school sites.
Jumpstart 
Jumpstart is an early education organization that provides programming and support to preschool-aged children in underserved communities, giving them the tools they need to succeed in kindergarten and beyond. Jumpstart Corps Members dedicate 10-15 hours per week to volunteer work, which includes preschool curriculum sessions, classroom service hours, and team planning meetings.
Homelessness
ROOTS Young Adult Shelter 
ROOTS serves young adults ages 18-25 who are experiencing homelessness. The organization offers emergency overnight shelter and services, which includes showers and meals. While administrative and logistical tasks such as preparing food, cleaning the space, and handing out supplies are a part of the ROOTS volunteer experience, the core of volunteering with ROOTS is building community and providing social support for other young people. Volunteers can sign up for morning, evening, and overnight shifts. 
Tent City Collective 
Consisting of UW students, alumni, and people experiencing homelessness, the Tent City Collective works with the UW administration and local leaders to bring the self-governed homeless camp, Tent City 3, to campus. Tent City 3 first came to the UW campus in 2017, and the Collective has campaigned to welcome residents back because the community moves every 90 days. The Collective relies on volunteers to assist residents in moving their belongings to new locations, collecting food and serving meals, and advocating for homelessness solutions.
Reach writer Hannah Sheil at specials@dailyuw.com. Twitter: @thehannahsheil
Like what you're reading? Support high-quality student journalism by donating here.