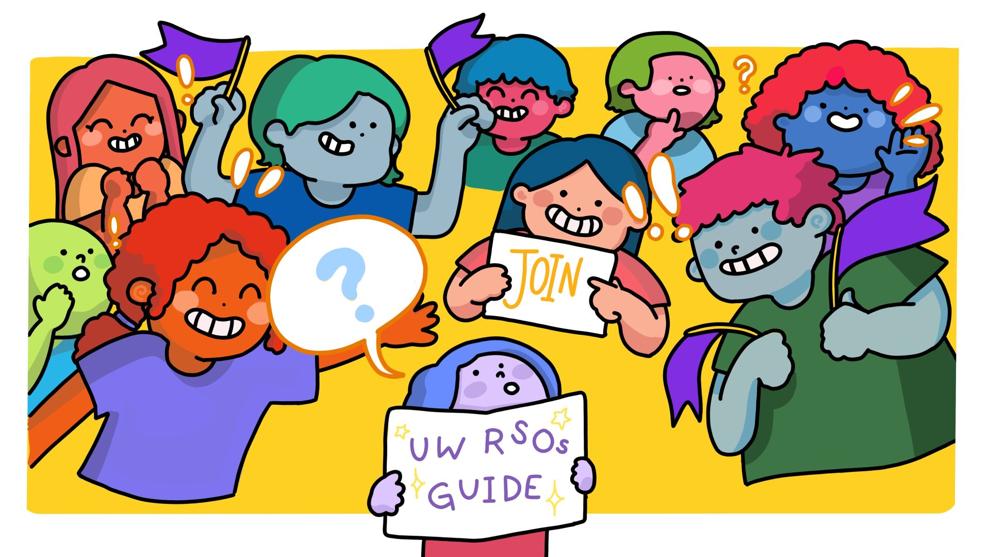 Before the COVID-19 pandemic became an ever-present part of life, the worst part of my freshman year was being a commuter student. Without being directly on campus at all times, finding a community was a big struggle. The first place I went to find friends and people with shared interests was the Registered Student Organizations (RSO) fair at the start of my first quarter.
The RSO fair takes up the entirety of Red Square and cannot be missed — unless you spend all your time in Fisheries. But navigating all of the UW's RSOs is a challenging endeavor given the hundreds of student organizations at the UW.
As a starting point, here is a guide to the UW's student-run organizations, from cultural groups to the performing arts to academic organizations. This is by no means a comprehensive list but it does highlight various RSOs throughout the UW's ecosystem of interests.
The complete RSO directory can be found on the Huskylink website.
For the love of the outdoors
The Husky Sailing Team is a competitive sailing group with a women's team and a co-ed team. The student athletes practice throughout the week and compete in frequent regattas. The team recruits students interested in and committed to sailing with various skill levels.
On the icier side, the Husky Snow Club is a group for anyone interested in skiing and snowboarding. They welcome students of all levels to train and grow together, and after paying a membership fee, you can ski, snowboard, and get unlimited ride shares to the mountain.
The Husky Running Club is exactly what it sounds like. It's a club for anyone with an interest in running, whether you've never really ran before or are coming straight out of high school cross-country. They meet on the Quad every weekday at 5 p.m. to run as a group, with different small groups according to desired pace and mileage.
The Climbing Club is an RSO dedicated to all things mountains. Their activities range from hiking to rock climbing to skiing, and they go on various trips, so students of all experience and skill levels can find a place here. After paying the membership fee, students get access to 4-6 trips every quarter, on top of unlimited gear rentals.
Performing arts
Lux Film Production Club is a collaborative group of students interested in film production. They meet weekly to discuss and learn about different concepts in film, sometimes with a speaker, and they create monthly film projects that anyone can get involved in. 
The Undergraduate Theater Society is an RSO dedicated to creating theater opportunities for drama and non-drama majors alike. Undergraduates interested in acting and theater production can gain experience by putting on plays every quarter. Members focus on making their space a learning opportunity, so the RSO is open to students of any experience level.
The Collective is the UW's improv troupe. They hold auditions every fall quarter and organize biweekly improv shows throughout the academic year. On top of this, they've recently begun making more video and podcast segments. This is a great experience for anyone interested in auditioning for the group or watching their hilarious shows.
The Hip Hop Student Association is a community of students interested in the culture and art of hip hop in the Pacific Northwest. They have an audition team, as well as regular classes for anyone looking to get on their feet, learn new choreography, and have a good time.
Cultural and ethnic organizations
The UW boasts an incredibly wide variety of cultural RSOs, or groups made up of students of different ethnicities, which are not so easily summed up into a few highlights.
Legacy RSOs like the Black Student Union and the Filipino American Student Association are highly active, hosting activities and educational events for their communities. Additionally, groups like the Chinese Student Association, Burma/Myanmar Student Association, Korean Student Association, and First Nations at UW are dedicated to providing a space for students of a similar ethnic background to come together.
The directory for all of the UW's cultural RSOs can be found here. 
Media publications
Other than The Daily, there are various other media publications for students to get involved with, especially for those with special interests.
Voyage is a magazine highlighting travel in the Pacific Northwest and beyond and is run entirely by students. Each issue explores traveling through various lenses, and the magazine seeks to inspire a broader awareness of culture and the world through its written and visual work.
Capillaries is a medical journal run by undergraduates. The journal explores topics specifically related to mental health, healthcare, and marginalized communities through their quarterly journals and creates a variety of written and visual content. 
The Film Club is a hub of students passionate about film. They also act as a publication, posting regular reviews to movies on their website — on top of producing a podcast. For all the movie lovers out there, this is a great space to rave about or critique all your favorite movies.
Organizing and politics
The United Students Against Sweatshops is an anti-capitalist and anti-imperialist group of students organizing in solidarity with students and workers. They focus on campaigns and actions at the local and international levels and advocate for justice and solidarity with workers.
Institutional Climate Action is a climate justice coalition focused on organizing for fossil fuel divestment. They aim to hold leadership in higher education accountable in the fight against the ongoing climate crisis. 
A directory to all of the UW's political and organizing RSOs — which span across political parties and issue areas — can be found here. 
Academic and professional development
The UW has so many different RSOs across academic areas of interest, whether you're majoring in computer science, business, communications, art history, or something else entirely. The following groups are welcome to students of various disciplines.
Model United Nations simulates United Nations conferences and gives students a chance to improve and develop debate, research, writing, and leadership skills. The group regularly competes in conferences throughout the academic year and are open to any and all students interested in getting involved.
Riverways Education Partnerships, formerly known as The Pipeline Project, allows undergraduates to act in mentorship roles to support K-12 students and increase equity in public education. They offer a variety of ways to get involved, from volunteering to taking the EDUC 401 seminar, which allows students to receive academic credit for their volunteering.
Women in Informatics is an RSO at the UW's Information School that supports women who work in technology and innovation. The group strives to encourage involvement and provide opportunities for women and other underrepresented minorities in STEM. They also hold a hackathon every year that is open to all students.
Reach Opinion Editor Deborah Kwon at specials@dailyuw.com. Twitter: @scoobydeeby
Like what you're reading? Support high-quality student journalism by donating here.