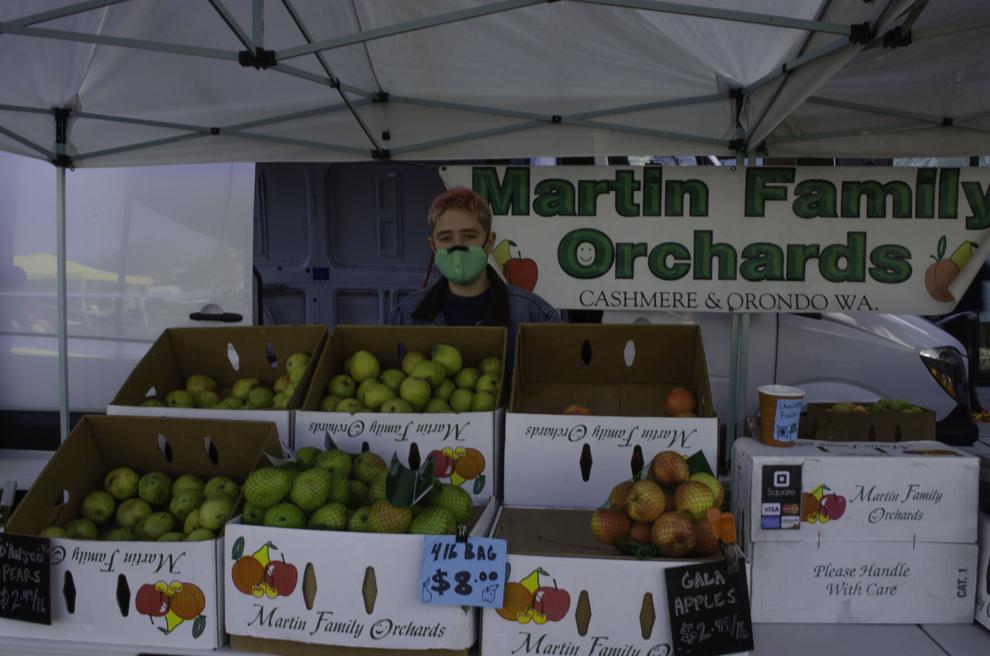 My perfect Saturday morning looks something like this: walking up the Ave, the sun shining, the farmers market in session. If you are like me and have a desire to make better decisions for the environment and a love for farm-fresh produce, the farmers market is a delicious way to support your local farmers and vote with your dollars.
Student Lillian Williamson goes to the farmers market almost every weekend in an attempt to purchase all of her produce from the market rather than supporting bigger grocery stores.
"My favorite part about the farmers market is probably the fact that I get to buy from so many local businesses all at once," Williamson said. "I definitely believe that as a consumer you vote with your dollar … Instead of [going to] Target or Trader Joe's, I can buy from a local company and … give money to practices that I think are more ethical and sustainable."
These practices truly are more sustainable and help protect our environment. A 2002 study from the Leopold Center for Sustainable Agriculture states that, on average, food travels over 1,500 miles from producer to consumer. This amount of food travel is not limited to produce, either — the National Oceanic and Atmospheric Administration found that over 80% of fish purchased in the United States has been imported, for instance. 
Because of this, shortening the supply chain and ensuring that you are buying local and fresh can greatly reduce your carbon footprint.
The University District Farmers Market is a great way to ensure that the food you are purchasing is local, sustainable, and reliable. Every Saturday from 9 a.m. to 2 p.m., a variety of vendors set up shop on the Ave, allowing community members a direct source of produce and other products, including pre-processed foods such as baked items and flowers. At the farmers market, not only do you get local food, but you are also welcomed as a part of the community and get to know the people who produce your food. 
"The biggest thing that I wish people — especially students — knew is just how excited these farmers are to come into town and share their food with people," Sean Akers, the University District market manager, said. "This is a group of people that certainly aren't doing this job because they're going to be billionaires, you know. This is a passion for them, this is what they really want to do … I think if more people were able to kind of witness that firsthand, I think it really changes how you think about food." 
Connecting with how your food is produced and ensuring that your products are local is one way to be more sustainable and mindful about your consumption habits. Buying produce from local farmers markets also ensures that your produce doesn't contain high levels of pesticide. The Environmental Working Group compiles an annual list of the "Dirty Dozen," crops with the highest pesticide contamination — and apples are always near the top. Perry Acworth, the UW Farm manager, notes that apples are a Washington-grown crop and therefore even easier to purchase locally and through the farmers market. 
"You can peel an apple, you can bake an apple; it's still gonna have the pesticides in it [if it is not organic]," Acworth said. "That's one [produce item that] you really want to buy organic in Washington … Honestly, if every UW student just bought a Washington-grown, organic apple, we'd be in a much better place."
The University District Farmers Market is the perfect place to start buying Washington-grown apples. While some of the vendors are not explicitly organic certified — either due to circumstances such as the cost for certification or for other reasons — all vendors are local, and many are willing to discuss their growing practices. 
According to Williamson, vendors will often have buckets of "duds" that are discounted due to slight imperfections, offering an affordable and accessible way to purchase fresh produce. 
Another great way to get involved with food production and local produce is to get involved with the UW Farm, which is a key producer for HFS dining halls and provides CSA boxes of fresh produce to community members. 
"[The UW Farm] is really a student farm," Acworth said. "Students really are the engine that keeps it going."
Connect with your food, your community, and the environment by going to the farmers market and buying locally.
Reach writer Megan Matti at wellness@dailyuw.com. Twitter: @megan_matti
Like what you're reading? Support high-quality student journalism by donating here.