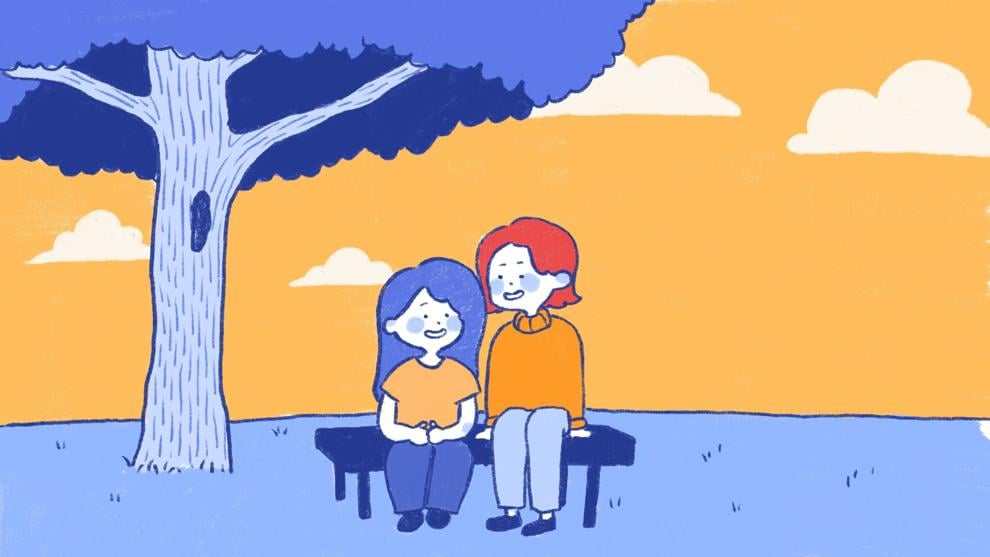 The return to campus this fall presents unfamiliar obstacles for both first years and returning students with established connections at the UW. No matter your year, almost everyone is familiar with the sense of isolation brought upon by the pandemic. 
However, there are strategies for coping with feelings of social anxiety, according to Dr. Elizabeth Lehinger, a postdoctoral fellow for psychiatry and behavioral sciences at the UW School of Medicine, and an affiliate of the UW Center for Anxiety & Traumatic Stress (UWCATS). Lehinger's research focuses on improving PTSD treatment initiation and retention among people who have PTSD and co-occurring substance use disorders. 
"One of the main points that I wanted to make in this conversation was just to normalize that after a year of having very limited in-person social interactions, that we're all a bit rusty as far as our social skills go," Lehinger said. "We actually all might be feeling anxious as we're sort of reengaging in the activities that we use to engage in socially."
Anticipating the feeling of uncertainty amongst new and returning students with the transition back to in-person socializing, Lehinger explored ways to manage — not brush off — the anxiety that accompanies reconnecting with people we haven't seen in over a year.
Step one: avoid avoidance.
"First and foremost, approach the situations that you might be feeling anxious about rather than avoid those situations," Lehinger said. "Avoidance is going to only make your anxiety worse in the long run and probably interfere with the goals that you have related to building social connections and having the kind of social life you want to have."
The more people approach intimidating social situations, the better they become at adapting. With time and practice, those fears will likely subside, according to Lehinger.
It's important to realize that feelings of anxiety are not always permanent, and that by engaging in stressful situations, you may eventually find a relief from anxiety that seems unbearable at the time —though it's recommended that you start with small, reasonable adjustments to social situations. 
If your anxiety is tied to meeting new people, it will likely be beneficial to meet people in the presence of familiar individuals that help you feel relaxed, and from there, gradually enter social situations with completely new individuals, Lehinger explained. 
"Practicing is key," Lehinger said. "Being persistent and approaching, rather than avoiding."
Step two: question your thoughts.
Lehinger advised students to pay attention to the issues that worry them and try to reconsider the likelihood that a dreaded outcome will occur.
"Oftentimes we imagine the worst case scenario that is very unlikely to happen," Lehinger said. "But we can also ask ourselves other questions too, like, 'How helpful is this thought that I'm having?' … Try to challenge that thought with something that might be more helpful."
Everyone has experienced challenges during the pandemic, and acknowledging this fact can help provide perspective in realizing that you are not alone in your struggles. Resources for dealing with social anxiety include workbooks (Lehinger recommends looking for those endorsed by expert organizations) and the UW Counseling Center, which offers mental health resources, workshops, and one-on-one counseling sessions with professionals. 
If you find that your social anxiety is preventing the managing or enjoyment of daily activities, this can serve as an indication that you may want to seek professional help.
Step three: cope, don't distract. 
Lehinger drew a distinction between distracting yourself from anxiety and coping with anxiety.
"Distraction is very much [where] you are disentangling yourself, you're avoiding that moment in time of distress," Lehinger said. "Whereas coping is actually more of allowing yourself to be in that moment, but doing it in a way that's going to be helpful and effective for you. Practicing mindfulness is a way to cope with distress where you're not distracting yourself at all."
Through mindfulness, you can practice focusing on the present, which might help reduce stress.
"[Observe] what you're experiencing, how you're feeling, what you're thinking, and do so in a non-judgmental way," Lehinger said. "This is going to actually decrease your distress the more that you practice that skill."
Mindfulness offers a way to focus on a moment to the fullest and most refreshing extent. Practicing mindfulness regularly can help manage not only anxiety and stress, but pain and depression as well, according to a report from the Mayo Clinic.
"Practicing different self-soothing practices can be really helpful for coping," Lehinger said. "You might engage your senses in different ways, you might smell something that is very pleasant, eat a food that is very enjoyable, or you might have a tactile soothing tool that you use. Maybe it's just wrapping yourself in a blanket, something as simple as that."
In dealing with your social anxiety, it can help to engage in social situations, but there is also a benefit in constructive time spent alone. Our decisions should be based on goals and values, as opposed to the pressures of anxiety. According to Lehinger, spending time alone out of fear of being negatively evaluated suggests anxiety as the source behind that decision. 
Even with the right information about next steps, it can be hard to know where to start, especially when it comes to breaking free of your perceived comfort zone. Lehinger offered tools for setting small, reachable goals for yourself, which you can then build from.
"You want to think of it more like a wave," Lehinger said. "Your anxiety will likely increase, but it will reach a point where it gets to the crest of a wave, and then it will gradually decrease as well. If you leave the situation before you have the opportunity for the anxiety to fade, then you don't ever get to have that experience of noticing the anxiety will fade on its own."
Reach writer Huma Ali at specials@dailyuw.com. Twitter: @humabali 
Like what you're reading? Support high-quality student journalism by donating here.