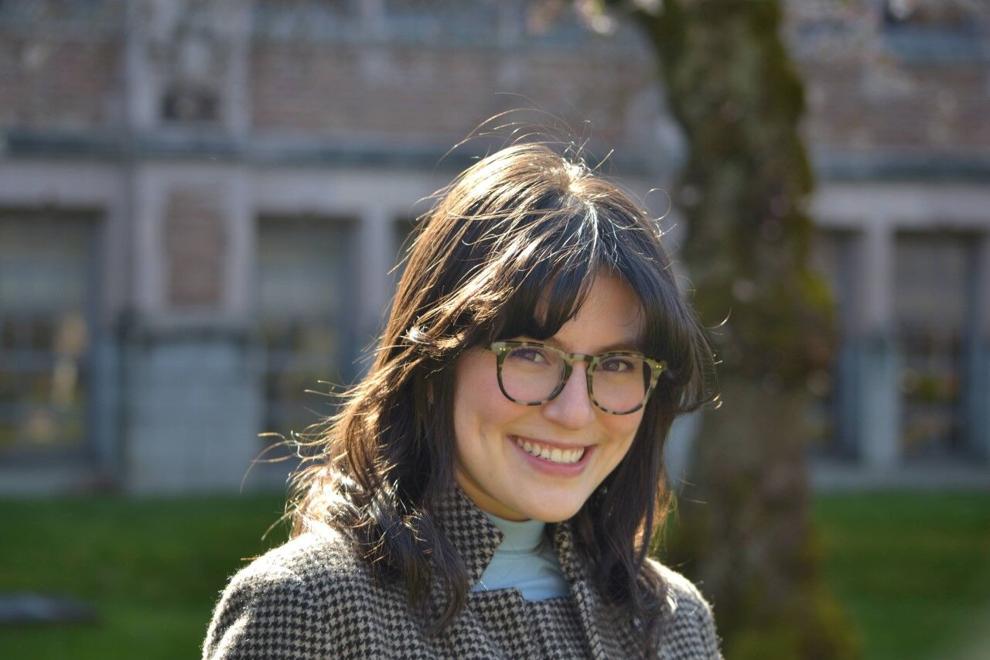 For many of us, "sustainability" confers a personal burden of responsibility to preserve the planet. In a 2019 Pew Research Center study, a majority of U.S. adults surveyed said individual decisions to purchase fewer single-use plastics, drive less, reduce food waste, or reduce water use makes a big difference for the environment. 
UW undergraduate Fotima Ibrokhim's research challenges this perspective. On track to complete her comparative history of ideas (CHID) thesis, "Food Politics: What the Academy Can Learn from the Resilience of Migrant-Farmworker Communities," in the fall, Ibrokhim's work highlights the communal nature of sustainability efforts. Rather than focus on the choices of individuals, Ibrokhim's research seeks to spark group activism and challenge those in positions of power to make systematic changes.
Ibrokhim's interests in food and environmentalism grew after she came to the UW and began her food systems, nutrition, and health major, she said. Both academic coursework and her upbringing in an Uzbekistani immigrant family, where she watched her single mother work underpaid jobs in the United States to make ends meet, inspired Ibrokhim to dive deeper into the exploitation of migrant farmworkers in the United States. 
"It was really hard for me to [dissociate] food from exploitation," Ibrokhim said. 
Ibrokhim shared that her thesis discusses both the structures and institutions that feed into the exploitation of migrant farmworkers and the ways "farmworkers contest these conditions, demand justice, and do more than just survive." 
Though the majority of migrant farmworkers have been growing food for generations, once they cross the U.S. border, they become subjects of abuse and commodification, Ibrokhim said. Profitable and high-yield farms can prove dangerous for the environment, the surrounding communities, and those working on the land. Farmworkers may face challenges ranging from forest fires and heat stroke to a lack of control over how many breaks they can take while working. The COVID-19 pandemic has only exacerbated these abuses, according to Ibrokhim. 
While Ibrokhim's food systems, nutrition, and health major provided herwith the foundation to learn about farmworkers, she felt that the major did not devote enough time or resources to critically engaging with the topic. That sense of limitation led Ibrokhimto connect with grassroots organizations advocating for farmworkers' justice, and ultimately, to a second major in CHID.
According to Ibrokhim, her research methods have ranged from digging through the Labor Archives of Washington to conducting discourse analysis on texts from food systems, nutrition, and health and interviewing classmates and alumni from the major. 
Ibrokhimexpressed frustration with the lack of mainstream attention farmworkers' justice receives. Grassroots organizations such as Community to Community and Familias Unidas por la Justicia seem largely separated from the public, and discourses on food, labor rights, and farmworkers can feel disconnected, she said.
Ibrokhim hopes to create a zine in the fall that will raise awareness about these issues and the need to show up in solidarity. 
"Food is super, super personal and at the same time it's very political because every single person eats," Ibrokhim said. "I think there's so much power in communal action and … hopefully everyone will feel that sense of responsibility to do something about it." 
If you're interested in getting involved with sustainability as a shared effort on campus, consider the Campus Sustainability Fund (CSF), which aims "to foster positive change by giving the UW community the opportunity to develop, create, and implement their ideas," according to the CSF website. Faculty, staff, department-sponsored students, and RSOs can all apply for mini-grants, feasibility studies to vet project ideas, and project funding through the CSF designated process.
Ibrokhim, the current outreach coordinator at CSF, encouraged people to get involved with sustainability work, especially students of color, and to challenge those in leadership positions. She also highlighted the need for students to explore majors like CHID.
"You can get really, really creative with the work that you do, and especially exploring majors that are more on the humanities side is going to give you that opportunity," Ibrokhimsaid. "You don't have to be in environmental engineering to be interested in the environment space."
While it's helpful to remain conscious of your environmental footprint, it's important not to forget the work cut out for the community. Slowing climate change and upholding farmworkers' rights will require a paradigm shift in the way all of us — from policymakers to university professors to cash-strapped college students  — think about the food we eat. 
Ibrokhim said she plans to share her research with faculty in food systems, nutrition, and health in the hopes of increasing the major's engagement with the needs and struggles of farmworkers.
"Everyone should come at [sustainability] from a very … critical lens and challenge norms and challenge the people that are taking up the space," Ibrokhim said. 
Reach writer Julia Park at specials@dailyuw.com. Twitter: @thejuliastory
Like what you're reading? Support high-quality student journalism by donating here.