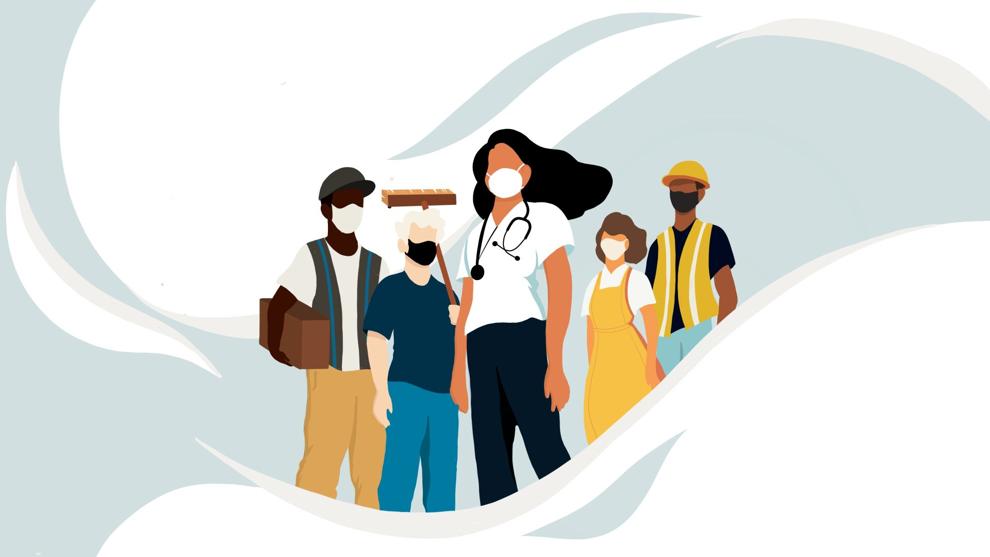 The pandemic has struck us all, upending lives and destabilizing entire industries.
Hardest hit have been frontline workers, a disproportionate amount of whom come from low-income backgrounds, are immigrants, or identify as people of color.
Wendi Zhou, a student at the UW, created the Seattle COVID-19 Oral History Project (SCOHP) to document the stories of local workers who have been impacted by the pandemic. As the project lead, Zhou has partnered with several organizations in the U-District and greater Seattle area to preserve the voices of workers in an oral internet labor archive.
SCOHP is a personal project for Zhou because she grew up around people who relied on service industry jobs, like public transportation and restaurant work, to make a living. The opportunity to hear and share personal stories related to COVID-19 arose in the form of undergraduate research, conveniently coinciding with her desire to explore different forms of historical production. 
"Growing up [in this environment] made me aware early on about, and committed to, the labor movement's emphasis on collective action, challenging social and economic structures of power," Zhou said. "I felt that this project was a good way to serve the labor movement. I've also always wanted to learn about oral history, [and archival projects are] a unique and interesting way to leverage resources we have in the community."
In partnering with organizations like the UW's Labor Archives of Washington (LAW) and the Asian Pacific American Labor Alliance (APALA), SCOHP seeks to document the lived realities of the essential workers most affected by the pandemic, and strives to capture voices that have been historically excluded from conversations on workers' rights.
SCOHP makes it possible for frontline workers to document, from their own unfiltered perspectives, the experience of living and working through a global pandemic. The project enables people to share their own stories, providing raw data in the form of personal experiences, sensory details, visual imagery, and telling emotions. 
Zhou explained that the purpose of the project is to "provide resources for researchers and collaborators to talk about life during the pandemic," but that SCOHP also served to empower project participants.
"We wanted to center the interviewees in their own story, to allow them to take ownership of their own story," Zhou said.
It was also important for the SCOHP team to be thoughtful in determining whose stories and voices they chose to represent. The team deliberately recruited participants from a diverse range of racial and ethnic groups, having recognized that people of color have had a higher susceptibility to COVID-19 and have been subject to more severe rates of hospitalization throughout the pandemic.
This focus on inclusivity is not often present in archival projects.
"History is written by victors, and archives are constructed the same way," Conor Casey, head of LAW, said. "Similar powers operate within the construction of archives; these archives inherit and recreate biases. People who are under-resourced don't have the capacity they need to preserve [their] history." 
Oral histories like SCOHP can be corrective, in that these projects "recognize that there is a problem when library collections founded on white supremacy and colonialism don't properly represent the working class," according to Casey.
Corrective collecting is transformative because it is unapologetically diverse.
Reflecting on the project, Zhou hopes that these oral archives can reconstruct how we look back on the pandemic — playing a small but critical role in correcting the power imbalances that separate those with the privilege to write history from those who experience the repercussions of systemic inequities firsthand.
"Oral history is for the flavor," Casey said.
Casey explained that facts can always be found in secondary sources like academic journals, but oral histories are uniquely corrective in that they allow the positionality and perspective of each individual to hold prominence.
Casey and Zhou both had the opportunity to encounter these narratives directly through interviews with health care workers, teachers, construction workers, labor leaders, and other frontline workers who have been on the ground throughout the pandemic.
Many of these workers, riddled with uncertainty and grappling with financial instability, did not have the luxury of working remotely. Despite challenging conditions, Casey and Zhou describe the interviewees as both "resilient" and "adaptive."
SCOHP documents a period brimming with inaccessibility, grief, and turmoil, but the project also ensures that the adversities and triumphs of the past year will not be forgotten. SCOHP is effectively pulling back the curtain on history.
"Oral history projects aim to counter narratives of power, and they really do a lot to empower those voices who are not heard or have been misrepresented, intentionally or not, via the imbalances of power in historical production," Zhou said. "It's all about taking back those narratives [through oral histories as well as documented, inclusive archives]."
As interviews and transcriptions ride to completion — and will be accessible to the public soon — Zhou expressed her gratitude to all who were involved in the year-long endeavor.
"The project is very collaborative, not just top-down," she said. "A lot of people contributed to the project in so many different ways."
More information on SCOHP can be found at the UW Harry Bridges Center for Labor Studies. Completed interviews for the project can be accessed through the LAW archive, which also includes musical works and related oral history projects from partner organizations.
Reach writer Sarah Pham at specials@dailyuw.com. Twitter: @sarpham
Like what you're reading? Support high-quality student journalism by donating here.