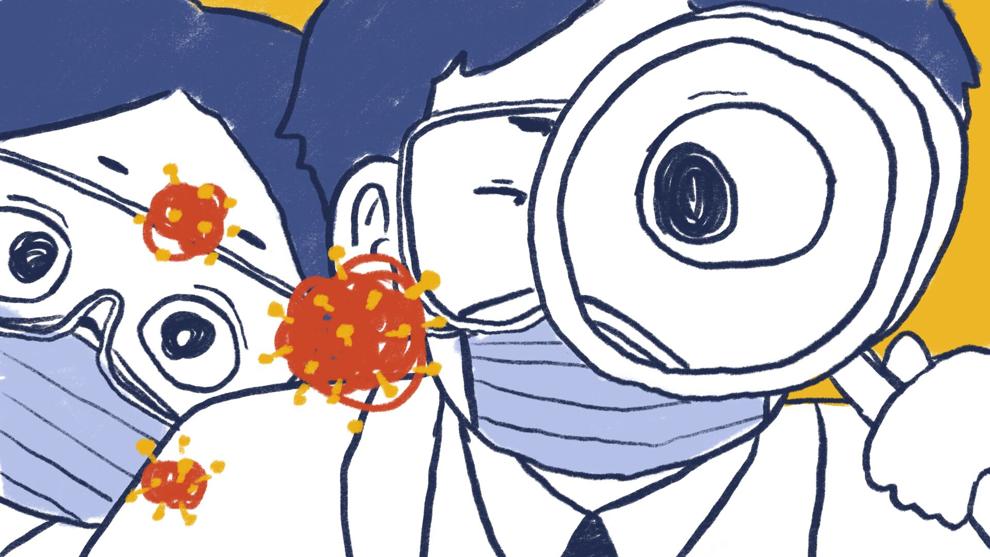 While most students transitioned into a virtual world — a world in which just the upper half of our bodies needed to be dressed up — some played a crucial part in mitigating the harm caused by the COVID-19 pandemic . 
The department of epidemiology at the UW is where many of these students and faculty contributed their knowledge and expertise to the global fight against the coronavirus. 
Jonathan Mayer and Ruanne Barnabas are among the team of UW faculty who made important contributions to epidemiology research during the pandemic.
As a professor emeritus of epidemiology and geography, Mayer has assisted in the interpretation of new research and public health guidance for the general populations through social media platforms and interviews. Barnabas is a professor in the departments of global health and medicine specializing in allergies and infectious diseases and an adjunct professor in the department of epidemiology.
"At the start of the pandemic, we were worried about two things," Barnabas said. "One, about finding easily accessible and scalable medication to prevent transmission of SARS-CoV-2, and also about accessibility to highly effective interventions all over the world."
Barnabas' work has been closely linked to early postulations of the effects of hydroxychloroquine on remedying cases of COVID-19.
"We put together an entirely remote clinical trial that relied on social media," Barnabas said. "People who signed up for the study were concentered, seen via telemedicine, and they self-collected their nasal swabs for testing for SARS-CoV-2. This was a trial design that allowed us to retain medical facilities while also reaching a more diverse participant population." 
While the team found that hydroxychloroquine had no effect on COVID-19 transmission, Barnabas described this as a notable contribution to scientists' understanding of COVID-19. The National Institutes of Health and the World Health Organization included the results of the trial in their public health guidance on COVID-19 treatment and prevention.
Early on in the pandemic, both Mayer and Barnabas were shocked to learn that the team was behind in efforts to limit the cause of infection from its origins. The urgency of needing to take action and research transmission mechanisms was an instant reaction. 
"We were able to call on all the resources, especially people and their expertise and experience at the University of Washington, in the department of epidemiology," Barnabas said. "We really had the critical mass of the people and the willingness to help to make clinical trials possible in a short amount of time, which was a real moment of husky pride." 
Coming up with research designs and tangible outcomes in such a short amount of time is no easy feat. The epidemiology department has, nonetheless, been instrumental in helping communities navigate the  COVID-19 pandemic. 
According to Mayer, major contributions have been made by the department of epidemiology, some of which were internationally recognized.
"Contributions in terms of vaccine development [were made] both locally and nationally," Mayer said. "Faculty members have been real leaders both in actual public health response and in research findings [and] clinical trials. Moreover, the [change in our] degree of sophistication and understanding of the virus has been even more rapid than the development of vaccines."
Barnabas affirmed the role of the UW epidemiology department in vaccine progression.
"There has been really important work that UW epidemiology has done for vaccines," Barnabas said. "Many faculty and staff are part of the Coronavirus Prevention Network that has contributed multiple trials on vaccines, which are really the game-changers for public health."
The epidemiology department has also done testing work and contributed to the innovation in PCR testing, antibody testing, and sequencing. Through a remote working environment, UW epidemiology was able to enroll a more representative participant group for vaccine trials, according to Barnabas.
"I hope, and I plan, that this will be how we think about science in the future as well," Barnabas said.
Though vaccines are widely available in Washington state, Mayer warned that the COVID-19 virus will not disappear in the near future. According to him, vaccination is a great step in the return to normalcy.
"This is an exciting time to be an epidemiologist, to be learning epidemiology, to see it unfolding in real time," Barnabas said. "These lessons are important since this will not be our last pandemic."
Reach writer Niv Joshi at specials@dailyuw.com. Twitter: @niveditajoshii
Like what you're reading? Support high-quality student journalism by donating here.