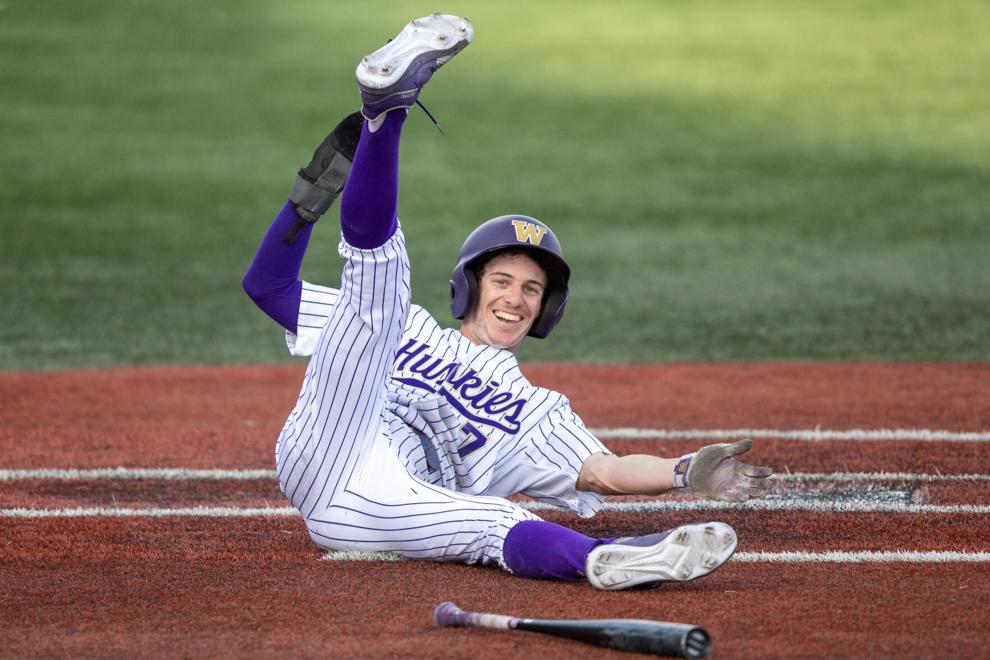 After working out of a no-out jam in the top of the inning, junior center fielder Braiden Ward stepped into the batter's box to lead off the home half of the tenth.
Ward took little time to smack a single right over the bag at second for his third leadoff hit of the afternoon. Senior Ramon Bramasco — who'd saved a run earlier in the inning on a diving grab at shortstop — then bunted him to second. 
All the Washington baseball team needed then was a base hit — not too tall of a task, especially with Ward pestering pitchers on the basepaths. That's when redshirt freshman and RBI team-leader Will Simpson came up to the plate.
Right on cue, Simpson found a 3-2 pitch of his liking and shot it right past the bag at third base, giving Ward plenty of room to scamper across home plate and give head coach Lindsay Meggs and the Huskies (16-17, 3-9) a 4-3 win over New Mexico in the first game of the series.
"When we talk about Friday, we talk about first-punch Friday," Meggs said. "You gotta throw punches moving forward, and we had them down by a couple runs, and they started throwing punches, and it comes back to haunt us."
It was a rather sporadic game for the Huskies, one in which the Huskies fell behind 1-0, then took a 3-1 lead — before eventually squandering that. But one thing remained solid throughout: Ward's incendiary speed to kick off innings.
In his return to the top of the lineup after a relative demotion to the eighth spot for the past few weeks, Ward took little time regaining his prowess at the leadoff position. 
After bunt singles to start both the first and third innings, Ward provided a boost once again on the basepaths, collecting his 26th and 27th stolen bases in 2021 — enough to move him into the top spot on the NCAA leaderboard for the season.
"I've been, you know, struggling, as anyone will say, hitting a lot of stuff in the air, popping up, going away from my approach," he said. "When I get on base, that's like my number one job — have Will hit me in. That's like my bread in butter, our bread and butter."
Ward's baserunning chaos also sparked much of the Huskies' run support throughout the afternoon. Both those innings, Ward came around to score, once on a sacrifice-fly to center field and again on a double off the bat of junior right fielder Christian Jones.
Simpson, whose walk-off hit was the first of his collegiate career, added two more RBIs to his team-lead, now sitting with 28 on the season. He also paces the Huskies with a .331 batting average, including an astronomical .395 with runners in scoring position.
"Definitely getting the first [walk-off] out of the way is a good feeling," he said. "Yeah, just trying to get a good pitch to hit and get Braiden in. He has a lot of speed, so I didn't have to do too much. Never givin' up — alway stay in the fight. Keep taking good at-bats. I mean, our pitchers were incredible today, kept guys off-balance."
On the other side of the diamond, it had been a pristine afternoon in the field for UW defenders, with Bramasco and freshman third baseman Michael Snyder saving runs with some impressive diving glovework on multiple occasions.
But disaster struck in the seventh.
Leading 3-2 with two outs, junior catcher Michael Petrie — who'd previously delivered some run-prevention of his own, throwing out a stealing runner in the third — committed a rather regrettable blunder.
The count knotted at 1-1 with runners on the corners, UNM sophomore Mack Chambers took off from first base in an attempt to provoke a throw from the plate. Much to Meggs' chagrin from the dugout, it worked.
Petrie ripped off his catcher's mask and attempted what appeared to be a fake throw to second — but it didn't quite work that way. Instead, he lofted a moonball to no-man's land in the outfield behind shortstop, and the runner on third sauntered home to tie the game at 3-3.
In effect, that defensive throwaway and some bullpen ineptitudes overshadowed another brilliant performance from Washington starter Logan Gerling (2-2), who had his 10th straight outing allowing two or fewer runs. He also did not offer a free pass all game long.
Still, regardless of any of the game's ups or downs, the Huskies found a way to prevail — thanks, in no small part, to Simpson and Ward. Now, Meggs and his team get ready for game two with UNM at 2 p.m. on Saturday.
"It's great to win a one-run game — that's definitely something you can build on," Meggs said. "In extra innings, that's also something we can feel good about. Tomorrow we need to expect the fact that they're gonna score some runs. They can swing it, so we need to do a better job offensively."
Reach senior staff reporter Nick Mendro at sports@dailyuw.com. Twitter: @m_mendro
Like what you're reading? Support high-quality student journalism by donating here.