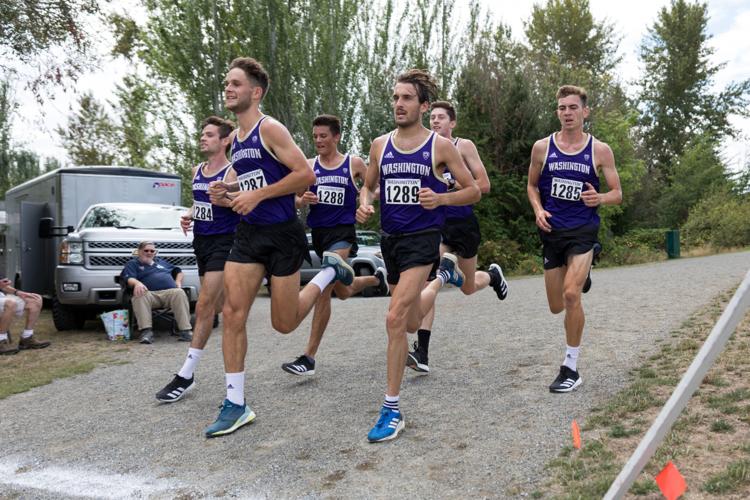 Just days after both the Washington men's and women's cross county teams were ranked No. 3 in the nation by the U.S. Track and Field and Cross Country Coaches Poll, the Huskies kicked off their season with a strong showing against local rival Seattle U in the UW-Seattle U Open at Magnuson Park in Seattle. 
Running a three-mile course, the Washington women swept the first eight places. Senior All-American Katie Rainsberger claimed the top spot, finishing the course in 16:28. Junior Allie Schadler came in second with sophomore Shona McCulloch earning the third podium place. 
Senior Lilli Burdon and sophomore Madison Heisterman rounded out the Huskies' scoring places in fourth and fifth respectively. Only 30 seconds separated Washington's five scorers. Junior Hannah Waskom and sophomores Camila David-Smith and Kelly Makin all finished before Seattle U's first scorer as well. 
The men also swept the first eight spots against the Redhawks in a four-mile race. Senior Jack Rowe claimed the individual win in his first race since transferring from the University of San Francisco. His winning time clocked in at 20:19.40. 
Rowe was only the first of a pack of Huskies behind him, as senior Mick Stanovsek and junior Nick Laccinole ended in second and third. Sophomore Alex Slenning, fresh off a fifth place finish at the U-20 Pan American games, finished in fourth just ahead of fellow sophomore Julius Diehr and redshirt freshman Isaac Mohn in fifth and sixth. Less than a full second separated Washington's top six runners. 
With their first race out of the way, the Huskies will begin training camp in full as the program begins its second full season under Maurica and Andy Powell. They will hope to build on a strong 2018 season that saw the women finish in ninth and the men climb all the way to sixth at the national championships.
Washington's next race will be on Sept. 20 when the men compete in the Battle in Beantown, a race they finished as runners-up last season. The next day, the women will head to Terre Haute, Ind. for the John McNichols Invitational. 
Reach Bay Area Correspondent Andy Yamashita at sports@dailyuw.com. Twitter: @ANYamashita
Like what you're reading? Support high-quality student journalism bydonating here.