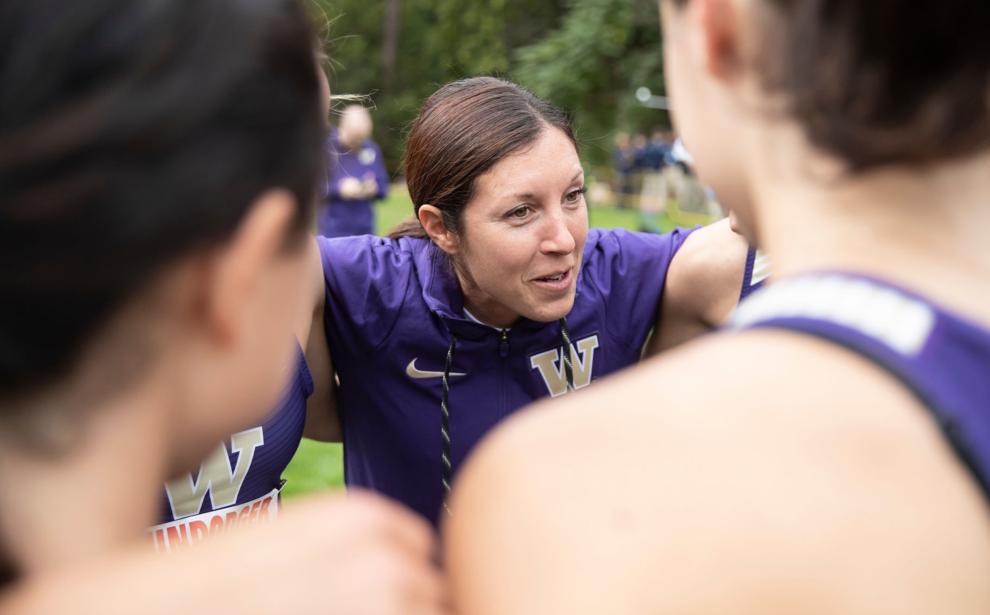 After 13 years, multiple national championships, and numerous personal and team accolades with Oregon, Maurica and Andy Powell have arrived in Seattle to take charge of a new era in Washington track and cross country. Maurica is the first person to take the position of director of track & field, while her husband Andy will be the head coach.
The Daily sat down with Maurica to discuss her job, her goals for the future of Washington track and cross country, how she and her husband share the position, and some of the other ins and outs of the program.  
Q: What drew you and your husband to this job in particular?
A: So, we'd been at Oregon for 13 years, and it was a good run. We had really good relationships with our staff and our athletes there, and it was absolutely a hard place to leave, but I think for both of us, it was just too good of an opportunity to pass up in terms of what we feel we can do in this part of the country with just a really good academic institution, lots of resources, great facilities, the whole package of it. And honestly, [Director of Athletics] Jen Cohen was a big part of it. She's just a really tremendous leader, and our alignment of values with hers and with the departmental core values were strong, and that was a big part of it too. So I think all those things, in addition to just timing, were probably the key things. No one little thing, just the whole package of this place was too good to pass up.    
Q: What was the application process like?
A: I was absolutely not trying to leave Oregon. Andy and I had really never tried to leave, we'd been there for 13 years and would have stayed probably forever. But we got a call during the NCAA meet, put it off until after the NCAA meet, and then talked to Jen right after the meet was over, and at that point, we were really excited by the things she was saying and her support of us and what she thought we could do here. We didn't talk to anybody else, it was a very straightforward process with just Jen and [Associate Athletic Director] Erin O'Connell, and six days later, we were done. It was really fast and really direct.
Q: The UW athletics department seems to really be stressing your title as director and Andy's title as head coach, so what exactly do you guys do? How do you split the workload?
A: I don't know that anyone is really stressing the difference between the titles. Andy and I are both in charge of the program, and more than anything we didn't want to be co-head coaches because we don't want to give the impression that we're splitting the program because we aren't. We're a combined program, men and women. It was important to us that we have different titles more to emphasize that we are overseeing the same program, versus splitting it into men and women. Really, in terms of who's in charge, neither of us report to the other person, we both report to [Cohen and O'Connell]. Really, the only semantic difference is that Andy oversees the men's program and I oversee the women's program in terms of administrative stuff. We both deal with compliance, budget, and alumni stuff, but when it comes to day-to-day operations of the program, I handle the women and he handles men.
Q: What are some of your short and long-term goals for the program?
A: Right now, what we're trying to do is build a culture at our program. We're trying to really have a group here that has a vision that is aligned with our own. We understand that it's a change, and change is hard for everybody. Change is hard for kids, change is hard for adults. We're certainly not what anyone who is returning to the Washington team signed up for. We're who they got. We've been happy with the response so far. The track team just arrived, the cross country team's been here for about a month, so we're kind of really still in the early phases, but in terms of process, the goals are to build a culture around getting better every day, and to build a program that aspires to be top-10 soon across the board, and to contend for trophies and championships over the coming years. Our mantra right now is, "Every person in our program helps us now or helps us soon," and the more people we can have on board with that, the sooner we're going to get there.
Q: You and your husband both talk a lot about wanting to create relationships with the athletes here, is the fact that you have runners who transferred up here from Oregon speak to the kinds of relationships you want to build here?
A: Absolutely, and that was the hardest part about leaving Oregon was the relationships we had with our student athletes, our friends, and our staff there. I think relationships are the core of everything. So much of coaching isn't just understanding the physiological response to training or the adaptation to different workouts. It's understanding how running fits into people's lives, how competing helps them reach their potential, and if we don't understand how people tick, we can't help them achieve their goals. Right now, the most important thing we can do is spend a ton of time with every kid on the team so we can just learn about them, and we're kind of playing catch-up for sure because when you recruit a kid out of high school, you spend a year getting to know them, and by the time they enroll, you're pretty far down the line in terms of getting to know personality and goals and things like that. Right now, we've got a brand new team, and we're basically starting at square one with everybody except for the kids that came from Oregon. And that part is time-consuming, there are no shortcuts. You can't just rush it, it's time in, and that's what we're doing now. We're trying to learn what makes everybody tick and trying to just build those bonds, build that trust. And I don't expect anybody to blindly hand over trust, all I ask is that they provide me a space to earn it.
Q: How were you able to attract such high level assistants like Chris Kwiatkowski and Matthew Centrowitz to come to this program and help you out here?   
A: We recruited Chris out of Bellingham High School over a decade ago and coached him at Oregon, so we've known him for a really long time and kept in touch with him. It was a perfect fit for him to come up here with us to work closer to home. He has really good relationships with all the high school coaches. We've had a dream of working with Chris for a long time and it finally played out which is awesome. Centro is the same thing. Andy and Centro have been really close since Matthew was 17 years old, and now he's at the point in his career where he's very established and has a lot to share and a lot to give to young athletes, and I think it's really helpful for our student athletes to look at a guy like Matthew who has achieved so much and to see that he's out there grinding in the rain on a Tuesday morning too. He's getting on the underwater treadmill or the AlterG, he's doing all the mundane things that maybe at the time feel like a grind, but look, that's what the Olympic champion is doing. So for him to be here and be training, and to be a really good resource for young kids has been awesome and that's why he's here. And he was excited about Seattle. He was excited to be helping young people and being in this infrastructure. And I think testing the coaching world for him was kind of a natural progression. He's always had a good understanding of his own training, and I think he has always been interested in dabbling in this part of the sport. It's been fun.
Q: Is there anything you want Husky alumni and students to know about the program you want to build here?
A: I want all our alumni to know that they're welcome to come back. We also want our alumni and students to understand that we really want this program to be relevant on the national stage and we are excited about doing it the right way, having good relationships with our athletes, and high integrity people who can compete and really represent the University at the highest level.
Reach reporter Andy Yamashita at sports@dailyuw.com. Twitter:@ANYamashita