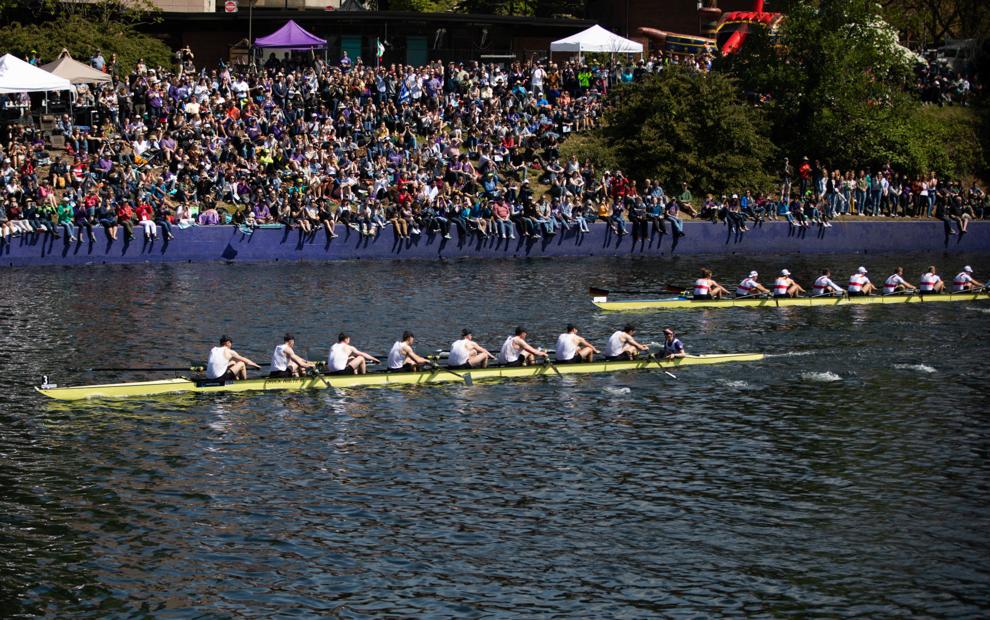 A quick survey of Windermere Cup fans on just one side of the Montlake Cut yielded an interesting sample of individuals. There was the soon-to-be-married couple, a possibly soon-to-be-shirtless freshman, one snappily-dressed man in a stetson, and a whole lot of dogs. So where's the best place to start?
Probably with the alumni who were there for the beginning.
Neither Stephanie Doyle ('89) nor Cindy Biles ('88) were in the top boat that raced Soviet women's national crew in 1987 at the very first Windermere Cup, but took part in the undercard races and remember the atmosphere on the cut with boats lining the course.
"You're in the boat, and you can hear people all the way," said Doyle, who went on to win a national championship as the coxswain for the varsity eight in 1988.
According to Biles, the crowd back in 1987 was great, but it's only gotten better since. And that's just the first improvement time has helped bring along.
"They had a helicopter that followed the races," Biles said. "But now with drones, you just get amazing footage, being able to bring people into the experience has changed. They livestream races now. It's really, really fun."
Biles and Doyle said they'd been to pretty much every Windermere Cup since they graduated. On the other side of the spectrum, Graeme Truschel ('14)  and Sarah Richardson ('13) were making their first trip to Opening Day.
Bringing their golden retriever Griz — short for Grizwald, they're not from Montana or big bear fans — with them to the Cut, the pair, engaged for just over a year, were surprised by the experience.
"I didn't realize there were so many teams, so many races going on," Richardson said. "Obviously, the level of fans that come out for something like that, and it's free. I just think there's so much support, it's awesome."
Truschel joked that he's in the middle of reading "Boys in the Boat," and a beautiful morning on the water watching the best rowing the Northwest has to offer made everything a bit clearer.
"I'm pretty impressed with both the turnout and also the production value," he said.
Just a few steps from Trucschel and Richardson stood Todd Wright ('01), maybe the best-dressed man of the day. Dressed in white shoes and pants, with a black suit over a white dress shirt and a purple and gold tie ("You've got to throw in the colors of your alma mater"), he was a reminder of the occasions boating and rowing historically have been.
"It's been kind of my tradition to kick off summer, enjoy the weather, and have a good time," Wright said.
On the more… relaxed side of things, current students crowded into a sectioned-off Dawg Pack area, including freshman Eddie Vraney who boasted a bright yellow shirt and purple UW sunglasses to go with pink shorts.
Hailing from Indiana, Vraney was at his first Windermere on Sunday.
"It's really fun," he said before the collegiate races started. "It's just a good environment to hang out with your friends, and it's a nice day.
"It's a party, it's super nice."
And that shirt? He said it wouldn't last.
"The shirts will come off," Vraney said. "When UW starts racing, the shirts will come off."
Leaving Vraney and his friends to their fun in the Dawg Pack, give the last words of the day to the former athletes. Over three decades after that first regatta against the Soviets, such high-profile events have only served to make Seattle an even greater hotbed of rowing.
"Junior rowing has become so much more popular," Doyle said. "There were one or two clubs, and now high schoolers all over the place row. It's a place where people can come and see themselves some day. It's really helped the sport."
Reach Sports Editor Josh Kirshenbaum at sports@dailyuw.com. Twitter: @J_Kirshenbaum