Racquetball is not a sport for everyone. To be an elite racquetball player you must be a great athlete, an incredible competitor, have an open mind to learning, and also have a great work ethic. Hollie Scott, a junior at the UW majoring in public health, has all four. 
"[Scott]'s an incredible athlete first of all," her coach Cliff Swain said. "She's an incredible competitor, that's something that not every great athlete has. She's very open minded to learning. She puts in the time in every way, mental, toughness, training, she's constantly learning about proper nutrition and diet."
Scott — the reigning racquetball national champion — has been playing the sport since she was 5-years-old. And as she's become more experienced, the junior has learned that racquetball demands a strong mental game in order to defeat your opponent.
"You could be losing, cause it's whenever you serve you get a point," Scott said. "[The opponent] could keep getting points and be way ahead of you and you have to stay in it and keep going."
Scott has been coached by Swain the past two years. A former racquetball pro himself, he believes that Scott is different than most other players and believes she's the total package.
"She cares about every single aspect and that's what it takes to beat other people in the sport who do the same thing," Swain said. "You need to cover all aspects of yourself and your game, and she's willing to do that."
During the racquetball season, which is nearly year-round, Scott trains around three hours every weekday. When the weekend hits, her training gets even longer. 
"It's just non stop," Scott said. "You have to go to the gym and lift weights and then cardio, running for miles and short distances, sprints, and then you've got to go on the court."
That's one reason many people who have great potential in racquetball quit. They can't handle the heavy workloads required to be great. 
"There's a lot of people that quit very early on and never get to experience the success she has because they quit," Swain said. "They give up and they just don't stick to it and it's not easy and I don't blame them for packing it in, but Hollie doesn't."
Scott's overall dedication to the game of racquetball has led to numerous accolades and wins at a number of high profile tournaments. And last year, she won the 2019 National Intercollegiate Racquetball Championship.
Back in February 2020, Scott won the National Championship in the singles women's U.S. team qualifier division. She also placed second in doubles in the women's U.S. team qualifier division.
By winning the national championship, Scott is now the number one racquetball player in the nation and has earned a spot on Team USA competing at both the June Pan-American (Pan-Am) games in Bolivia, as well as the World Championships in Mexico later this summer.
Scott has also tried to get the UW to create a racquetball team, but could not quite get the support she needed to make it happen.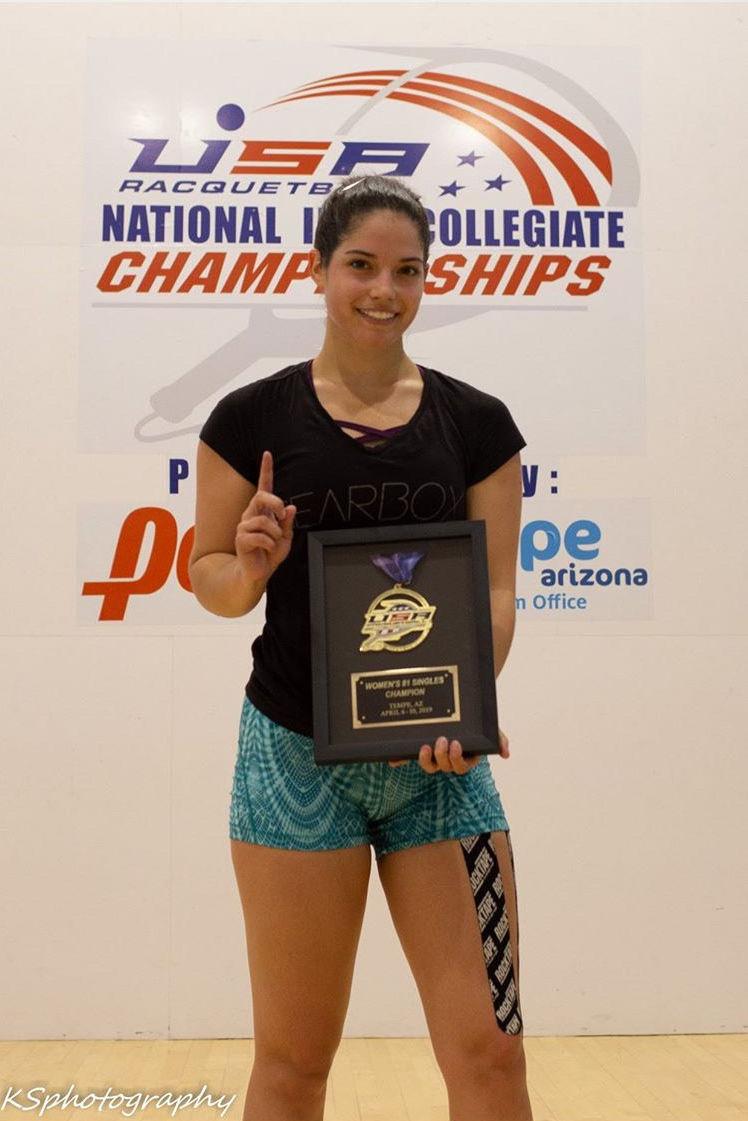 "I tried [to make a racquetball team], they made me jump through a lot of hoops," Scott said. "It's way too much work to even try. They're like, you need to be a club first and then you have to have good attendance for five years. I'm not even gonna be here for five years. That's why I'm not going to intercollegiates this year, I'm going to Pan-Ams instead."
Scott has also learned how to balance school work with competing in racquetball tournaments. Since she is not a part of a UW team, the athletic department will often not help her get a test moved when one of her tournaments conflicts with the test date. 
Originally slated to leave for the Pan-Am right at the start of the spring quarter, Scott was worried she'd have to do homework between her events, as she is the only woman playing in two different contests. But after the COVID-19 outbreak pushed the games later into the summer, Scott is just excited for her next chance to step onto the court. 
"I was very excited to compete with USA on my back again," Scott said. "But I understand why it needed to be done. I just have to keep training for Worlds in August."
Reach Contributing writer Nathan Mathisen at sports@dailyuw.com. Twitter: @nathan_mathisen
Like what you're reading? Support high-quality student journalism by donating here.