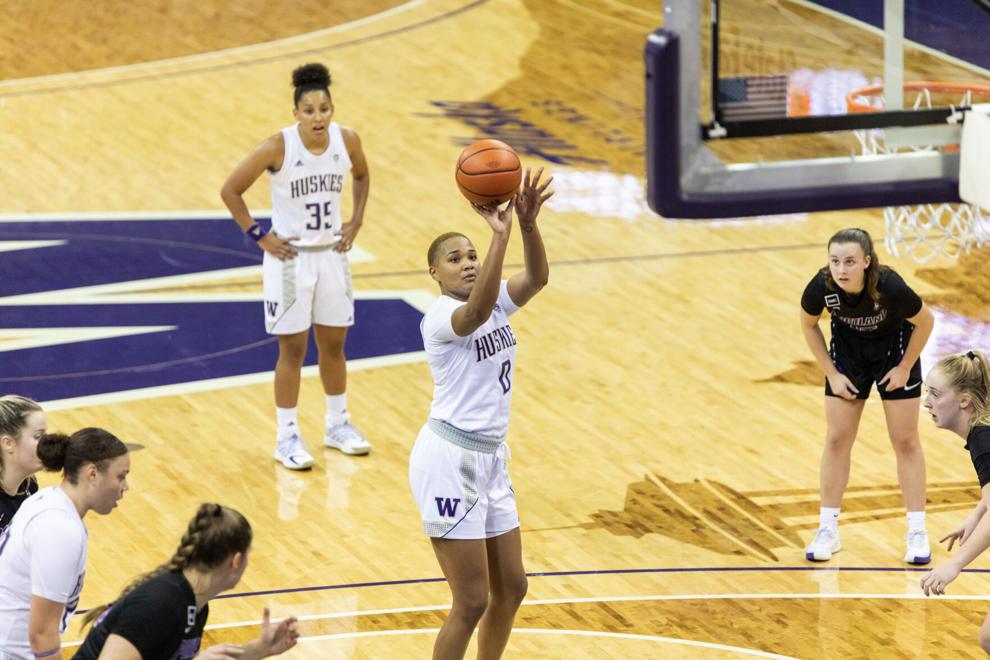 While it may have likely been the end of an uncomfortable season in many ways beyond the court, the No. 11 Washington women's basketball team demonstrated a sturdy foundation for a promising future in its 58-46 loss to No. 3 UCLA in the Pac-12 tournament Thursday night.
"I'm so proud of our team going toe-to-toe with them and really giving 100% effort for 40 minutes," UW women's basketball coach Jody Wynn said. "Our team — they want to play. I know their bodies are hurting tonight. But they love each other, they enjoy coming to practice, they enjoy working. I'll rock with those women any day."
Two players led the way for the Huskies (7-14, 3-14), with freshman guard Tameiya Sadler and sophomore center Quay Miller sparking life for their team when it needed it most. 
With junior forward Haley Van Dyke — who led the UW in scoring throughout the season — suffering an apparent head injury battling for a rebound at the end of the first half and finishing with just two points, Miller and Sadler performed their best on the biggest stage.
In the second quarter, down 25-10, Miller shouldered the brunt of the offensive load for the Huskies, scoring eight points as the centerpiece of a 15-5 UW run through the heart of the period, including a 13-0 stretch, during which Miller scored six straight points.
"My coaches and my teammates give me the green light to go whenever I feel like I have that advantage," Miller said. "Teams are woke now. I think that the way we performed last night and tonight really showed teams that we're not playing around and we're not a joke."
Representative of the team's efforts as a whole, Sadler and Miller seemed to keep the Huskies' upset bid alive whenever it appeared as though the Bruins (15-4, 12-4) were ready to run away with the victory.
"I think something that isn't talked about is the fact that Quay Miller is turning into one of the best post-defensive players in this conference," Wynn said. "She not only scored the ball tonight and did a good job off the glass, but for back-to-back games, she did a really nice on two future WNBA draft choices. As a sophomore, she's shown tremendous growth on both sides of the ball."
In the first three minutes of the third quarter, Sadler rattled off eight straight points — including two three-pointers — to give the Huskies their first lead in over 18 minutes of gameplay. That was just part of the Huskies' ability to rattle the much higher-ranked Bruins all game long.
At the tail end of the quarter, Miller found herself tracking two Bruins deep into a fast-break opportunity. She shrewdly swiped the ball away with under 10 seconds and started a break of her own, threading the ball to freshman Alexis Whitfield through two defenders.
Whitfield promptly beat the buzzer on the other end to bring the Huskies back to within a possession of the lead heading into the final period. In all, the UW outscored UCLA 29-20 in the middle two quarters.
But, unfortunately for Wynn's squad, they couldn't quite handle the UCLA defense in the fourth quarter and ultimately found themselves headed back to Seattle. But one thing's for sure — it wasn't for a lack of effort, as evidenced by the two underclassmen's performances.
Miller and Sadler combined for 31 points on 13-for-27 shooting and notched 11 rebounds as a duo. Of course, Van Dyke's absence in the second half contributed greatly to the team's inability to pull off the victory.
"Haley's led us all year long," Wynn said. "She's led us from the moment she showed back up on campus in the fall. That was a big blow when she went down. That kind of rattled us for a second, but at the same time it brought us together, and you saw a group of women that just kind of banded together and said, 'We're not gonna lay down.'"
Regardless, the team's heart could be felt from hundreds of miles away. Even at the end, down 13 points with under two minutes left, Miller blocked a UCLA three-pointer, hustling down to the other end of the court for an offensive board and putback with an and-one.
Plays like that have revealed the Huskies' dedication to their teammates moving into the future. And while it's unclear as to whether or not the Huskies will play another game, either way, they feel optimistic about its future moving forward.
"I think we have a lot to build onto now with whatever this offseason holds for us."
Reach senior staff reporter Nick Mendro at sports@dailyuw.com. Twitter: @m_mendro
Like what you're reading? Support high-quality student journalism by donating here.