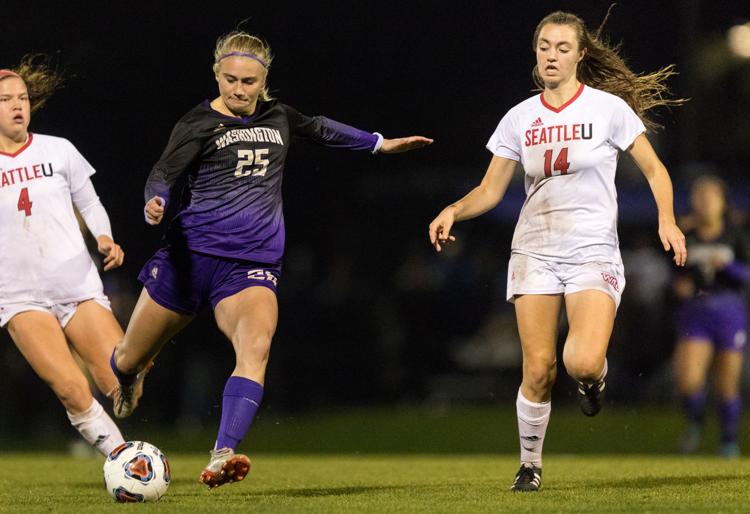 The Washington women's soccer team punched its ticket for the second round of the NCAA Tournament, which features a matchup with South Florida on Friday at 11 a.m. 
The Huskies got to this point after an 11-6-2 regular season, then a 1-0 win over cross-town rival Seattle U this past Saturday. Despite this being the first postseason appearance for Washington since 2015, it was able to overcome its lack of experience.
"I think playing my first postseason game, I went in too nervous and it kind of overshadowed what I needed to do and what my role needed to be," midfielder Ameera Hussen said. "So I think just treat it as any other game, don't put too much into it, but I still need to work my hardest."
Since not a single player has been in a postseason game before last week, there may have been some uncertainty on leadership in unfamiliar territory due to the lack of experience. The UW put that concern to rest by coming out on top in a tough, wet, and physical game to a rival.
"We were nervous, it was our first tournament game, but that all flew out the window once you go onto the field," junior Jessika Cowart said. "It's just another game, we have really great leaders on the team and really great seniors who want to keep playing, and that really pushes us to play for the people who might be [playing in] their last game."
The Huskies only got one goal, which has been a theme lately. The team has only scored multiple goals once in the past six games, and it got shutout in half of those games. Fortunately, the Dawgs have played stout defense throughout the season to minimize some of the shortcomings on the other side of the ball.
"I've been very impressed with their collective composure to be tied at half and be able to come into second halves and really turn it up a notch," head coach Lesle Gallimore said. "I think you really saw that against Seattle U. I think a lot of the nerves went out the second half. I thought we started to play more, we pressed them a little bit more."
The team has created a lot of close games throughout the season, but especially of late. Eight of Washington's past nine games have been decided by one goal. This helps prepare the team for postseason battles that could very well be decided by just one goal.
"I feel like they've been in pressure situations, and even though they were collectively as a team a little bit nervous, and with a crowd and one-and-done and all that stuff that adds up, I still think that even though they were nervous they handled well," Gallimore said. "I think the tight games, the close games have prepared them for that."
The second round against USF will be this Friday, and if Washington wins, it will stay in Tallahassee, Florida, to play the winner of Florida State and Brown on Sunday at 10 a.m.
Reach reporter Josh Eddy at sports@dailyuw.com. Twitter: @JoshTreEddy
Like what you're reading? Support high-quality student journalism by donating here.