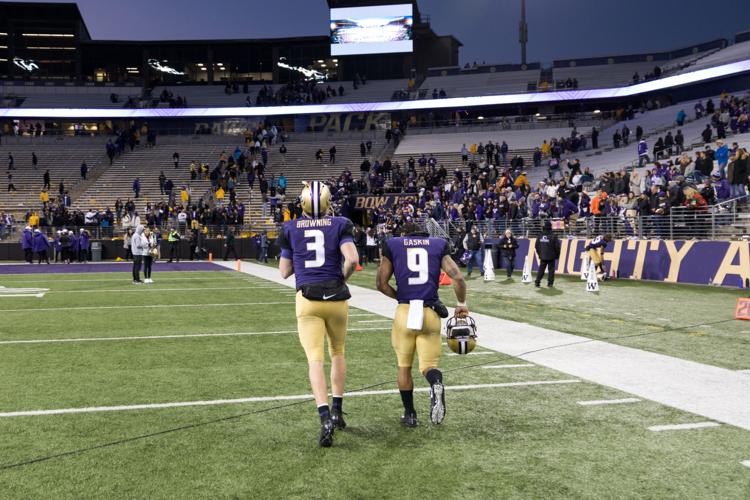 A lot of things have changed for the University of Washington Athletic Department since the UW first took the field in 1889 for its first football game. It took three years for the university to choose purple and gold as its official color scheme. The UW went through multiple mascot ideas in the early 1900s, and even more logos in the decades since.
But one thing that hasn't changed is the numbers. 
There are 101 possible numbers an athlete can wear, and over the course of their history, the teams at Washington have built up plenty of decorated cohorts, tied across sport and year by the numeral on the back of their jersey. 
I wanted to find the best one, so I scoured every UW record book to find the most-accomplished trio of athletes at each number.
A couple of ground rules and admissions we get started. First off, this is entirely about what athletes did in their numbers, not necessarily what they did in their UW careers. So if somebody wore two numbers over the course of their time on Montlake, I recalculated their total numbers and accomplishments into two separate careers.  
Second, this list can only include the sports at the UW that wear numbers: football, volleyball, beach volleyball, basketball, soccer, softball, and baseball. 
Third, as this is a look at the best numbers in UW Athletics history, I limited each sport to one athlete per number. So despite how many great No. 90s the football team has had, only one could make the list.
Fourth, I probably missed a few people. Let me know who. Anyways, let's get to it.
10. No. 8 — Dante Pettis (football, 2014-17), Craig Beeson (men's soccer, 1984-87), and Cassie Strickland (volleyball, 2012-15)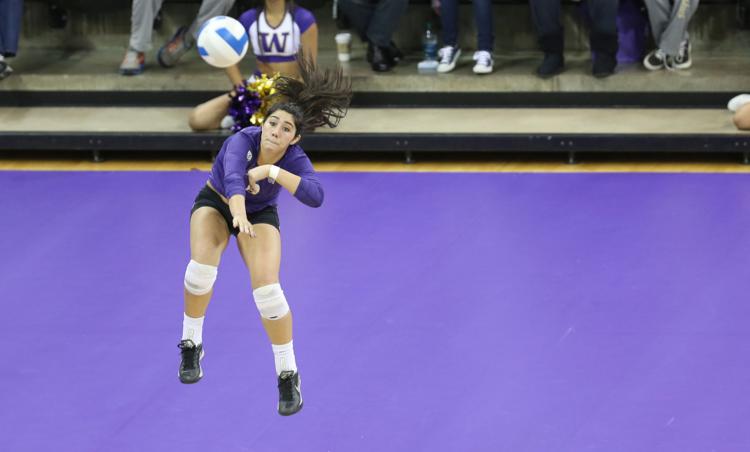 Napoleon Kaufman makes a bid for the best No. 8 in UW football history, but Pettis is the GOAT for good reason, holding the NCAA record for punt return touchdowns and also owning spots in the top five of multiple receiving categories at Washington. Beeson notched a program record 19 goals in 1987 and is still Washington's all-time leading scorer. And after switching to libero from outside hitter after one season, Strickland finished her career second in sets played and aces, and fourth in digs.
Honorable mentions: Napoleon Kaufman, C.J. Klaas
9. No. 7 — Sara Pickering (Softball, 1994-97), Tamari Miyashiro (Volleyball, 2006-09), Brock Huard (Football, 1996-98)
One of the first great hitters in UW softball history, Pickering was the first Washington two-time All-American. She still holds the program record for doubles — leading with 91. A two-time Volleyball Magazine National Defensive Player of the Year, Miyashiro is the UW career leader in both digs and digs per set. Huard rounds out the top five of most UW passing statistics, and his 25 touchdowns in 1997 is fourth-most by a Washington quarterback.
Honorable mentions: Keishawn Bierria, Jenn Salling
8. No. 14 — Tim Lincecum (Baseball, 2004-06), Taran Alvelo (Softball, 2016-19), Karen Murray (Women's Basketball, 1981-84)
Lincecum owns the UW records for wins, despite only pitching three seasons on Montlake, during which he won the Golden Spikes Award. He holds the top three seasons in terms of strikeouts, and holds that career record by a margin of nearly 200. Alvelo finished up her career last year as arguably the best UW pitcher not named Lawrie — don't worry, we'll get to her later — including three dominant weekends in Oklahoma City. Nearly four decades later, Murray is still in the top five in UW history in steals, assists, field goals, field-goal percentage, and free-throw percentage.
Honorable mention: Jennifer Cline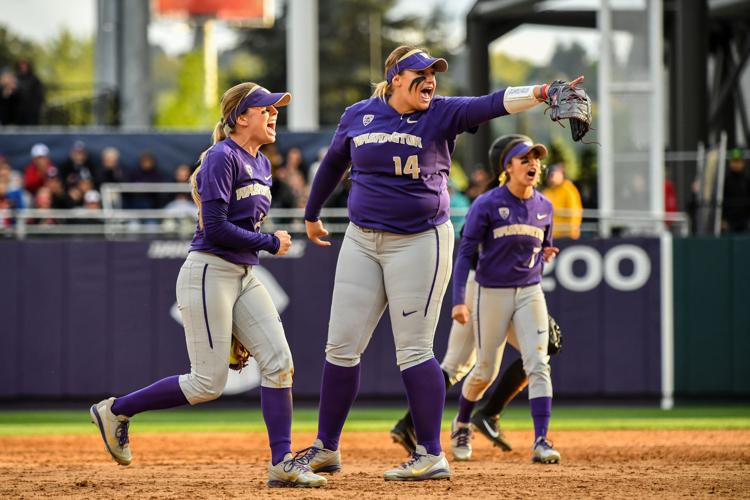 7. No. 13 — Chuck Nelson (Football 1980-82), Giuliana Mendiola (Women's Basketball, 2001-04), Kaitlin Inglesby (Softball, 2011-14)
We give kickers the respect they deserve on this list, and Nelson was one of the best to do it at the UW. He made his first 25 kicks in 1982 (before missing his last one) en route to consensus All-America honors; the number still stands as tops for a UW kicker in a season. Mendiola is in the top-five of five offensive categories, leading in assists, and Inglesby was a two-time All-American.
Honorable mention: Michelle Church
6. No. 4 — Matisse Thybulle (Men's Basketball, 2016-19), Corey Dillon (Football, 1996), Kimi Pohlman (Softball, 2009-12)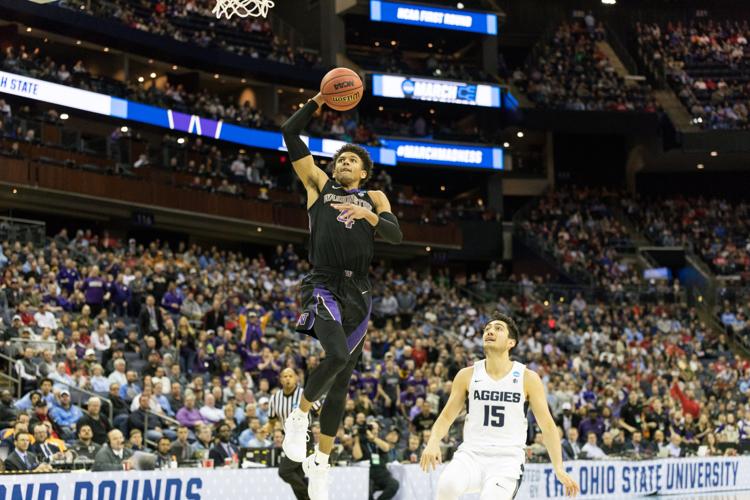 The 2019 Naismith Defensive Player of the Year, Thybulle is one of just three players in Pac-12 history to surpass 100 steals in a season, and he did it twice. Dillon's lone season on Montlake after transferring in from community college was one of the best ever, highlighted by his 305 all-purpose yards in a single quarter against San Jose State.
Pohlman started on the UW's 2009 national championship team and only grew from there, finishing in the top five in school history in batting average and earning four all-conference honors.
Honorable mentions: Jaydon Mickens, Amber Melgoza
5. No. 9 — Myles Gaskin (football 2015-18), Christal Morrison (volleyball, 2004-07), Becky Newbry (softball, 1997-99)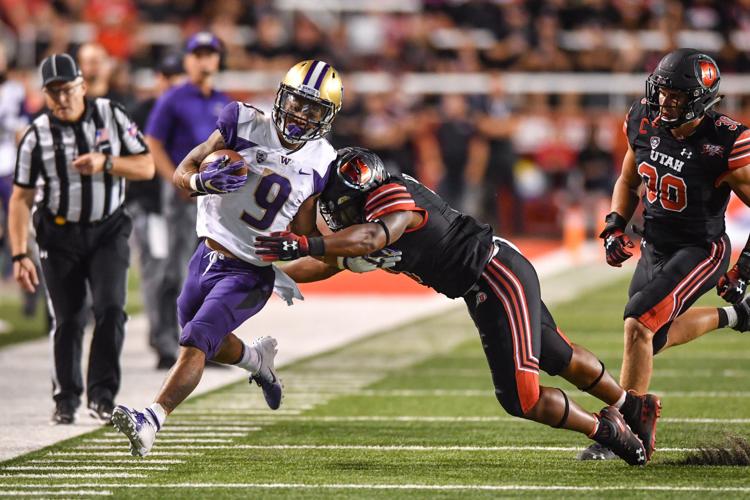 No. 9 might be a spot higher on this list if Newbry wore it all four years at the UW. Instead, we have to ignore her red-hot freshman season (when she wore No. 6), knocking her out of the top-five of multiple career offensive categories. As it stands, she still earned multiple All-American honors in No. 9, and her 1999 season ranks as one of the best in program history.
Morrison was also a two-time All-American, and is still Washington's all-time leader in points, and earned Most Outstanding Player honors at the 2005 NCAA Tournament. Gaskin holds most of the school rushing records and is the only back in Pac-12 history to have four separate 1,000-yard seasons.
Honorable mention: Lawyer Milloy
4. No. 33 — George Wilson (football, 1923-25), Steve Hawes (men's basketball, 1970-72), Angie Marzetta (softball, 1993-94)
Going way back for this one. Wilson was the first consensus All-American in UW history, and his 38 career touchdowns stood alone atop the UW leaderboards for 86 years under Bishop Sankey tied him in 2011. For what it's worth, he also kicked two PATs. Hawes was one of the best rebounders in UW history, while also being the only Husky to average over 20 points per game in a career longer than one year. Angie Marzetta was one of six upperclassmen on the original UW softball roster in 1993, and her .429 batting average that year still stands as the best in program history.
3. No. 15 — Danielle Lawrie (softball, 2006-2010), Bob Schloredt (football, 1958-60), Kara Bajema (volleyball, 2016-19)
Let's talk about strikeouts. Lawrie is first in UW history with 1,860. Alvelo is in second with 895. Reading this article, right now, you are closer to second place in UW history in strikeouts than the pitcher in second place is to the one in first. Lawrie also had 103 career games with at least 10 strikeouts; the next six pitchers on the list combined for 102.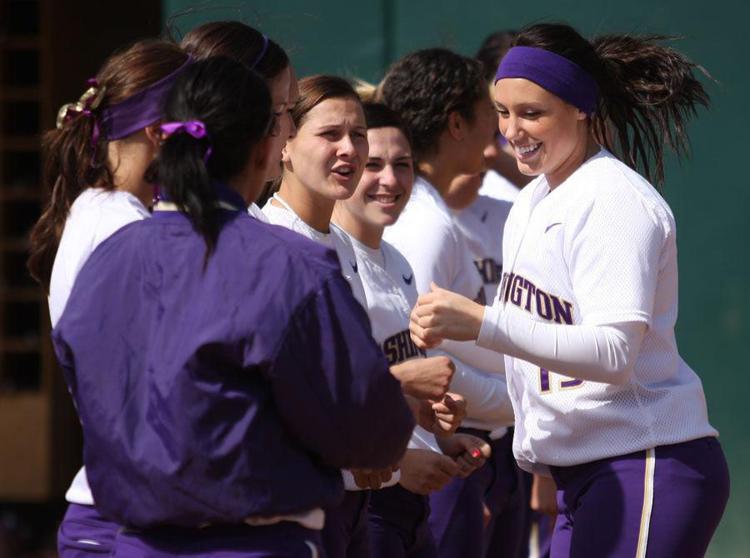 Possibly the most versatile player in UW football history, Schloredt's 1959 season included the fifth-most rushing attempts by a UW quarterback, a .520 completion percentage with five touchdowns, six interceptions on defense (including a pick-six), and the only game ever by a UW punter with three punts of over 60 yards.
For her part, Bajema recently set the single-season kills record for the UW in a year and earned All-American honors.
Honorable mentions: Jermaine Kearse, Yvette Cole, Louie Nelson
2. No. 10 — Kelsey Plum (women's basketball, 2014-17), Jake Locker (football, 2007-10), Tina Frimpong (women's soccer, 2001-04)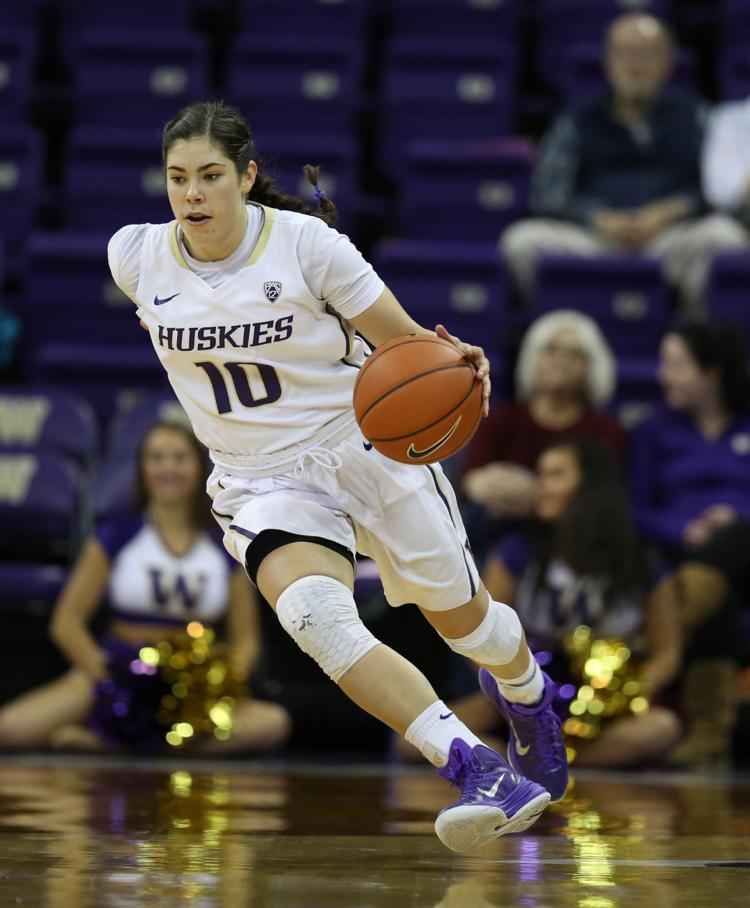 Here we get into the obvious top two, and No. 10 comes up just barely in second place. How good was Plum? She set the UW single-season scoring record with 712 points as a freshman. Then she broke her own record as a sophomore with 746. Then she broke that mark with 960 as a junior, setting the UW career record with the entire season to go. Then she smashed her record yet again, becoming the NCAA's all-time leading scorer with 1,109 points as a senior.
A local kid who chose to stay home and passed up a chance at being the No. 1 pick in the draft to come back for another year, Locker may well be the most popular UW athlete ever. One of the best running quarterbacks in program history, his 29 rushing touchdowns are tied for fifth by any position.
And it doesn't matter that Tina Frimpong wore No. 15 in her freshman year. Even just counting her last three seasons, she's still Washington's all-time leading scorer, earning back-to-back Pac-10 Player of the Year awards.
Honorable mention: Rosie Leutzinger
1. No. 3 — Jake Browning (football, 2015-18), Courtney Thompson (volleyball, 2003-06), Chris Magruder (baseball, 1996-98)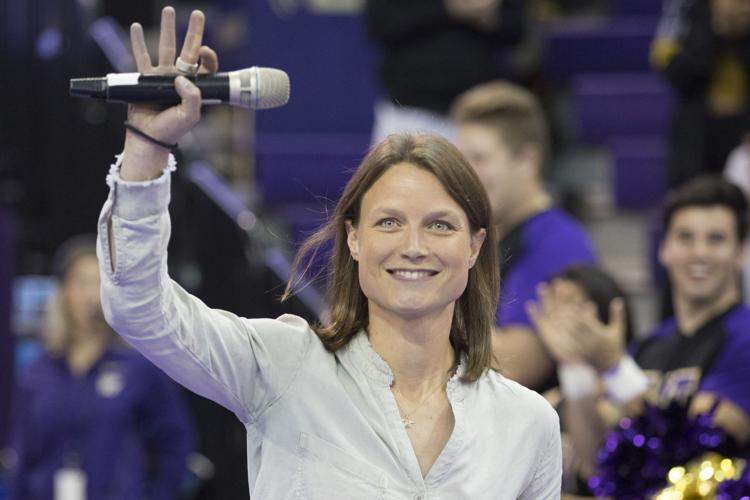 By far the deepest group of any number in UW history — just look at the honorable mentions, they'd make this list as a group by themselves — No. 3 doesn't exactly lack star power. A four-year starter, Browning holds the school records for career passing yards, completions, and touchdown passes, and none of them are particularly close. Putting up huge numbers in a stellar 2016 season that saw him win Pac-12 Offensive Player of the Year, he also finished his career with the lowest interception percentage and highest passer efficiency in school history.
Thompson was in the middle of it all in Washington's run to the 2005 national championship, ended her career with three first-team All-American honors, and pretty much owns the statistical categories for setters in the UW record book. She holds the four best seasons both in terms of assists and assists per set, and, of course, has the career records for both.
Flying under the radar a bit compared to the other two, Magruder was powered by a 1997 season that's arguably the best in UW baseball history, in which he set program records with 104 hits, 90 runs, and 43 steals. He holds the career records for runs, steals, and triples, is third in batting average, hits, and doubles, and led the Huskies to their greatest run of success, winning back-to-back-to-back division titles.
Honorable mentions: Brandon Roy, Cody Pickett, Talia Walton, Eve Gaw
Reach Managing Editor Josh Kirshenbaum at sports@dailyuw.com. Twitter: @J_Kirshenbaum
 Like what you're reading? Support high quality student journalism by donating here.