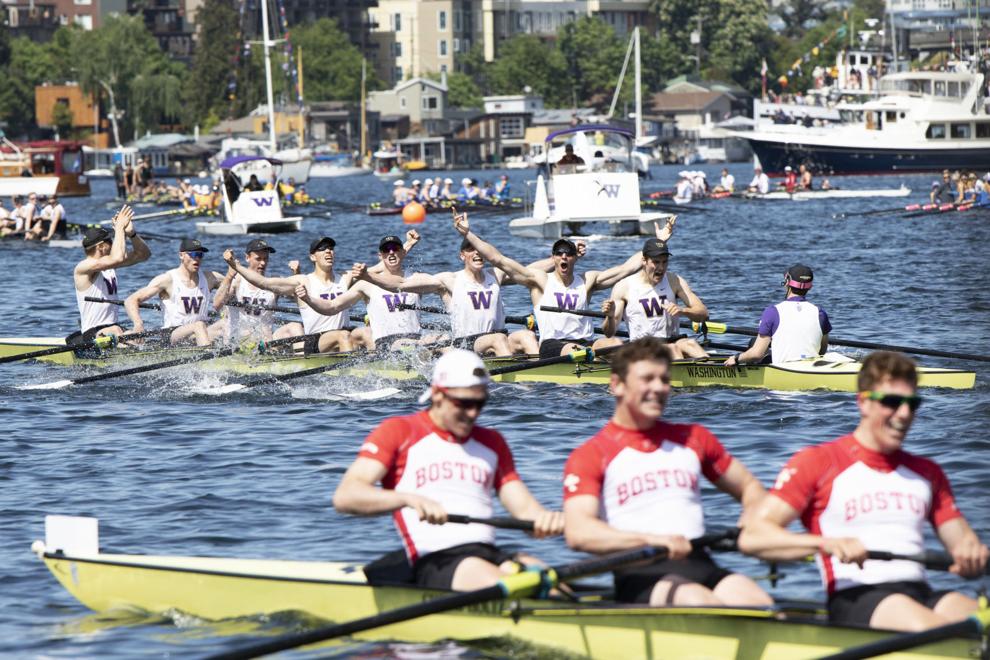 After another banner year for UW Athletics, here are the Daily Sports Staff's picks for best athletes, games, and moments during the 2018-2019 sports season. 
Best Female Athlete: Taran Alvelo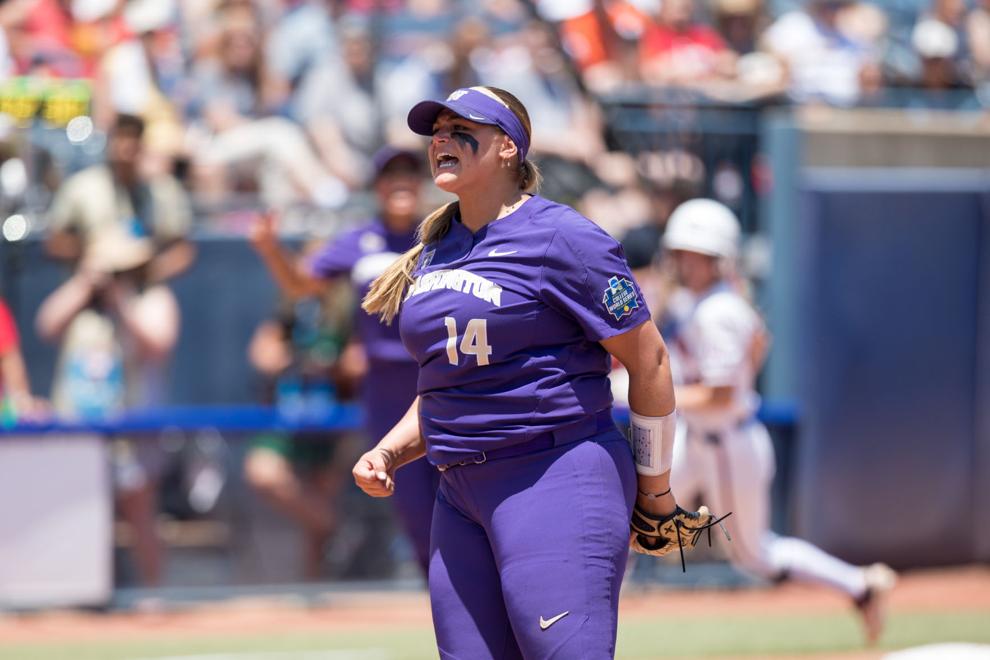 Is Taran Alvelo the best pitcher in UW Softball history not named Danielle Lawrie? With her decorated career on Montlake now over, that argument can definitely start to take hold.
Alvelo finished 2019 with her third consecutive first-team All-Pac-12 honor and spots on the NFCA All-America third team and the all-WCWS team after a historic outing at the Women's College World Series (more on that later).
Turning to the UW record books, Alvelo leaves Seattle fourth in program history in innings pitched (798), second in wins (102), second in strikeouts (895), third in shutouts (28), and ninth in ERA (1.96).
Honorable mention: Amber Melgoza (women's basketball), Katie Rainsberger (track and field/cross country), Stacey Fung (women's tennis), Destiny Julye (volleyball)
Best Male Athlete: Matisse Thybulle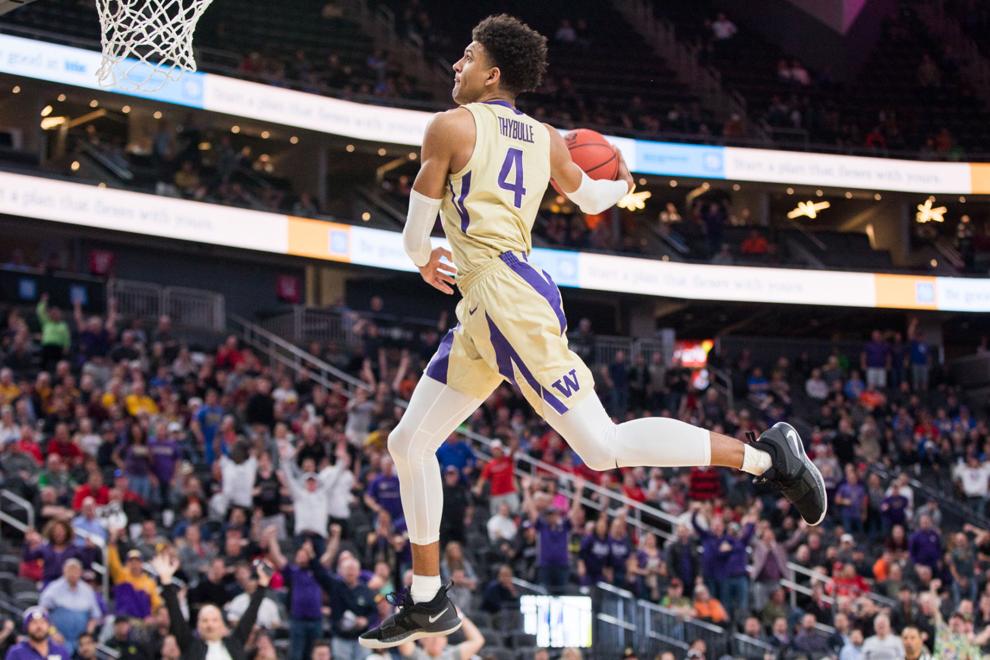 One of the best defenders in Pac-12 men's basketball history ended his UW career with a monster season, picking up his second consecutive conference Defensive Player of the Year Award, the Lefty Driesell Award, and the Naismith Defensive Player of the Year Award.
Thybulle's 126 steals in the 2018-19 season led the country, broke Jason Kidd's single-season Pac-12 mark, and gave the UW star 331 career steals to break the conference record.
In his final game with Washington, Thybulle also tied the program record with his 186th career block. 
Honorable mention: Ben Burr-Kirven (football), Myles Gaskin (football)
Won the popular vote: Nick Kahle (baseball)*
Best Freshman: Sami Reynolds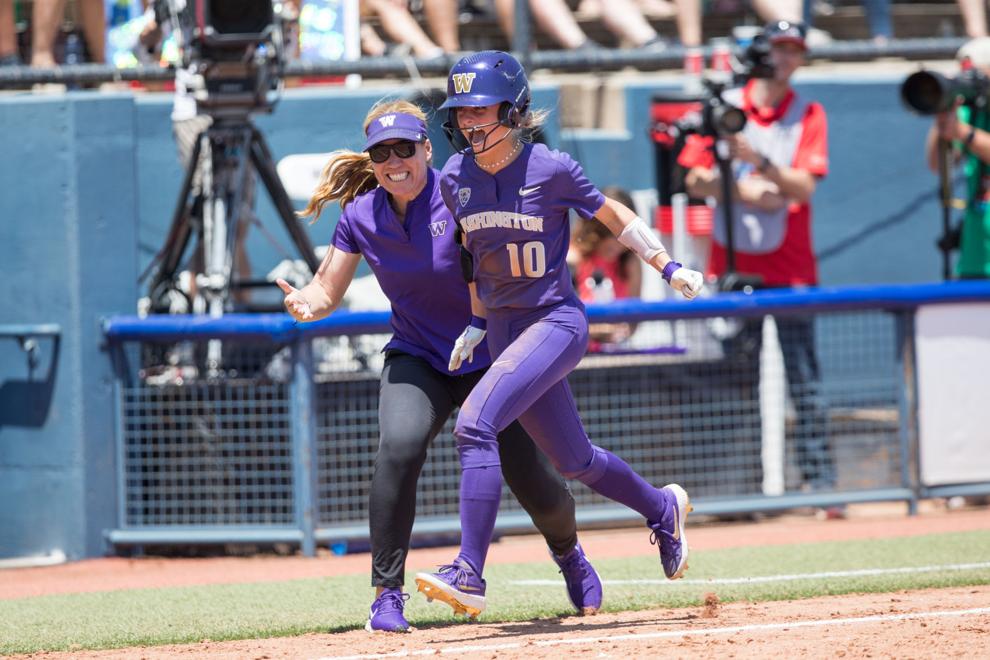 Sami Reynolds didn't exactly ease into her freshman season, starting the first game of her collegiate career in left field and the third spot in the UW lineup. She went 2-for-3 that game and didn't slow down, finishing the season with a .330 batting average.
She ended up leading the Huskies with 15 doubles and was second on the team with 43 RBIs. Going in to the postseason, Reynolds earned third-team All-Pac-12 honors along with a spot on the freshman all-conference team. 
Then, the postseason hit, and Reynolds ramped her game up another notch. She reached base safely in all nine tournament games and ended the year on a seven-game hitting streak. Reynolds had seven hits at the Women's College World Series, including five in Washington's final two games, and earned a spot on the all-WCWS team.
Honorable mention: Ella May Powell (volleyball), Summer Yates (women's soccer), David Rhodes (baseball), Sedona Gallagher (women's tennis)
Breakthrough Athlete: Hannah Rusnak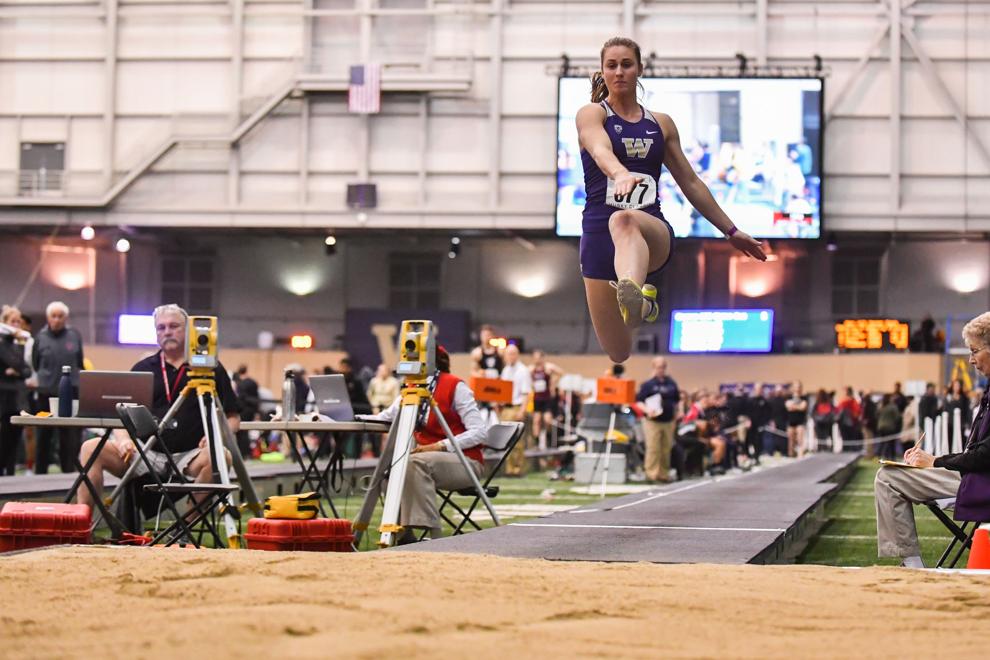 After a freshman season that saw her finish 10th at Pac-12s in the Heptathlon, the sophomore had an incredible breakout season under new multis coach Toby Stevenson, who saw the sophomore improve her score by 845 points. 
That improvement was enough to see Rusnak win the Pac-12 title in her second season at the UW and finish ninth overall at the NCAA Championship meet in Austin, Texas. 
Along the way, Rusnak broke the 27-year-old Washington school heptathlon record several times, culminating with her performance at NCAA Championships, with a score of 5779. 
Honorable mention: Dylan Teves (men's soccer), Chris Micheles (baseball), Izzi Batt-Doyle (track and field)
Best Performance: Taran Alvelo strikes out 16 to keep UW alive at the WCWS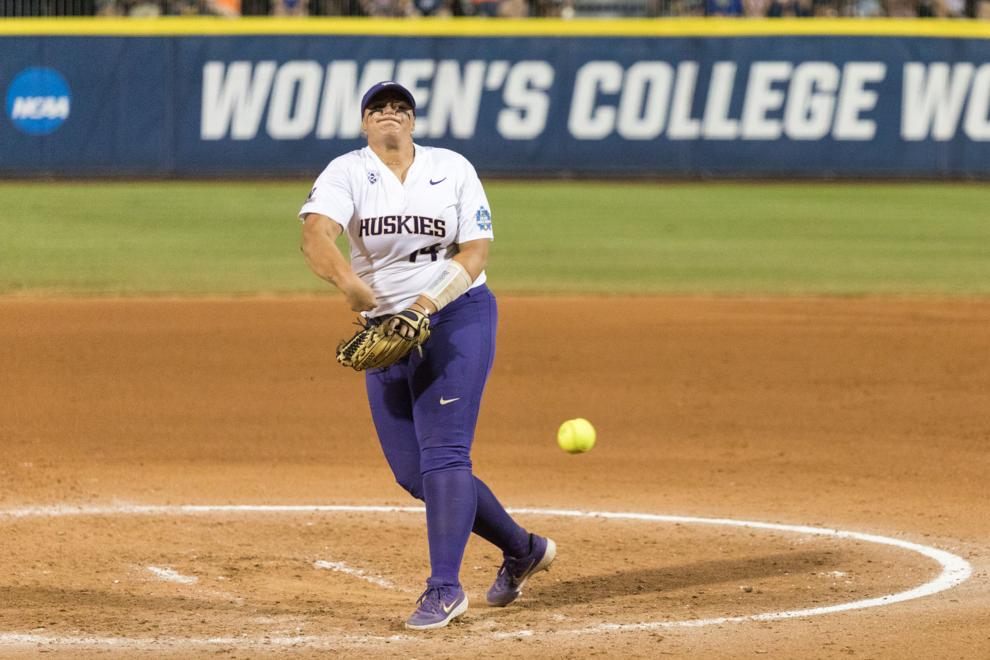 Washington had already survived an elimination game in the morning of Survival Saturday in Oklahoma City, complete with a three-hour weather delay.
Then the Huskies had to wait three and a half hours and do it again against Oklahoma State. That's when Taran Alvelo took over.
Alvelo, who had earned a one-out save in the morning game, struck out the side in three of the first four innings. By the fifth-inning stretch, she was up to 13 strikeouts, passing Danielle for the most by a UW pitcher in a WCWS game.
She ended up with 16 punchouts in a three-hit shutout, as Washington scraped by with a 1-0 win.
Honorable mention: UW football holds Utah to 3 points in Pac-12 Championship behind two interceptions from Byron Murphy, Hannah Rusnak wins Pac-12 Heptathlon title and breaks school record, Kaylene Pang records a brace as a defender against Cal, Gabbie Plain throws back-to-back no hitters, Talon Hull places second at cross country Pac-12 championships, women's golf punches ticket to NCAAs with second place finish at regional
Best Event: UW sweeps the Windermere Cup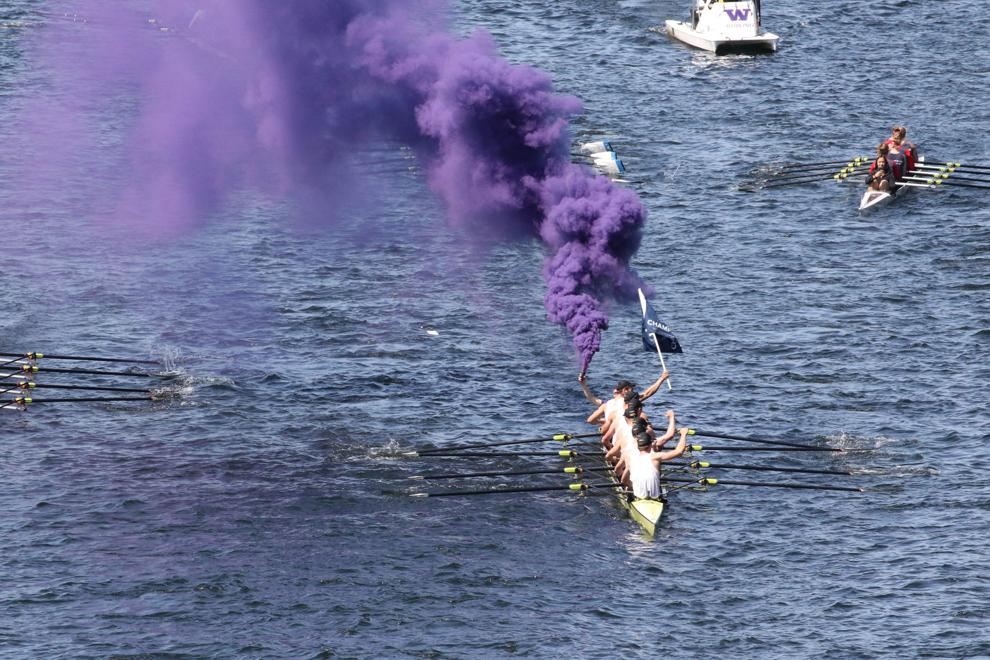 In a spectacle like no other, the Washington rowing program reigned supreme once again on its home course, sweeping national powerhouse Germany in the 33rd annual Windermere Cup. While the German national team didn't necessarily bring its absolute best lineups, the Huskies defeated a rowing program that consistently medals at the Olympics and World Championships. 
In the women's race, the Huskies dominated and led from start to finish, resulting in a five second victory over their German competitors. In the exact same fashion, the men followed suit with an end-to-end lead and victory by five seconds over the national team boat. 
Lined with spectators for the prestigious event, and Opening Day festivities taking place directly after the races, the Windermere Cup attracted thousands of spectators lining the shores of the Montlake Cut to witness the Washington crew teams do what they do best on their home course. 
Honorable mention: women's basketball upsets No. 11 Oregon State in Pac-12 tourney with game-winning three, volleyball upsets Creighton with a sweep on their home turf in the second round of the NCAA tournament, men's basketball beats USC in opening round of Pac-12 tournament, baseball walks off against ASU to win first series in a month in 12 innings
Best Moment: Missy Peterson shocks Oregon State in Vegas
After a tough conference season that saw the Huskies only win two conference games (both against Colorado), Washington equaled that win total in one weekend at the Pac-12 tournament, upsetting both Utah and No. 11 Oregon State, with the latter coming in thrilling fashion. 
After falling behind by double digits early against the Beavers, the Huskies clawed their way back thanks to a multitude of threes from freshman forward Darcy Rees and sophomore guard Missy Peterson. Down the stretch, it appeared maybe Oregon State would stave off the upset after a layup tied the game with 4.9 seconds to go. 
But Peterson had other ideas. After the play had been originally designed to go to leading scorer Amber Melgoza, Peterson saw the opportunity to pass the ball to a wide-open Mai-Loni Henson, who threw the ball right back to Peterson. The sophomore drilled the long three-ball with 2.3 seconds left, and after some late drama (including a technical for storming the court too early), the Huskies pulled off the one-point upset over the Beavers to become just the second 11-seed to ever make it to the Pac-12 tournament semifinals. 
Honorable mention: Byron Murphy pick-six in Pac-12 Championship, men's basketball reaches NCAA tournament for first time in eight years, men's cross country place sixth at NCAA finals, Kristyn Hoffa performs a full-in and scores a 9.925 for gymnastics
*Editor's note: Through a popular vote on Twitter, Nick Kahle won the percentage vote on a poll posted by the Daily Sports' Twitter account. While the Daily Sports Staff took that vote into account, the vote among the staff still had Matisse Thybulle come out on top (sorry @UW_Baseball). 
Reach The Daily Sports Staff at sports@dailyuw.com. Twitter: @UWDailySports
Like what you're reading? Support high-quality student journalism by donating here.