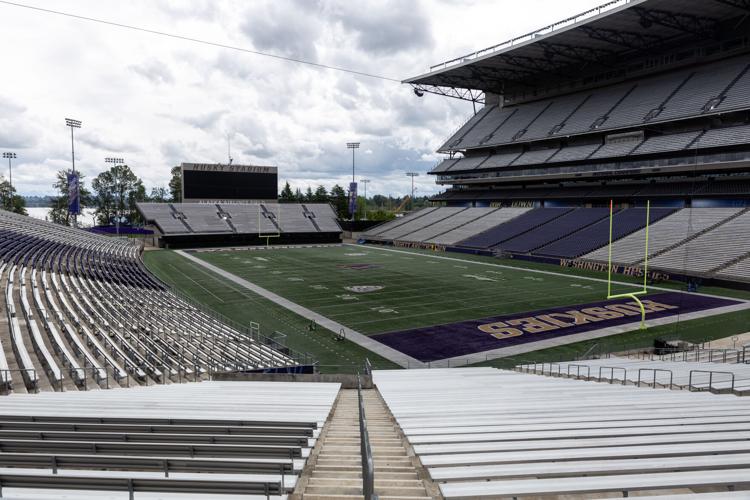 Forty four days after the Pac-12 announced fall sports would be delayed until January 2021, the conference reversed course Thursday. Following a unanimous vote, the Pac-12 CEO Group officially decided to move football back to fall, with a shortened season beginning Nov. 6.
"I'm extremely excited for our student-athletes, coaches, staff, and Husky Nation," UW director of athletics Jen Cohen said. "We couldn't be more pleased with today's decision by the Pac-12 CEO Group and would like to thank the Pac-12 Medical Advisory Committee for everything they've done to get us to this point."
Teams will play a seven-game season, culminating in the Pac-12 Championship Game on Dec. 18. Five games will be played against divisional opponents, along with a sixth inter-division crossover which will count toward the final standings. The seventh week will feature the championship game, as well as matchups between seeded opponents from each division.
For the Washington football team, that means games against fellow Pac-12 North rivals Oregon, Oregon State, California, Stanford, and Washington State, and at least one game versus a Pac-12 South opponent.
Washington originally scheduled to host Oregon State and Stanford and travel to California, Oregon, and Washington State. The Pac-12 said it would like to keep as close to a normal schedule as possible, so the UW will likely keep its locations versus other North schools and need another home game to balance its schedule out. Arizona and Colorado were the Pac-12 South schools scheduled to visit Seattle this fall. 
A more detailed schedule will be announced next week, Pac-12 Commissioner Larry Scott confirmed in a press conference Sept. 24.
When the conference announced the postponement of fall sports back in early August, Scott noted increased COVID cases, a lack of testing, and local government restrictions as the main factors in the decision.
"From the beginning of this crisis, our focus has been on following the science, data and counsel of our public health and infectious disease experts," Scott said at the time. 
Now, three weeks after the return of football in other parts of the country, the Pac-12 has been able to watch other conferences — successful and unsuccessful — and learn how to do things right.
In early August, Seattle was averaging more than 30 new COVID cases every day; it is now averaging 21 new infections per day as of Sept. 27. While community spread hasn't decreased in many other areas of the West Coast since the Pac-12 first decided to postpone the season, it did make great strides in testing.
However, the Pac-12 announced a partnership with Quidel for rapid-results testing Sept. 3, which has a turnaround time of 15 minutes and determines whether a test subject is infected with COVID-19. The instant results will potentially decrease, or completely eliminate, disease spread on the field and reduce the chance of an outbreak within a given team.
"Our agreement with Quidel to provide daily rapid-results testing has been a game-changer in enabling us to move forward with confidence that we can create a safe environment for our student-athletes while giving them the opportunity to pursue their dreams," Scott said. "At the same time, we will continue to monitor health conditions and data and be ready to adjust as required in the name of the health of all."
The final hurdle the Pac-12 had to overcome was the local government restrictions preventing teams from practicing in full. California and Oregon officials recently granted clearance to their given schools to return to the football field in large groups, given the testing system in place.
However, a new challenge has since appeared in Boulder, Colorado, as the city has placed a prohibition on gatherings of college-aged individuals between the ages of 18 and 22 for the next two weeks. This mandate includes college athletics, and prevents the Buffaloes from full practices until two weeks before the first game of the season.
Meanwhile, the Huskies and other Pac-12 teams are planning on beginning padded practices as soon as next Monday.
Former UW head coach Chris Petersen was on board with the idea of playing a fall football season, as long as doctors approved the idea as well.
"It always goes to the doctors," Petersen said. "If the doctors are feeling comfortable that we can do this with the new testing protocols, and the doctors feel good about everything else, let's play."
Basketball to begin Nov. 25
Men's and women's basketball will begin on the official NCAA start date of Nov. 25, the Pac-12 also announced on Thursday.
"This is incredible news for college basketball," men's basketball head coach Mike Hopkins said. "Our medical team, Dr. [Jon] Drezner and Pat Jenkins, along with many others, have not only kept us healthy, but have done a great job teaching us how to practice and prepare carefully during this time."
The Washington men are looking to bounce back from a disappointing year in which they featured two top-10 freshmen, yet finished at the bottom of the Pac-12 standings. Washington's nonconference schedule was headlined with a home game versus Auburn on Nov. 19, but that meeting will need to be rescheduled or canceled. However, the men aren't the only team happy to get back on the court.
"We couldn't be more excited with today's news," women's basketball head coach Jody Wynn said. "Our players have been so patient and resilient as we've navigated the last few months and we are thrilled about having the opportunity to move forward. I'm grateful to our administration and medical team for all of their work to make this happen. We can't wait to get started."
Wynn is hoping to continue an improving trend in her fourth year as head coach. The Huskies have won seven, 11, and 13 games in each of Wynn's first three years, respectively. Washington will have to overcome the loss of its leading scorer in Amber Melgoza, but key pieces Missy Peterson and Haley Van Dyke return for the upcoming season.
Reach reporter Anthony Edwards at sports@dailyuw.com. Twitter: @edwardsanthonyb
Like what you're reading? Support high-quality student journalism by donating here.