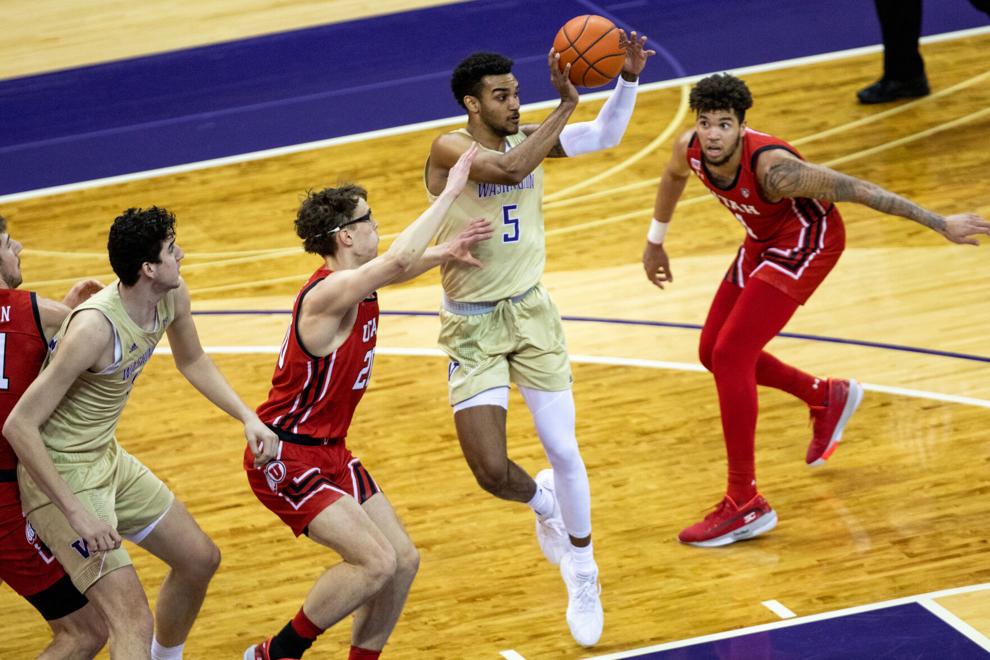 After recording its first conference victory just four days ago, the Washington men's basketball team made it two in a row by beating Utah 83-79 on Sunday afternoon.
Though the Huskies (3-11, 2-7 Pac-12) struggled from distance through the game's early goings, sinking just two of their first seven 3-point attempts, they managed to stay within striking distance for much of the game's first 20 minutes, thanks in part to their ability to get into the paint and to the free throw line. 
When it appeared as if the Utes (6-7, 3-6 Pac-12) might pull away towards the end of the first half, going on an 11-0 run at one point, the Huskies caught fire from beyond the arc, hitting threes on four straight possessions to keep the game tight.
Led by junior guards Erik Stevenson and Jamal Bey, who scored 12 and 10 points respectively in the first half, Washington trailed by just three at halftime, despite falling behind by 12 with just over four minutes left in the period. As a team, the Huskies shot 55.6% from the field and 50% from beyond the arc in the first half.
However, Washington's first half offense appeared not to be sustainable, especially considering its turnover issues and the lack of early production from leading scorer Quade Green. Green scored just five points in the first half, while turning the ball over four times. As a team, the Huskies struggled with unforced errors, giving the ball away eight times in the first half and 12 times on the day.
But on the contrary, Washington stayed hot from beyond the arc in the second. Following their highest scoring half of the season, Washington ended the game shooting 50.9%, including 50% from three. But Washington struggled tremendously from the line, making just 8 free throws on 13 attempts.
With that being said, Bey was the driving force behind Washington's attack through the game's entirety, hitting his first seven shots without recording a miss until the 14 minute mark of the second half. On the day, Bey led all scorers, dropping a career-high 28 points on 10-of-11 shooting.
And while the Huskies allowed at least 70 points for the seventh straight game, Bey's hot hand and several clutch buckets from Green proved to be enough to push the Huskies top as they beat Utah, avenging a loss to the Utes from earlier this season, while sweeping the mountain schools on the week.
The Huskies will take the court next on Jan. 31 when Washington State comes to town.
Reach reporter James Price at sports@dailyuw.com. Twitter: @_jamesprice_
Like what you're reading? Support high quality student journalism by donating here.