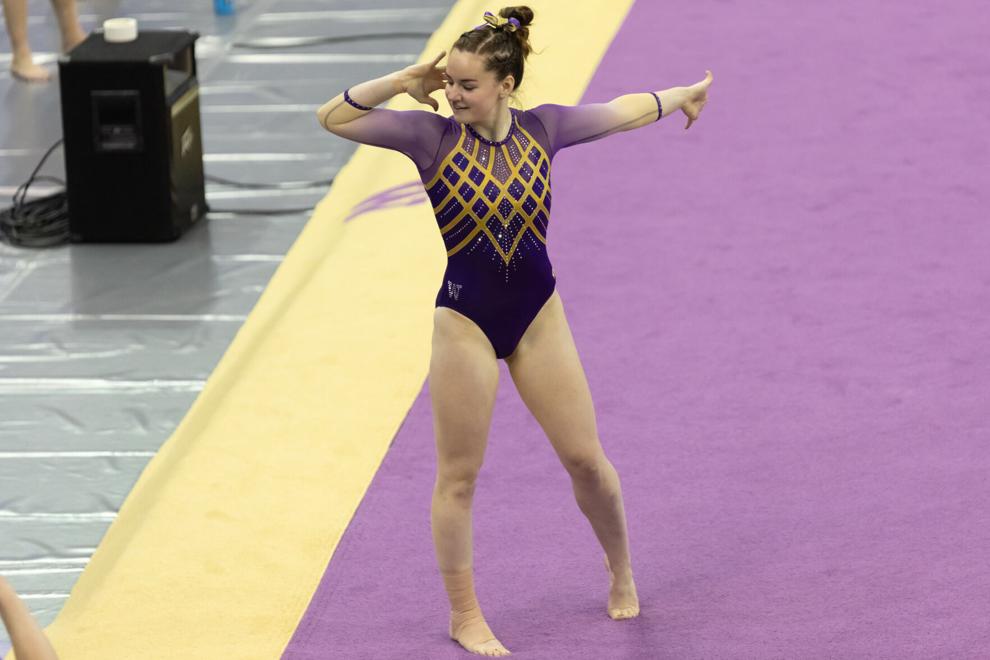 Though it wasn't quite a season-high, the Washington gymnastics team still went out strong in its final meet of the regular season, scoring 196.025 against No. 6 California on Sunday. 
Three different gymnasts set four new career-highs, including redshirt senior Allie Smith in what could be her final regular season collegiate meet. 
Starting off on bars though, the Huskies got off to a shaky start. Senior Geneva Thompson led the group with a 9.875, and Freshman Skylar Killough-Wilhelm tied her career-high on the event for the third consecutive meet, scoring 9.850. However, no other UW gymnast scored above 9.800 as the team finished with an event score of 48.400. 
Washington began to turn things around on the vault. Killough-Wilhelm set a new career-high on the event by scoring 9.875, and Thompson and junior Amara Cunningham both earned scores above 9.800 as the Huskies improved on their vault score for the second consecutive week, finishing with 49.275.
But it was senior Allie Smith who stole the show on vault. The Pennsylvania native scored 9.925, setting a new career-high and winning the event title.  
The Huskies continued to build on their momentum as they headed to floor. Cunningham led the team by tying her best mark, scoring 9.950, and Thompson also matched her career-best with a 9.900. Smith and Killough-Wilhelm also scored more than 9.800, and Washington finished the event with a 49.275. 
Washington finished the meet on beam, where both Killough-Wilhelm and sophomore Morgan Bowles set career-highs of 9.875 and 9.800, respectively. Freshman Katie McNamara also scored a 9.875 to joint-lead the team with Killough-Wilhelm, and head coach Ralph Rosso gave a collegiate debut to freshman Taylor Russon, who became the eighth UW gymnast to make her collegiate debut this season. 
Despite their strong showing, Washington couldn't outscore Cal, who finished with a score of 197.600. Freshman Andi Li won the all-around title with a final score of 39.575. 
The Huskies will be back in the gym Saturday, March 20 as they participate in the Pac-12 Championships in West Valley City, Utah. 
Reach Sports Editor Andy Yamashita at sports@dailyuw.com. Twitter: @ANYamashita
Like what you're reading? Support high-quality student journalism by donating here.