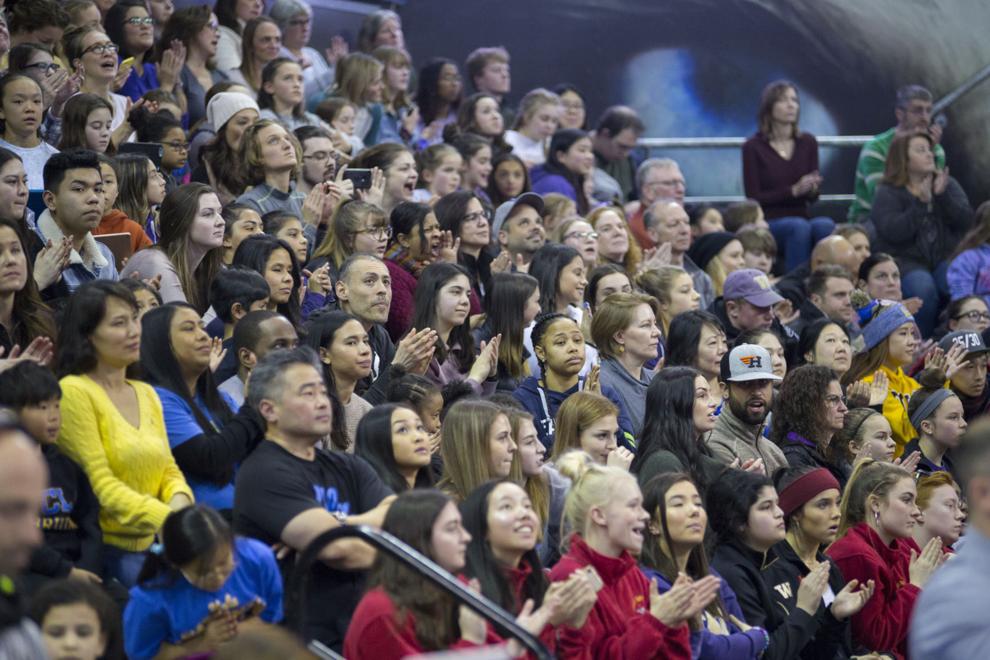 Despite snow and ice shutting down campus, fans packed the stands at Alaska Airlines Arena as the No. 15 Washington gymnastics team faced off against No. 3 UCLA on Sunday. A total of 7,228 people attended the meet, filling the arena to the last row of bleachers.
"This is what we've been trying for and pushing for every year," head coach Elise Ray-Statz said. "We try to get more. It's amazing it actually came to fruition. Everybody feels it in there, it's amazing."
Attendance for Washington's last home meet, against Stanford, was 2,172, and that's a pretty standard for the Huskies, who draw in mostly young local gymnasts.
But hosting UCLA is different.
When the Cardinal hosted the Bruins, they sold out Maples Pavilion for the first time in team history. Similarly, this was the biggest crowd the Dawgs have had, three times larger than average.  
"I've never seen the stands so packed, which was an awesome experience," junior Madison Copiak said. "It feels really good. It adds a lot of energy and excitement to the arena."
The Bruins, the first and only NCAA gymnastics team with two Olympic gold medalists on the roster, seem to draw a crowd wherever they go. But Kyla Ross, who won the all-around with a 39.775 and scored a perfect 10 to win vault, and Madison Kocian, who won the bars title, aren't even the main draw.
In Seattle, especially, fans came to see Katelyn Ohashi, a Seattle native who went viral for her floor routine last month. The biggest cheer of the night came for her floor routine, her second perfect 10 of the season.
But the larger-than-usual crowd of local fans was just as supportive of the Huskies in terms of decibels.
"I was a little worried that it was going to sway one way or the other, but they were awesome," Ray-Statz said. "They screamed loud for both of us. It felt like just a love for gymnastics here tonight, and we need that right now in our sport. It was really fun and it meant a lot."
For the Huskies, the weather made the crowd even more meaningful. With four inches of snow on the ground, and more falling by the end of the meet, it wasn't easy to get to Alaska Airlines Arena. Fans were coming from all over Western Washington to see the Huskies face the Bruins, and some came from even further.  
"Some people travelled all the way from Spokane," senior Kristyn Hoffa said.
Campus operations for Sunday were suspended due to snow and icy conditions, and athletic events on Saturday were canceled. But with no women's basketball game on Saturday, gymnastics apparatus were set up Friday night, and the meet went on as scheduled.
"We almost had to cancel, we didn't know, it was a lot of decisions at the last minute," Ray-Statz said. "We're so thankful for the fans who trudged out in the snow and ice, and came to watch, and just had an amazing two hours with us."
Reach Social Media Editor Hailey Robinson at sports@dailyuw.com. Twitter: @haileyarobin
Like what you're reading? Support high-quality student journalism by donating here.