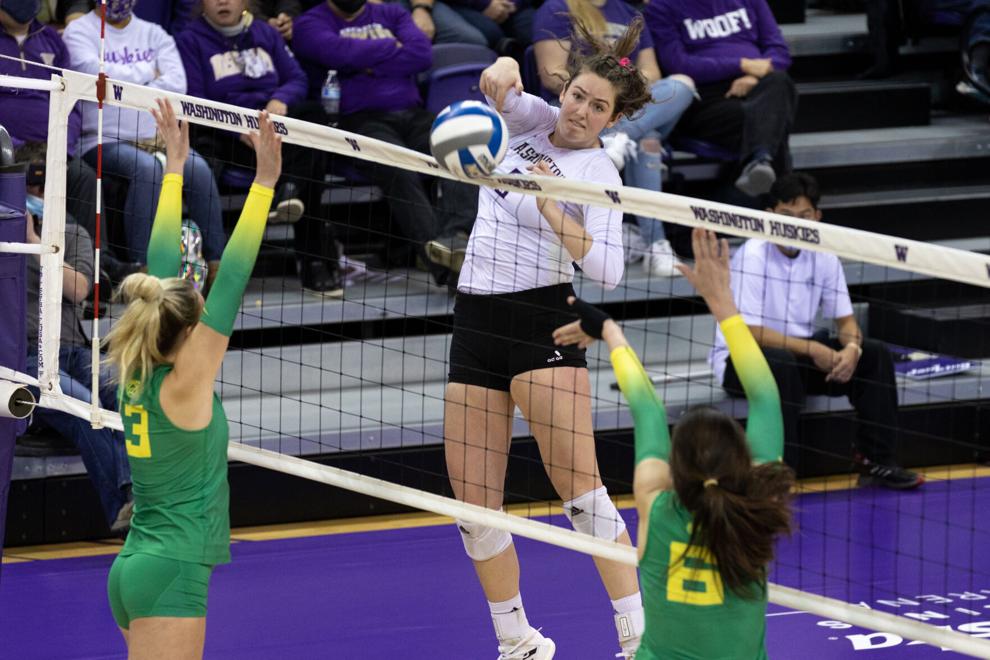 Heading into the match against No. 16 Oregon, the No. 12 Washington women's volleyball team was prepared for a battle. However, that's not exactly what the match turned out to be.
Holding the Ducks (20-8, 11-7 Pac-12) to an average of under 16 points per set, the Huskies (22-4, 15-3 Pac-12) came away with a dominant 3-0 (25-12, 25-14, 25-21) victory. With the sweep, Washington has now won six consecutive matches and has only lost one set across those matches.
Going into the Alaska Airlines Arena, Oregon won five of its past six matches, including a 3-0 win against the first place team in the Pac-12 standings: No. 13 UCLA. However, Oregon simply couldn't handle the impenetrable defense and incredible offensive firepower from Washington.
"It's the kind of volleyball that [we] want to be playing in late November and in December," head coach Keegan Cook said. "We're trying to be good in all phases but especially in serve-receive and siding out. I thought we did those things at an elite level today."
The first set quite literally set the tone for the match, as Oregon came out unprepared for what Washington had to offer. The strong defense from the Huskies led to many mistakes from the Ducks offense, as they finished with eight errors in the first set and a hitting percentage of .000.
Washington took full advantage of these mistakes, winning the first set in a dominant fashion, 25-12.
"I think we were good on our first assignments, which means they had to go to their second and third options," Cook said. "I thought we were on task early in the match, combined with some really tough serving. Those two things combined apply pressure."
With momentum on its side, Washington simply continued to dominate in the second set. While the Ducks were playing a little better, the Huskies stepped up their game to another level.
With five aces and a hitting percentage of .520, Washington came out of the second set with a 25-14 victory and a commanding 2-0 lead. Seven kills in the set by senior outside hitter Samantha Drechsel certainly fueled the offense for the Huskies.
The third set was closer between the two teams. However, Washington once again came out on top. Hitting .379 and recording 14 kills in the set, the Huskies closed out their third consecutive sweep with a 25-21 victory in the third set.
Drechsel was on a different level Sunday, leading the team's offense and serve-receive. Finishing with 15 kills, Drechsel only made one error throughout the match, recording a hitting percentage of .700. On top of that, Drechsel finished with three service aces.
"[Drechsel] has just been one of the best opposites in the country for a number of years now," Cook said. "She's shockingly unappreciated for all the things that she can do."
It was simply an overall impressive performance from the Huskies, as they finished with 10 service aces, a hitting percentage of .397, and 38 kills.
Battling for the Pac-12 title, Washington will try and push its winning streak to seven when it faces Colorado on Wednesday, Nov. 24 at noon.
Reach reporter Spencer Smith at sports@dailyuw.com. Twitter: @spencerssmith24
Like what you're reading? Support high-quality student journalism by donating here.