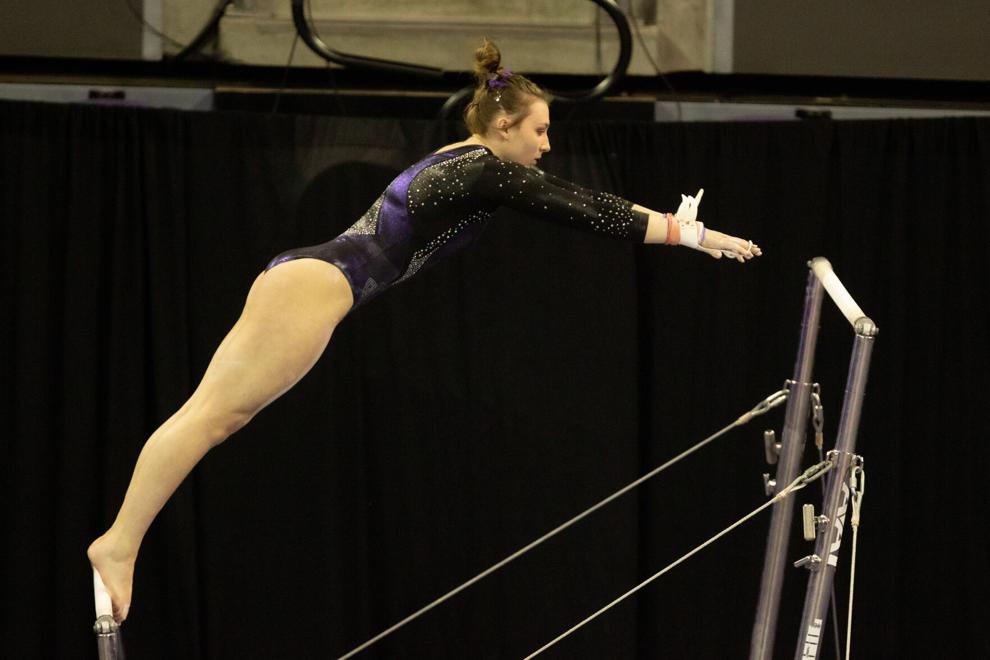 With new faces all around, from head coach Ralph Rosso to a half-dozen freshmen, the Washington gymnastics team entered the 2021 season knowing a rebuild was on the horizon.
When the Huskies earned their lowest score in more than a decade in their first meet of the season the team set a simple goal for the rest of the year: improve.
In the two months since, that goal has been achieved, with the team earning its three highest scores in the final three competitions of the regular season, including a 196.525 against California on March 10.
Now, with the Pac-12 Championships looming on the horizon Saturday, the goal for Washington isn't just to improve, it's to be the best that it can be.
"From where we started to where we are now, we have a totally different team," Rosso said. "Even though they are freshmen, they have veteran status with how many competitions they have under their belts. We knew all along what their potential could be, and they're showing that right now.
"The team still has one more final push to give this weekend hopefully to get us to qualify for regionals. It's certainly well within our capabilities and abilities and that's what we're going after."
The climb throughout the season has been led by those freshmen, including Skylar Killough-Wilhelm and Katie McNamara, who have been frequent performers in the all-around competition. Prior to this year, no Washington freshman had competed in the all-around since 2014.
For Killough-WIlhelm, a native of Des Moines, Iowa, the nerves of competing at the collegiate level have eased throughout the season, allowing her to maximize her performance in recent weeks.
"We got out the nerves the first couple of weeks and the past three meets we've started to compete what we've been practicing," she said. "We're all just settling into everything about now."
It has been a steady improvement from Killough-Wilhelm, who opened the season by scoring 38.575 in the all-around against Oregon State. This past Sunday, March 14 at California, Killough-Willhelm matched or set a career-high in three events, on her way to scoring 39.450, the best all-around score of the season for the Huskies.
Killough-Willhelm notes that it's not just her gaining experience, but the team as a whole that has allowed it to excel in recent meets.
"It's getting easier," she said. "At first, with all of the uncertainty, we weren't really sure how to handle it, myself included. We've definitely seen a chance in the attitudes in the gym in all of that, so it's been easier to ride with that and keep the motivation going and hopefully continue just to get better in the last couple of meets."
Although things won't be entirely new like they were earlier in the season, the young Huskies will still have to handle the nerves at the Pac-12 Championships this Saturday in Utah.
Unlike during the regular season when it opened on bars or vault, Washington will begin on the floor at the championships, its best event. Washington has eclipsed 49.275 points on floor in each of its past three meets, including a season-high of 49.425 March 10, its best score in any event this season.
"Prepared to start on the floor, that's something new that we haven't done this year," Rosso said. "Our floor team is really strong and we feel like we could have a really good build going event by event."
Starting strong will be important for the Huskies as they look to qualify for regionals for the 14th consecutive season in the Pac-12 Championships this Saturday, March 20 at 11 a.m. in West Valley City, Utah.
Reach Assistant Sports Editor Anthony Edwards at sports@dailyuw.com. Twitter: @edwardsanthonyb
Like what you're reading? Support high-quality student journalism by donating here.