2019-20 was another exciting year for UW Athletics, even if spring sports were cut short due to the COVID-19 outbreak. Here are the Daily's sports staff's picks for best athletes, performances, and moments during the 2019-20 season.  
Women's Athlete of the Year: Kara Bajema, Volleyball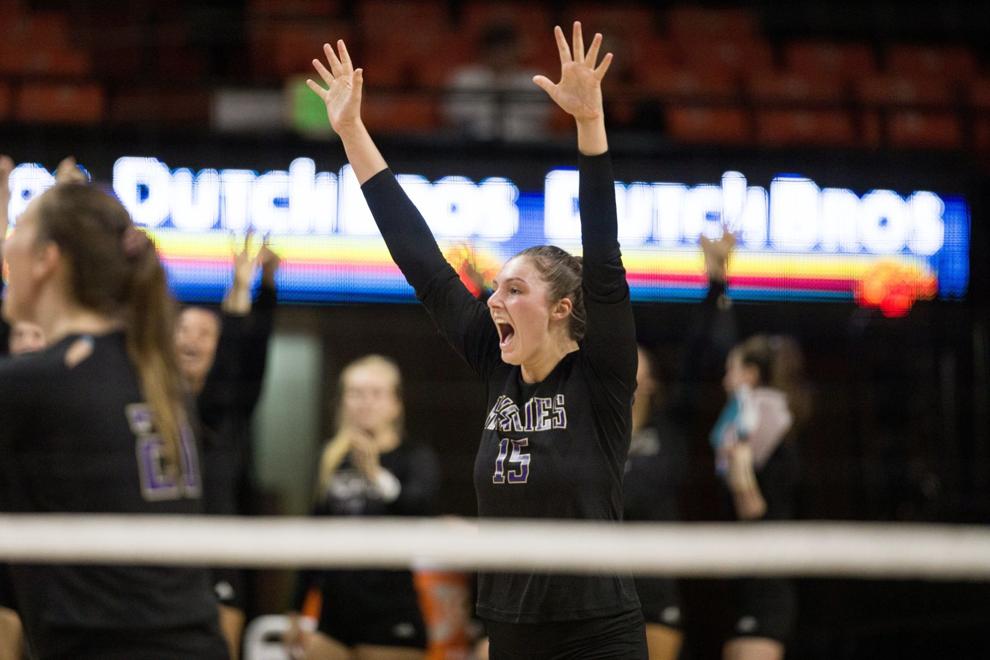 To say Kara Bajema was the heartbeat of the Washington volleyball team in 2019 would be an understatement. In her final year, the outside hitter posted one of the most impressive seasons in school history, setting the UW single-season kills record at 597 while leading Washington to an Elite Eight appearance before they were bounced by No. 1 Baylor.
The highlight of Bajema's year came Nov. 17, 2019 against then-No. 15 Utah when she accounted for 12 of Washington's 21 points in the fifth set and fought off four straight match points.
Bajema ends her career fourth in school history in points and sixth in kills, and was named an AVCA first-team All-American along with making her second consecutive All-Pac-12 Team.
Honorable Mention: Olivia Gruver (track and field), Evanni Roberson (gymnastics), Amber Melgoza (women's basketball)
Men's Athlete of the Year: Blake Bodily, Men's Soccer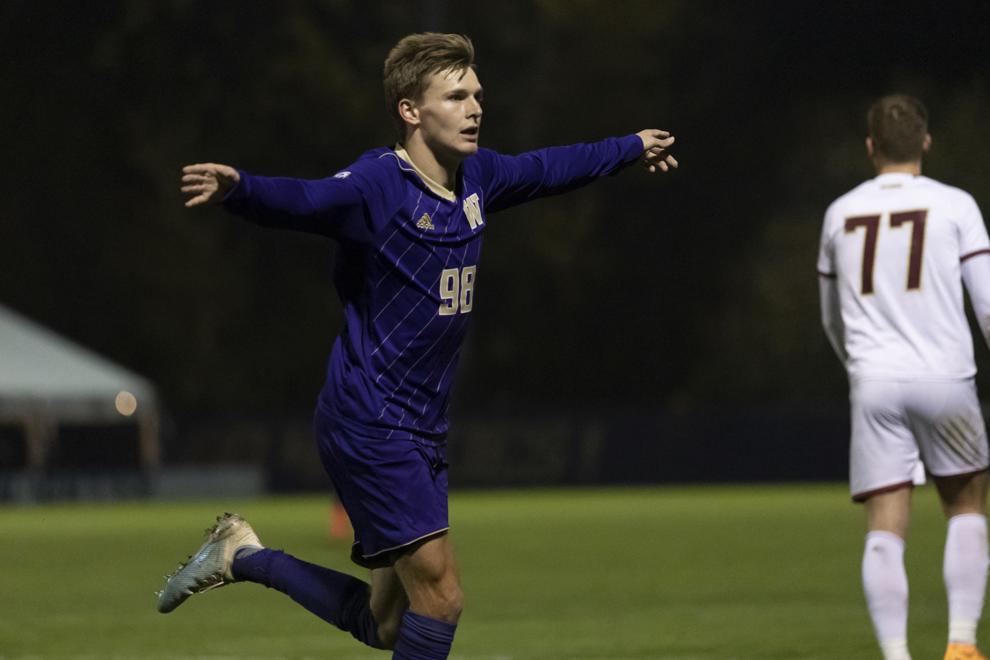 What didn't Blake Bodily do during his three-year stint on Montlake? 
The junior forward was the Pac-12 Freshman of the Year in 2017 and was named first team All-Pac-12 during his first two seasons while scoring five goals and assisting 12 during that time. 
But it was as a junior that Bodily truly shined. During the 2019 season he led the Huskies with 12 goals and was second on the team with six assists as Washington claimed its first conference championship since 2013. He was also named Pac-12 Player of the Year and became the first player to hit 30 points in a season since Kevin Forrest reached 33 in 2006.
The accolades didn't stop there, though. Despite the Huskies coming up a game short of making their first ever College Cup, Bodily was named a first team All-American by the United Soccer Coaches and was a semifinalist for the MAC Hermann trophy given to the best college player in the country. 
Following the season, Bodily signed a homegrown contract with the MLS' Portland Timbers. 
Honorable Mention: Isaiah Stewart (men's basketball), Elijah Molden (football), Ethan Bartlow (men's soccer)
Women's Freshman of the Year: Carley Thomas, Track and Field
Touted as one of the world's top high school track and field prospects, when Carley Thomas signed her national letter of intent to join the Huskies she instantly became the headlining athlete of a recruiting class that may go down among the greatest in school history.
After representing her home country of Australia at the IAAF World Outdoor Championships held in Doha, Qatar in the fall, Thomas proceeded to shatter both records and expectations throughout her first season with the Huskies.
Wasting little time in her collegiate career, Thomas broke the indoor 800-meter school record in her first competition, running a blazing 2:03.06 at the Dr. Sander Columbia Challenge in New York. She would then go on to lower her indoor PR to a time of 2:02.75, while qualifying for the NCAA Indoor National Championships in both the 800-meters and as the 800-meter leg for the Washington distance medley relay team.
Though she was unable to compete at nationals and her freshman season was cut short due to the current pandemic, Thomas' future remains bright and full of the potential to earn numerous additional accomplishments and accolades during her time with the Huskies.
Honorable Mention: Mel Smart (track and field/cross country), Kelley Lynch (softball)
Men's Freshman of the Year: Isaiah Stewart, Men's Basketball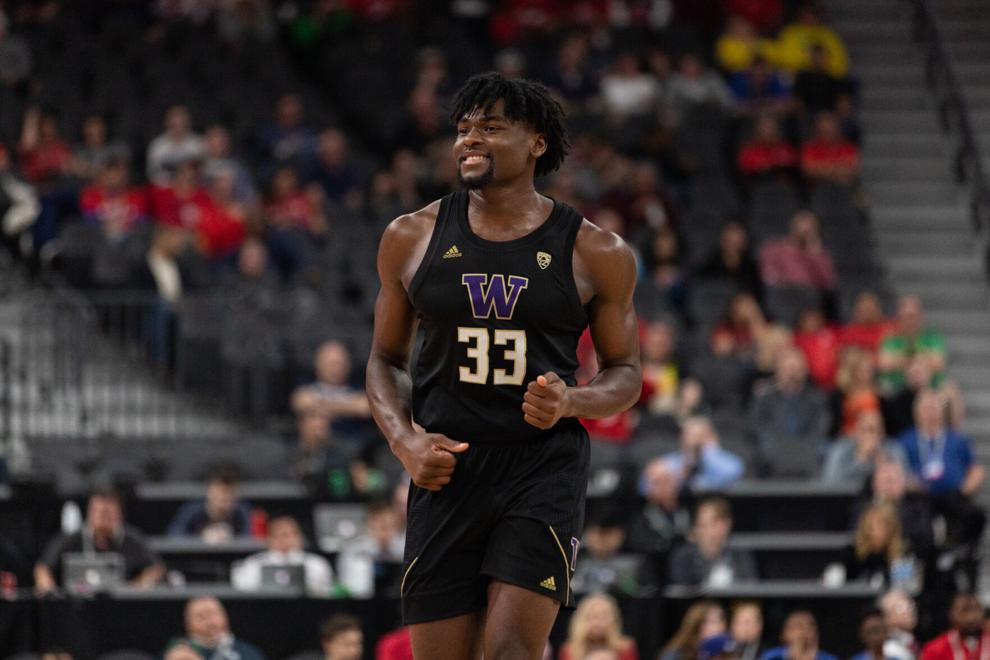 The only unanimous selection of the 2019-20 Daily sports awards, Isaiah Stewart arrived at Washington with massive expectations, and though the team had a disappointing year in head coach Mike Hopkins' third season, very little of that could be pinned on the prodigious freshman. 
Stewart was dominant on both sides of the ball. His 17 points per game led all freshmen in the Pac-12, and his 8.8 rebounds per game were tied for second in the conference. The center also set UW freshman records in rebounds (281) and blocks (66), and added 14 double-doubles. 
Though he didn't win the conference's Freshman of the Year award, Stewart was named first team All-Pac-12 in his lone season on Montlake. In his final game, the freshman tied his career high with a 29-point double-double against Arizona, making him an easy selection for this category.
Stewart declared for the 2020 NBA draft upon the conclusion of the season.
Honorable Mention: Richard Newton (football), Christian Soto (men's soccer), Trent McDuffie (football)
Performance of the Year: Evanni Roberson's perfect 10(s)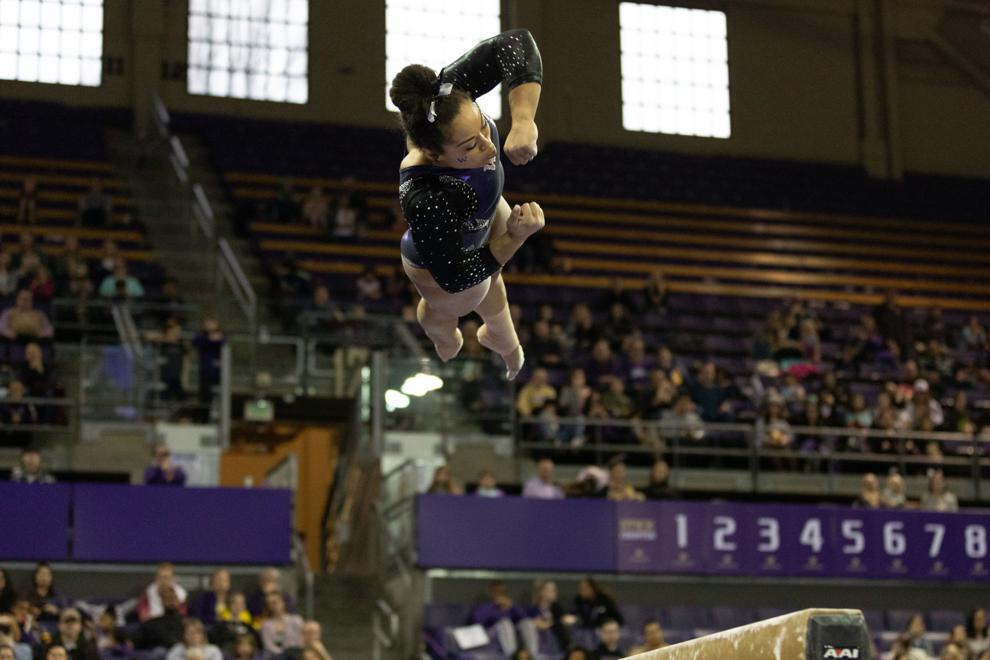 Washington achieved its first perfect 10.000 in competition since 2004 not once, but twice this season. In a shortened year, senior Evanni Roberson made program history by landing a 10.000 on two separate occasions on the beam for the Huskies.
Her first came against Arizona at home. With a slow start on the first two rotations, the team had the beam and floor to bounce back from in order to edge out the Wildcats 196.600-195.700. 
Her second perfect score came in a meet against Utah, which ended up being the final home competition of the season. Despite losing the meet overall, her second perfect score helped the team earn their highest beam score in program history of 49.650.
On both occasions, her flawlessly executed routine, raised chants and enthusiasm from the crowd and earned a 10.000. As a Washington-native, her family was a part of the crowd witnessing her make history.
Honorable Mention: Kara Bajema's 26 kills against Utah, Olivia Gruver sets school record in women's pole vault at 15 feet, 5 inches, Isaiah Stewart's double-double against Oregon
Breakthrough Athlete of the Year: Richard Newton, Football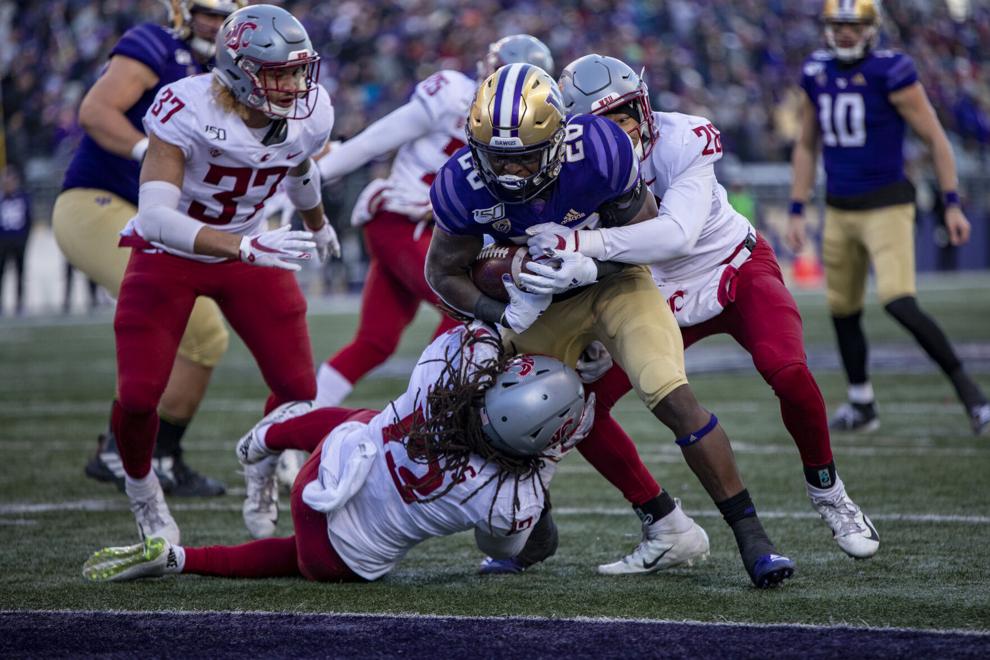 On fourth-and-2 in the UW's first drive against Eastern Washington on Aug. 31, 2019, the Huskies sent out the wildcat package, and Keith Bhonapha and Chris Petersen sent out a redshirt freshman who had never touched the ball in a game before to run it. Twenty-three yards up the middle later, Washington had its first touchdown of the year, and Richard Newton had announced himself as a major factor in the UW offense.
Despite missing three games in the middle of the season with an injury, Newton racked up 10 touchdowns and finished second on the Huskies in carries and rushing yards. In the 10 games he did play, Newton averaged 4.3 yards per rush on nearly 12 carries per game. He hauled in a touchdown reception on his first career catch against BYU, and for good measure, threw a touchdown in Washington's Las Vegas Bowl win. 
Honorable Mention: Marcus Tsohonis (men's basketball), Peyton Henry (football), Haley Van Dyke (women's basketball), Terrell Bynum (football)
Moment of the Year: Chris Petersen beats Boise State in final game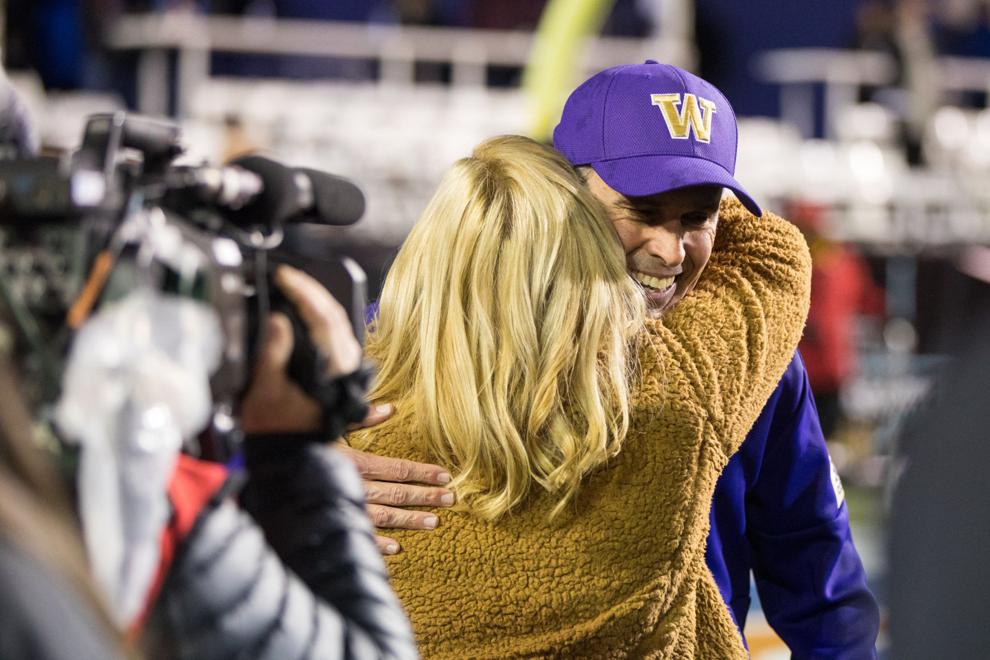 There's no award for biggest shock of the year, but we all know what that would be. On Dec. 2, 2019, just three days after winning his sixth straight Apple Cup, Chris Petersen abruptly announced his retirement from coaching, effective after the UW's bowl game, after which defensive coordinator Jimmy Lake would take over.
The news sent shockwaves around Seattle and the college football world, and instantly turned what was going to be a quieter end to a rather underwhelming season (at least compared to the previous three years) into one last ride for one of the most successful football coaches to come to Montlake. It only got bigger when it was announced that Petersen would coach his final game against Boise State, the program where he rose to prominence. 
So as much as Petersen himself, as well as his team, coaches, and opponents denied it, the 2019 Las Vegas Bowl turned into the Chris Petersen Bowl.
And once the game kicked off, the UW did its best to make it as good of a sendoff as possible. The Huskies dominated the whole night in a 38-7 drubbing of the Broncos in a game that ended with fans in both purple and gold and in blue and orange chanting "Thank you Petersen."
"Every game is important," defensive back Elijah Molden said after the game. "But some games are a little more important."
Honorable Mention: Men's Soccer upsets No. 2 Stanford, Volleyball's five-set thriller against No. 15 Utah, Lesle Gallimore wins her final Apple Cup, Women's basketball stuns No. 8 UCLA on senior night. 
Reach the Daily sports staff at sports@dailyuw.com. Twitter: @UWDailySports 
Like what you're reading? Support high-quality student journalism by donating here.