Instead of a nameplate across the back of their practice uniforms, the Washington softball team chose to showcase their pride in their home state this year. Among the 20 girls on the practice field, "California" appears the most, with a couple of local Washington players scattered around.
Then two locations break the pattern: "Texas" and "Georgia".
Sporting those states across their backs are the Huskies' two top offensive players in 2020, in Baylee Klingler and Kelley Lynch. 
Although the Huskies have always had success recruiting athletes outside of the Seattle region, the pair has traveled very far from home to play softball at the UW, combining to travel approximately 4,975 miles to Montlake.
Growing up in Newnan, Georgia, Lynch was the 2019 Gatorade Player of the Year and is the first softball player from her state to wear the purple and gold. Signing with the Huskies in November 2018, Lynch said that coach Heather Tarr and the culture of the UW were some of the reasons she committed.
"It's something you hear about the sisterhood and the family atmosphere before you get out there," Lynch said. "But I don't think it's something you can really describe unless you're a part of it."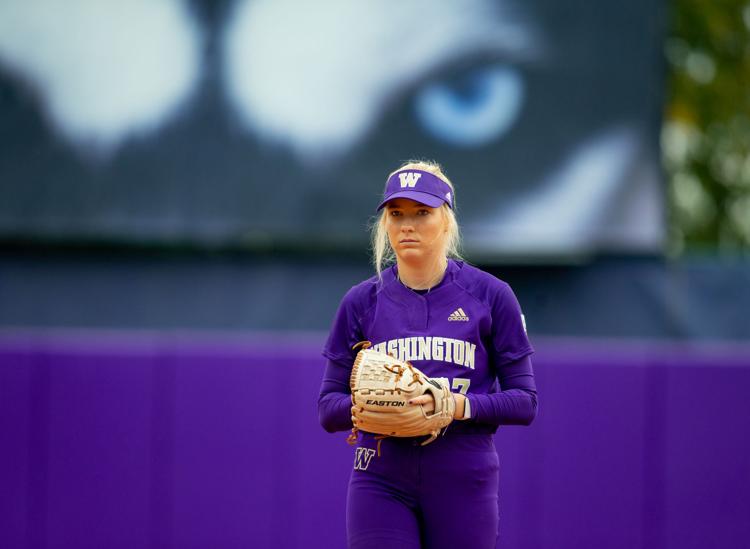 Klingler, a sophomore, took a different path to the UW after beginning her career at Texas A&M.
In her lone season with the Aggies, the Houston native batted .289 and was named to the SEC All-Freshman Team. Despite her success, Klingler felt like she was missing something at A&M, and when presented with the opportunity by the UW coaching staff, she decided to take her talents north.
While Klingler's journey to the UW was less direct, she ultimately decided to transfer for the same reasons.
"It's just the culture," Klingler said. "The standard is excellent at the UW. We want to be the most competitive, durable version of ourselves. That's really something that the coaching staff emphasizes and it's all hands on deck for every player. That goes for teammates, and everyone genuinely wants what's best for you."
While they certainly didn't take the same path to get to the UW, it's the distance from the UW that helped the two create an instant friendship when they arrived.
"We kind of clicked literally the first day we met each other," Lynch said. "I think her being from the South too, we kind of talked and laughed about what we have in common and how it was a little bit different than where we come from compared to Seattle. We kind of just bonded over that and realized we have so much in common."
And at the beginning of the year, the Huskies got to experience some of that southern culture, opening their season in Atlanta, just 30 minutes from Lynch's hometown of Newnan. During that trip, the Lynch family welcomed the team to their home as the freshman got to share her life with her teammates.
A month later, the team was back in Seattle, excited for Pac-12 play and ready to take on Team USA in the "Stand Beside Her" tour.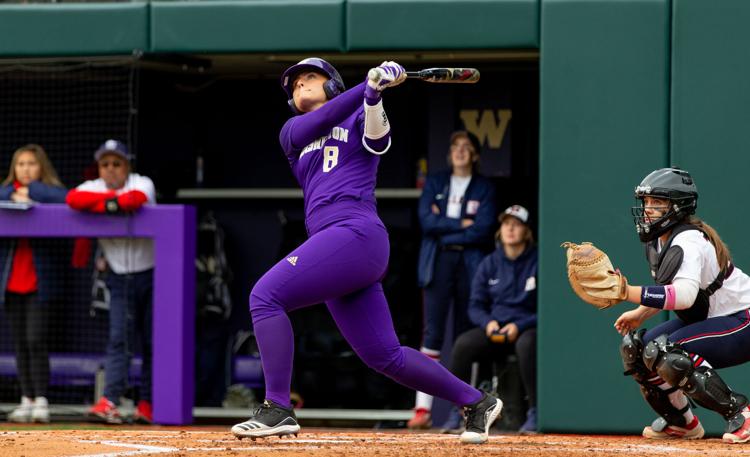 But it was all for naught, as the season was canceled in response to the novel coronavirus pandemic.
Through their shortened season, Lynch and Klingler led the Huskies with eight and five home runs, respectively. They also topped the team in slugging percentage, with Klingler at .779 and Lynch at .727.
But it's not just their Southern accent and geographic location that connected the two, though. It was something much greater: Tik Tok.
A social media platform that allows users to record themselves dancing to popular music, Tik Tok has increased in popularity among NCAA athletes, including Lynch and Klingler. The Huskies often filmed dancing videos prior to games as a way to relax and have fun.
"Baylee is just crazy," Lynch said. "Our energy levels just kind of match. Obviously TikTok is a big thing now so we'll do that every once in a while. We're just always doing silly stuff like that and she makes me laugh so much."
𝙃𝙤𝙩 𝘿𝙤𝙜! 𝙄𝙩'𝙨 𝙖𝙡𝙧𝙚𝙖𝙙𝙮 𝙁𝙧𝙞𝙙𝙖𝙮!#NCAASoftball | @UWSoftball 🎥 @bayleekling pic.twitter.com/jlq61VYsL3

— NCAA Softball (@NCAAsoftball) February 21, 2020
Klingler's videos became more popular throughout the year, with some of the clips getting upwards of 5,000 views. Now TikTok is part of Klingler's identity, but she didn't always view the app as a way to express herself.
"I always said, 'I'm never getting on TikTok, that is so cringe,'" Klingler said. "Then I got it and I could not stop watching them."
Despite the current circumstances, the Huskies have not let their distance keep them from making more dancing videos.
"Sometimes I'll FaceTime [Francesca Torraca] and we'll dance," Klingler said. "We have a little group message of girls who are really into TikTok: me, Jadelyn [Allchin], Kelley, Fran, and we'll send each other TikToks that are funny to us."
And when they finally get back, just don't expect the first place you see Klingler and Lynch together be back on the field.
"With all the dance trends that are going right now," Klingler said. "I'm sure when we get back that'll be one of the first things we do together."
Reach reporter Anthony Edwards at sports@dailyuw.com. Twitter: @edwardsanthonyb
Like what you're reading? Support high-quality student journalism by donating here.