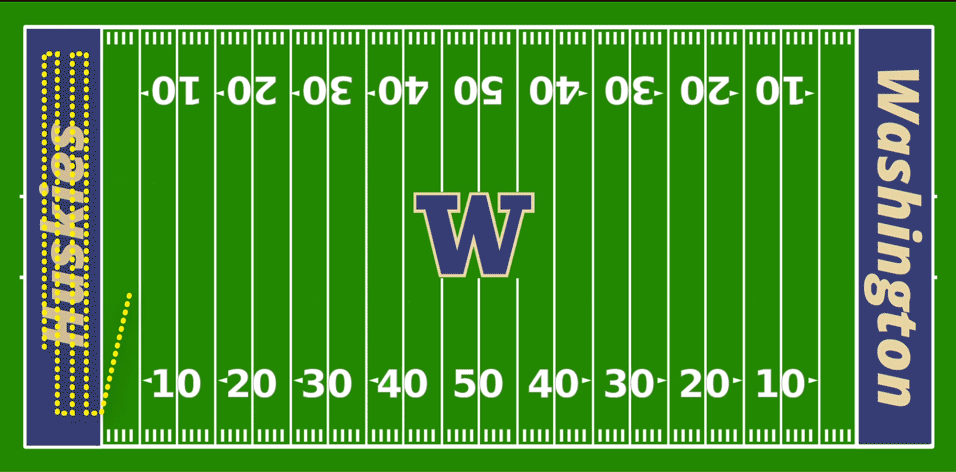 And o'er the land
The loyal band
Will sing the glories of Washington forever.
Ever since Lester J. Wilson penned "Bow Down to Washington" in 1915, the Husky Marching Band's purpose has been defined by those words, and over a century later, the group continues to be the heart of Washington spirit and pride. Yet the commitment and dedication of every member in the band is often overlooked and underappreciated.
To get a better understanding of the sacrifice and work put in by every individual, The Daily staff followed members of the band for the 48 hours leading up to game day to learn how it operates, creates the stunning visuals and musical pieces it's famous for, and to see first-hand the culture that makes the Husky Marching Band so unique.
Thursday, Nov. 1, 5 p.m. — Graves Building, Room 20 — T minus 49 hours
Dr. Brad McDavid's office is full of stuff. Almost every inch of the plastered white walls are covered in pictures of past bands and alumni, Washington football memorabilia, awards, or recognitions. His desk is barely visible too, shrouded in sheet music, marching plans, and other interesting knick-knacks, including a bobblehead of himself.
"I think it was a gift from an alumni," he says with a laugh. "I have no idea where they got it."
That's what happens when you've been somewhere as long as McDavid has been at the UW. Entering his 25th season as the Director of Athletic Bands at the University of Washington, the Ohio State alumnus and former sousaphonist jumped at the chance when it was offered and has built an impressive program.
"Everyone enjoys being around each other," he said. "We rehearse a lot, we're with each other all the time, we're on the road a lot, so it's really important to me that the students not only enjoy getting to know each other within their own instrument families, but also really getting to know people outside their instruments and creating a culture of friendliness and understanding within the entire band family."
Friday, Nov. 2, 5 p.m. — Husky Stadium — T  minus 25 hours
This program has been almost half a year in the making. Every spring, McDavid and the rest of his staff hold a retreat where they decide on all the music for every show in the upcoming season. This week, it's the annual Salute to Service show.
As the sun sets and the wind whips through Husky Stadium, practice begins with the section leaders playing several songs from memory for McDavid while the rest of the band warms up. With just two shows left this season, the band has already played approximately 30 of the 40 songs it plays for the year. It may have up to 20 of them memorized at any time.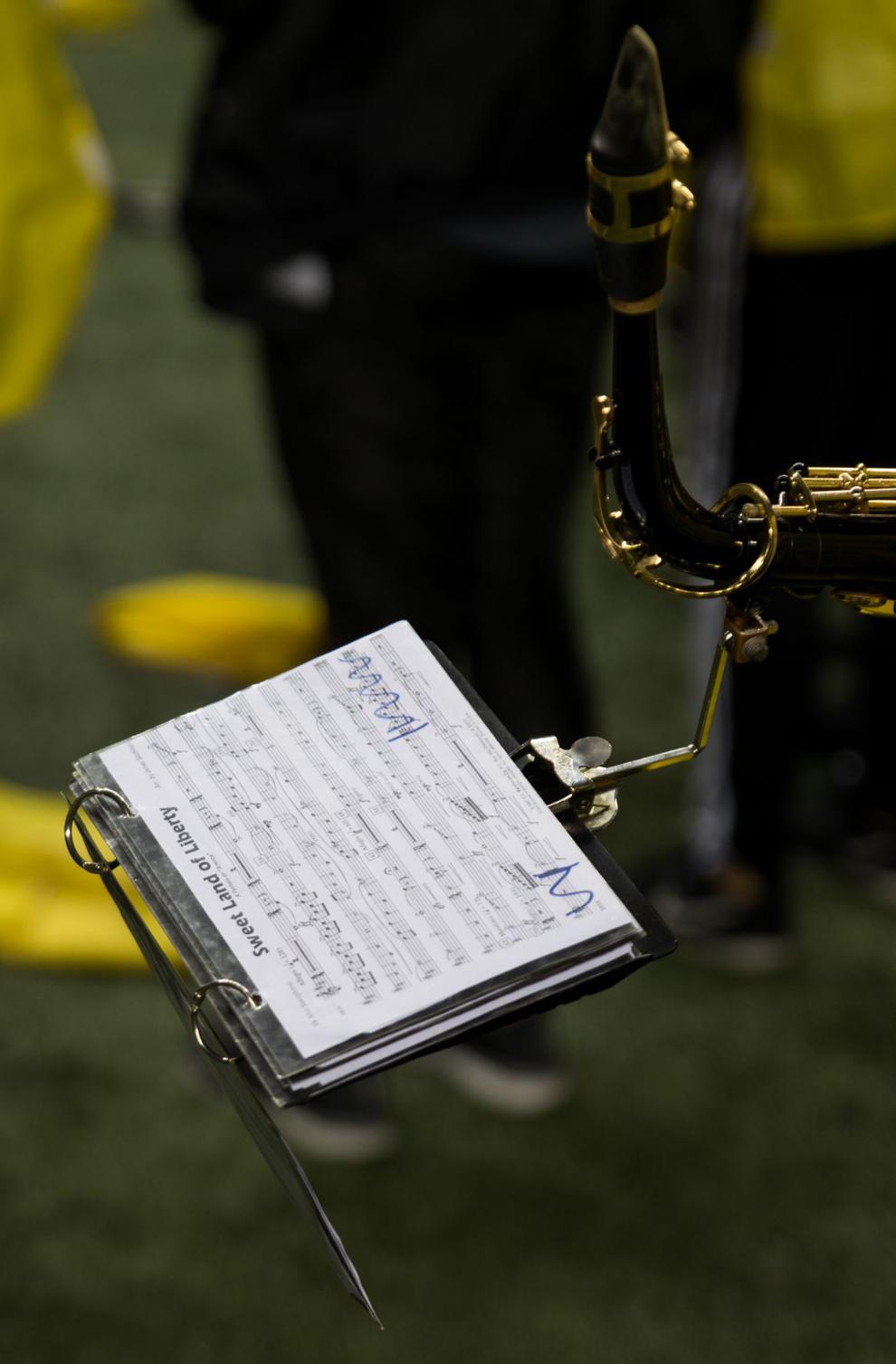 "We have music checks once per show," tenor saxophone section leader Edie Myers-Power said. "We don't like to take a lot of music on the field, so we try to have as much memorized as we can. Also, when we're playing in the stands, we don't have time to bring up music so we try to memorize our stands tunes too."  
They're setting an example because once everyone arrives, the band forms a square around McDavid's podium and does the same while the section leaders patrol their charges. Anyone who they decide hasn't memorized the specified pieces must show up early on game day to prove they can, otherwise they won't march in the show Saturday.
Music is handed out a week before the players are expected to know it, and they must put in their own time and have sectionals two or three times a week so they can fully master it. The 10 hours of full band practices every week are mostly devoted to learning the marching drills, and members wear bright yellow jerseys so movement and patterns can be seen better. It's a lot of work for 23 total minutes on the field.
Beyond the music, there are several elements that go into a successful performance. Players must be aware of their location in the formation at all times, where they're going next, how they're going to get there, and how their movement impacts others around them. They also must continue marching in the traditional chair-stepping style that the band is famous for, all while playing music loud enough for everyone in the stadium to hear.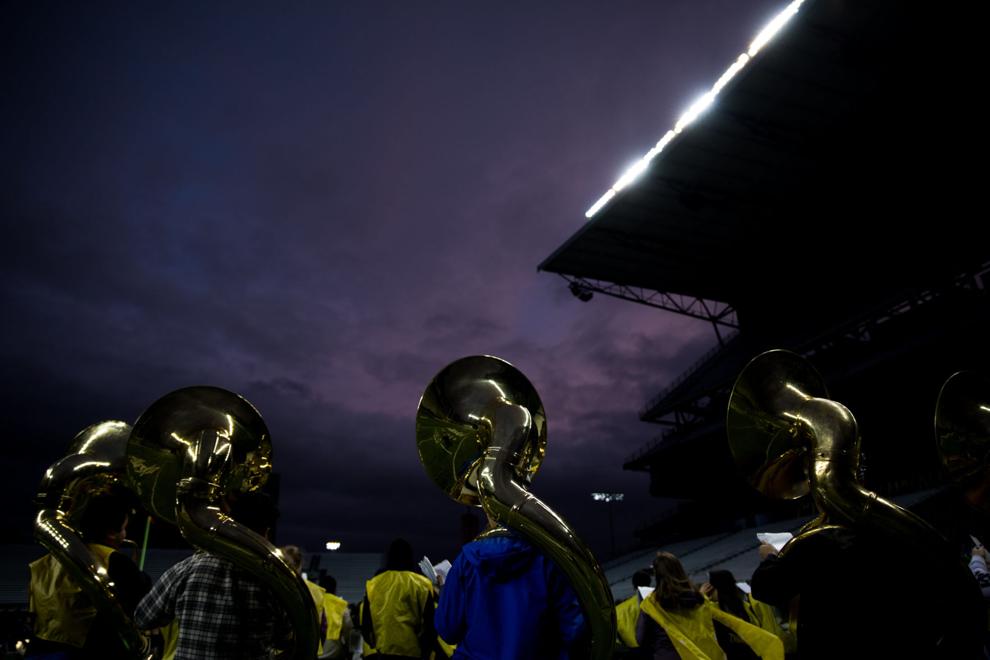 "It's very hard because you have to make sure that when you're coming down on your foot, you're actually on the balls of your feet and not your heel," trumpet co-section leader Cerys DeLorenzo said. "There's a lot of balance involved, you have to engage the core, and you have to be loud and breathe. It's hard to march while looking good and playing loud, but we've all been marching for a long time."
Two weeks is about the perfect turnaround for a show; it's long enough for a complicated show, but short enough that the band doesn't get bored. One-week shows are the trickiest, and the band has to figure out the program quickly to be ready in time.
"It's just very hectic, but we're very focused," DeLorenzo said. "We usually go overtime and we don't do a lot of breaks but that's just because we all want to be here so we all want to learn it and do it well."
Friday, Nov. 2, 8:45 p.m. — Parking Lot N22 outside the HUB — T minus 21.25 hours
Two weeks ago, at this exact same time, senior James Horne was dressed up as a cat. The mellophone section leader went all out, with cat ears, face paint, and cat-paw shoes to complete the costume.  
This week, he's dressed up in Christmas clothes despite the fact that it's early November. His ensemble includes a big red sweater, a knit beanie with huskies — the animals, not the word — on it, and jingle bells on his wrists. In about 30 minutes, he will be sitting in a tree playing his heart out. He's ready for the Rally.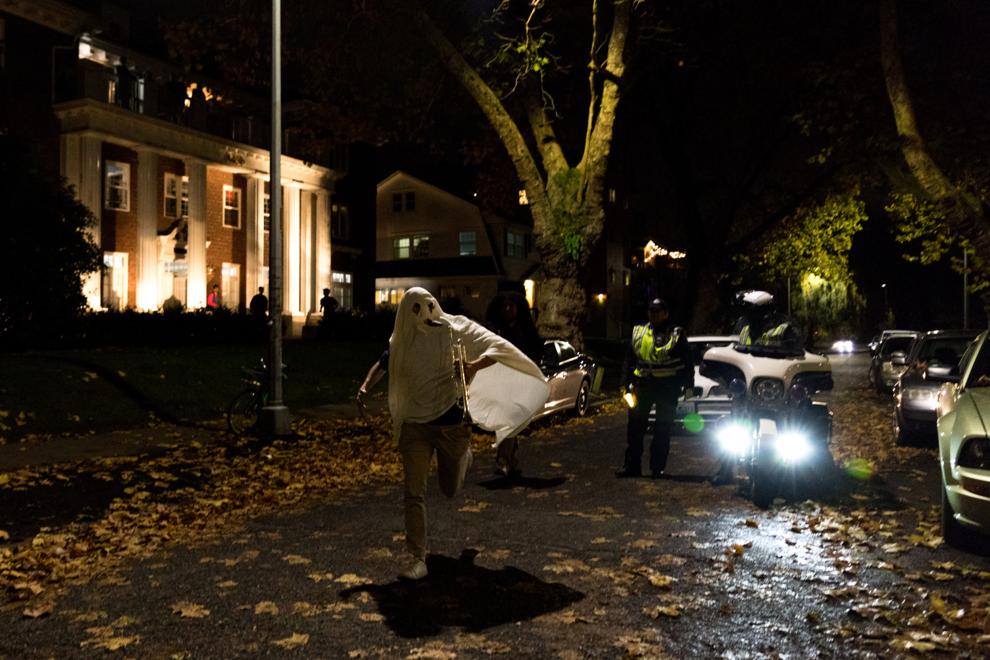 "[Rally's] just a time where basically, I mean we adhere to rules, but it's where the band gets to kind of be in charge," Horne said. "We just go crazy and have fun."
One of the oldest traditions of the Husky Marching Band, Rally is a 90-minute informal parade that takes the band, the cheerleaders, and the featured twirler from the HUB parking lot, up through North Campus, onto Greek Row, and then down to Red Square, stopping to play at several spots along the way.  
The Rally has been around since at least the 1960s, when under the direction of Bill Cole, members of the Husky Pep Band would ride around on a flatbed truck to play for the dorms and the Greek system before ending in the area that is now Red Square. Under director Bill Bissell, the Rally became what it is today, with the entire band touring North Campus.
"It's an opportunity to let loose and have fun after weeks of working on a difficult show," senior clarinet co-section leader Sophie Beck said. "It's a chance for us to all get together and have fun doing what we do best, which is just playing and dancing."     
In preparation for the Rally, every section selects a theme, and as it gets closer to step off time, an assortment of ghosts (trumpets), Disney-owned characters — including Marvel (saxes), and the Toon Squad from Space Jam (clarinets), and others begin to assemble in the parking lot.
"I just took a vote," Horne said. "We have a whole list of funny ideas."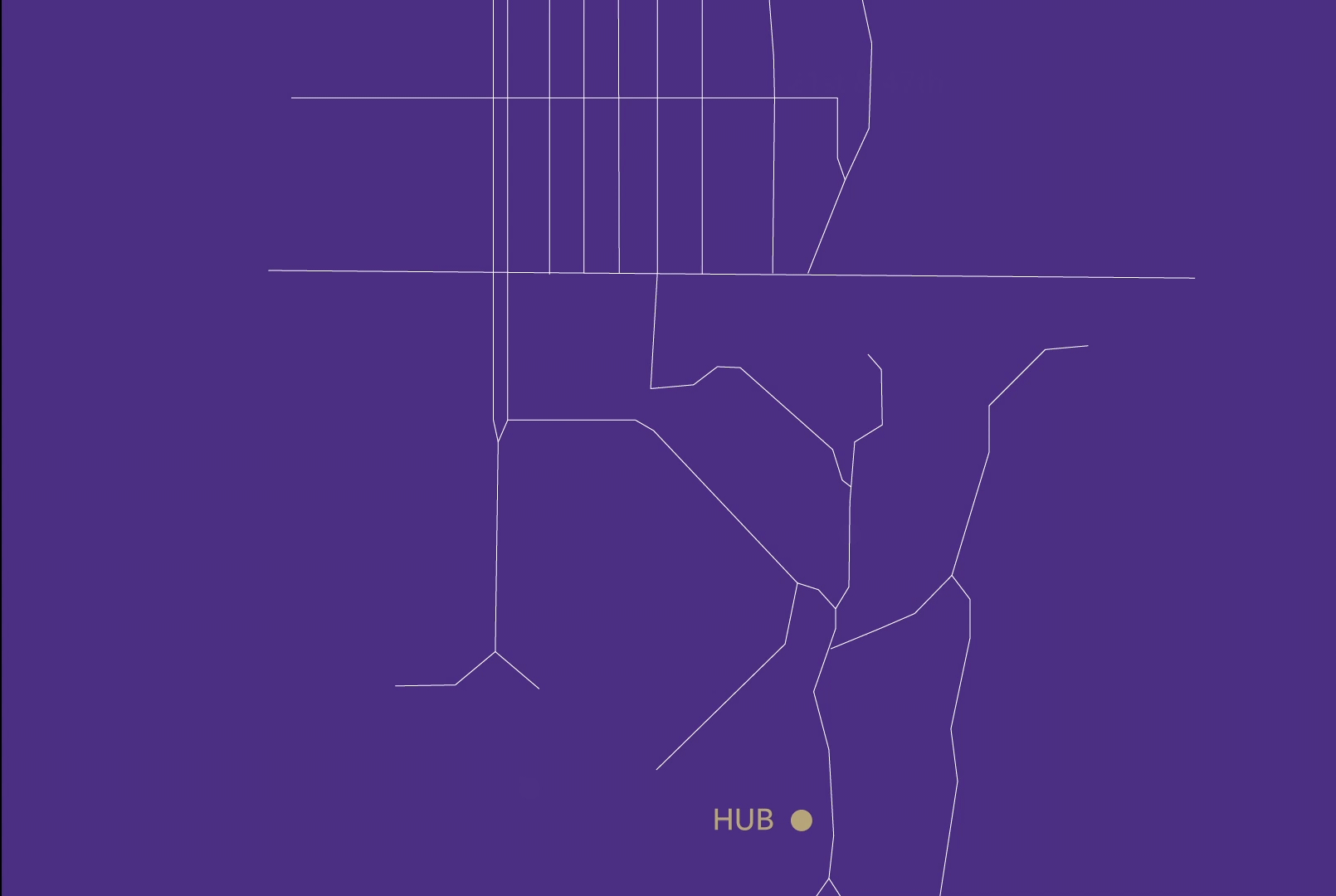 The Rally begins, and the loud, energetic, and at times chaotic mob moves through North Campus, turns right on Northeast 45th Street — where it gains a police escort — before hanging left onto 21st Avenue Northeast. Stopping in front of Delta Gamma and Alpha Gamma Delta, the players line up on both sides of the street to perform, while sorority members from both houses come out to enjoy the music and celebrate with the band.
Friday, Nov. 2, About 9:30 p.m. — The intersection of Northeast 47th Street and 17th Avenue Northeast  — T minus 20.5 hours
A firetruck has interrupted a rousing rendition of "Polynesian Paralysis," sending lumberjacks, Disney characters, and Christmas presents scattering.
No one seems fazed though, and the performance starts again from the top, much to the delight of the players and the audience.
Friday, Nov. 2, 10 p.m. — Red Square, Suzzallo Library Steps — T minus 20 hours
After a crazy hour running around Greek row and blasting instruments in crazy costumes, the band finally arrives at Red Square where it plays about seven songs for the approximately 50 people who have latched onto the group as the band made its rounds.
Some things have changed along the way. The trumpets are no longer ghosts because it was too hot and are now wearing their bedsheets like capes. However, it was deemed too cold for the saxes to rip off their shirts for the final stop as tradition normally dictates.
Nevertheless, spirits remain high and following the final playing of "Bow Down to Washington," each section gathers to loudly sing together, with the trumpet's version of Smash Mouth's timeless classic "All Star" and the mellophone's lively performance of "Jingle Bells" standing out in particular.     
The turnaround is quick, although thankfully Saturday's game isn't an afternoon one. Call time would be 7:30 a.m. in that case. Instead, it's at a much more agreeable hour.   
Saturday, Nov. 3, 1:45 p.m. — Husky Stadium — T minus 4.25 hours
It's just a couple minutes into the final run through of the program, and the band is already having problems, though most of them aren't musical ones. Rain has been falling since the beginning of practice, which adds another dimension of difficulty to any performance, and while the band is always prepared for it, adjustments need to be made.
"Woodwinds can get really damaged in the rain, mostly because of the pads on our keys, so we're testing out this instrument rain gear today," Myers-Power said. "Normally, on a rainy game day, we'd have to put our instruments away and we wouldn't even get to play, so I think it's kind of cool that we're trying something out."   
It's a good idea that doesn't quite work. The flip book attachment located on the neck of the instrument sticks out awkwardly, and allows rain to pour into the keys. Band staff members attempt to fix the problem by cutting a slit in the plastic wrapping around the saxophone, but McDavid calls it and tells the woodwinds to put their instruments away until kickoff, when the rain is supposed to stop.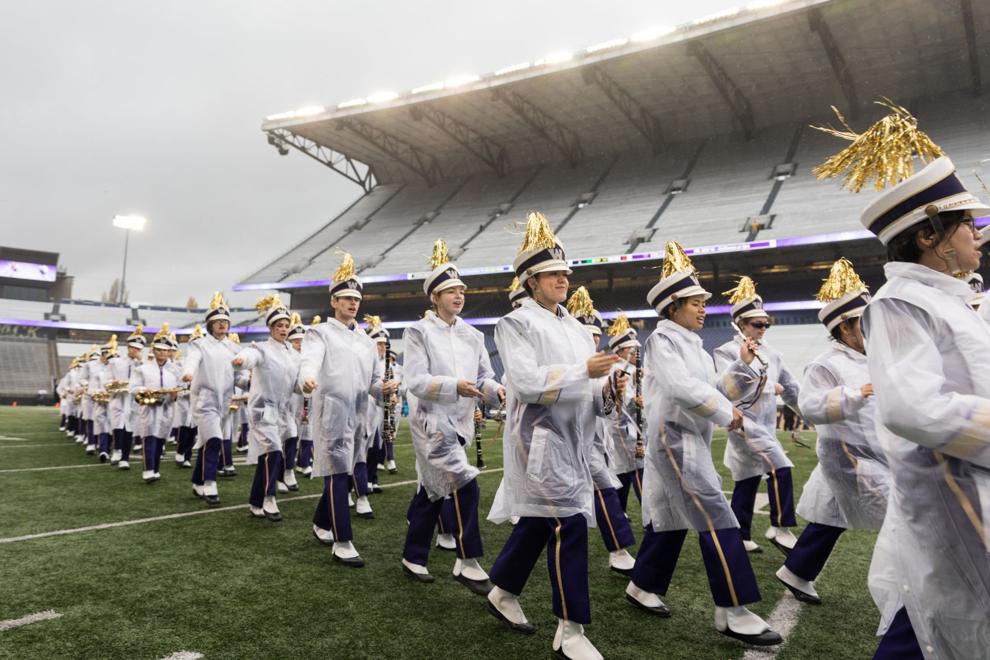 The rain also gives the group a chance to try out another new item: raincoats. Gone are the days of the ugly yellow band jackets, and instead the new clear, sleek trench coats — with buttons on both the front and back to allow mobility — get their first run.
However, the jackets still aren't flexible enough, especially for a high-stepping outfit like the the Husky Marching Band, and so the scissors come out again as all 240 members cut off the bottom four inches of their coats. Though crude, it's effective and they continues to drill, despite the downpour.
Saturday, Nov. 3, 4 p.m. — Dawg Zone — T minus 2 hours
Don Sabo's jacket is almost as iconic as he is. Every year that the band goes to a bowl game with the football team, the players get a couple sew-on patches, which Sabo puts on his letterman jacket. After 43 years, four jackets, and several rearrangements, there is barely any room left.
Standing in the rain as it turns to mist, Sabo wears the jacket, a band scarf covered in buttons, shorts, and a purple and gold striped tie, his standard look as a field assistant. Initially coming to the school in 1966, Sabo was drafted into the military during the Vietnam War. When he returned, he rejoined the band as a cymbal player, and following his graduation in 1979, he was offered a position as assistant field director, temporarily at first, and permanently in 1980.    
"It keeps me young," he said. "When we chart shows, I watch to make sure shows move the way we want them to on paper. We're doing script Huskies this year and I lay that out for them because it's a very difficult routine to march."
Since he's been with the band for so long, Sabo has been a firsthand witness to many of the band's traditions, and even predates some of them, including the Dawg Walk. Originating during the Steve Sarkisian era, it creates another way for members of the band to bond with the players they're supporting.
"With the marching band being in the athletic department, I think there is a closer rapport between the students in the band and the students in the athletic teams than at most schools," McDavid said. "Just look at what you saw last year with Lavon Coleman. He built a really tight relationship with the band that has continued on after he left, and we hope it will continue with other athletes."
From here, the band will get its first and only break of the day — about 30 minutes for food — before the group splits into pep bands to perform for tailgates around the stadium and at the Presidential Banquet. It'll reassemble a few minutes before pregame, although one group will be a little later than the others.
Saturday, Nov. 3, 5 p.m. — On the Steps of Hec Edmundson Pavilion — T minus 1 hour
Consisting of three types of drums — snare, tenor, and bass — and cymbals, the drumline has been at the stadium longer than anyone else. Considered by many to be the most iconic, if not the most important part of a marching band, members arrived almost an hour before the rest of the group to suit up, make sure they've memorized all their music, check their equipment, and get some more practice in.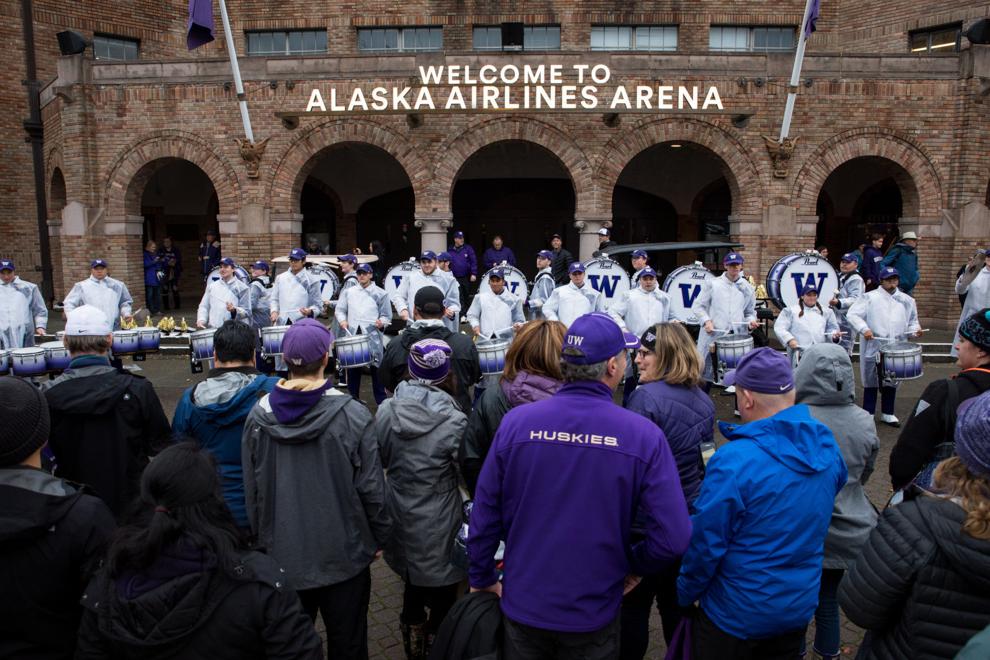 "In drumline, it's not all just one instrument," senior section leader Chris Serica said. "You've got four separate sections working to make one complete sound so there's a lot more going into the music as opposed to a single wind section."
And now, as a reward for all its extra work the 36-member line gets to show out. Playing in front of a crowd gathered in front of Hec Ed, the section gets to work, playing pieces called cadences that feature each of the four sections in an energetic, 20-minute performance known as the Drumline Warm-Up. What started as a simple last-minute rehearsal now features flying drumsticks, intricate coordination sections, and raucous solos to get the fans excited for the game.
Like the Warm-Up, Serica himself has come a long way to get to this point. A member of a musical family, the senior snare player started playing drums when he was about 12 years old. His high school didn't have a traditional marching band, but then he attended the Husky Day of Marching Percussion Clinic.  
"That was my first time being exposed to a formal marching percussion ensemble," he said. "And from the second I stepped foot in front of that performance, I was like, 'I want to do that.' From that moment on, I knew I wanted to be on the Husky Drumline."  
Though he had considered a career in the Navy, Serica decided to audition for the drumline and apply to the school. However, he only earned an alternate spot in the band, and after waiting for months to see whether he could get off the UW waitlist, he was rejected. Disappointed, he enlisted in Navy, going as far as the medical screening before hearing that a position had opened up for him on the snare line.
Backing out of his commitment to the military temporarily — he still hopes to serve after he graduates — Serica applied to UW Bothell where he was accepted, allowing him to join the band before transferring to the Seattle campus his junior year.
"He was quiet, pretty reserved, but a good player," Head Drumline Instructor Steve Henry said. "But I think the first thing we noticed about him when he got comfortable was that he was confident, that quiet confidence."
Serica's first year in Seattle was also his first year as a section leader. Some unexpected attrition in the drumline that year meant he, as a junior, was one of the eldest members left, forcing him to step up and lead the section.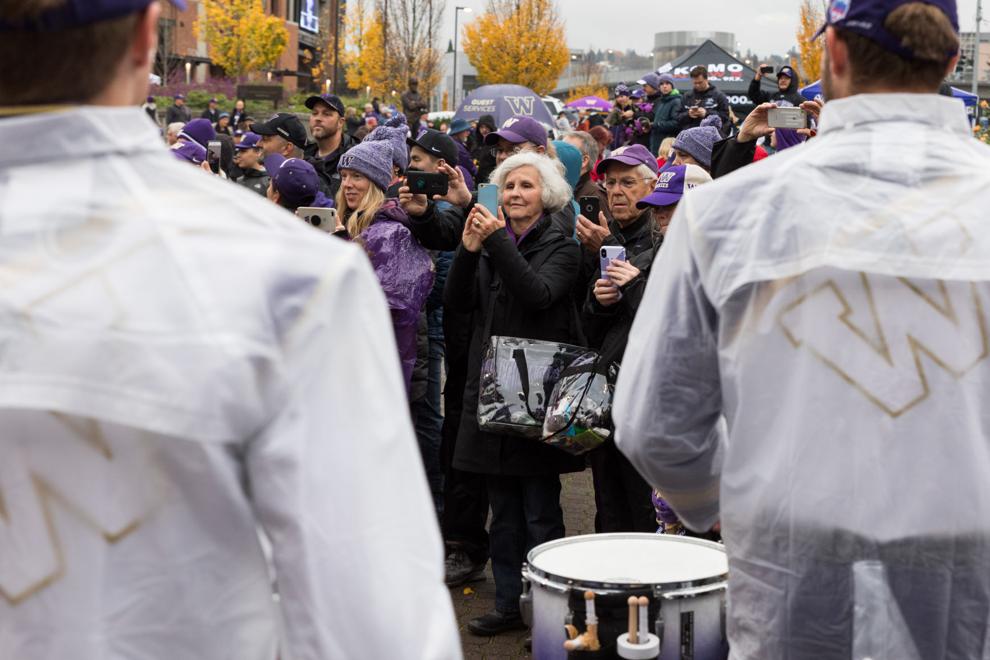 "He's an exemplary member, that's his greatest attribute as a leader," Henry said. "A lot of times, students will get very enamored with the label as opposed to the responsibility, and I think he's done a very good job putting the responsibility of him as both a leader and a member, before any labels or ego."
That year was a rough one for Serica. A double leg fracture him to take some time off and let another player help him run the section. However, he returned the next year to win the position again as a senior.
"The best thing about his leadership is that he leads primarily by example," Assistant Drumline Instructor Craig Winters said. "He doesn't need to tell the other members of the drumline things very often, but he is the leader. At any given moment, anyone on staff can say, 'Do what Chris is doing,' and it'll be the right thing to do in that moment."
The drumline wraps up its performance to thunderous applause and heads back into the stadium to prepare for pregame. Meanwhile, another group is finishing up its final round of performances a couple hundred feet away.
Saturday, Nov. 3, 5 p.m. — Marching Band Equipment Room — T minus 1 hour
Just like their days in the band, Stan Yantis and Dave Kuchenbecker arrived at the stadium four hours before the start of the game. Only now they're not students, and they haven't been for awhile. Yantis (class of '79)  and Kuchenbecker (class of '77) help run the Husky Alumni Band, an extension of the Husky Marching Band Alumni Association (HMBAA) that helps keep members connected after graduation.
"The Husky band means something special to everybody," Yantis, who is the president of the HMBAA, said. "The alumni band just loves playing together. Can you imagine how many times in 40 years we've played 'Tequila'? Thousands and thousands, but we still love playing it every single game."
The HMBAA has around 1,000 members, and every game day, about 60 come out to play as part of the Husky Alumni Band. Originally founded as the fundraising arm of the alumni association, the band quickly dissolved until 1977, when Kuchenbecker and several of his fellow graduates decided to reincarnate it.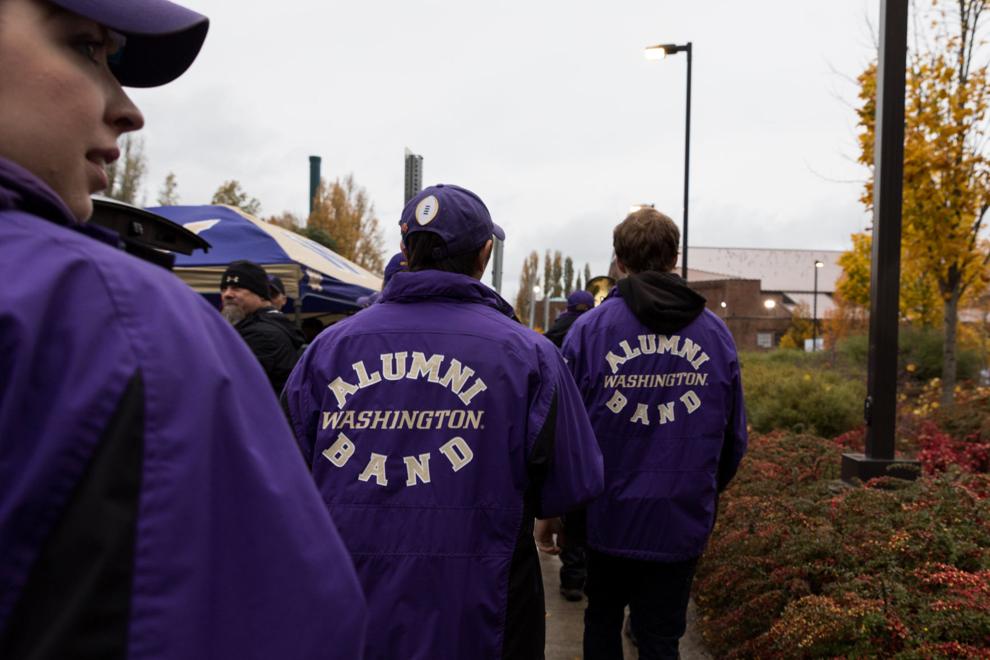 The band also found another purpose: raising money to provide scholarships to students currently in the band. Alumni pep bands can be hired to play at parties, tailgates, parades, and even weddings and memorial services. And every year, the band gives $30,000 to other players in the band as a way of giving back.
"The fans get fired up," Kuchenbecker said. "When we stopped on the dock and played, we got money from the guy who requested it, and then the guy on the boat next to the trumpets throws us $150 just because they like what we do and they like the energy we infuse into the tailgating and game day environment and they want to keep it going."
Though its gameday route changes based on who has hired it, this week the band started at the docks by the boats before playing some parties on the south side of the stadium and making its way to the tailgates in Padelford, raising money all along the way. It ends with a parade through the parking lots to the front of the stadium, called the March on Montlake, which leads tailgaters to the game, arriving just in time to see the end of the Drumline Warm-Up.
From there, the 45 members without tickets will get wristbands to see the game, sit in the marching band section, and enjoy the atmosphere. A few of the younger members will even get up and dance with band just like they did when they were in the uniforms.
Saturday, Nov. 3, 5:40 p.m. — The Pregame Show — T minus 20 minutes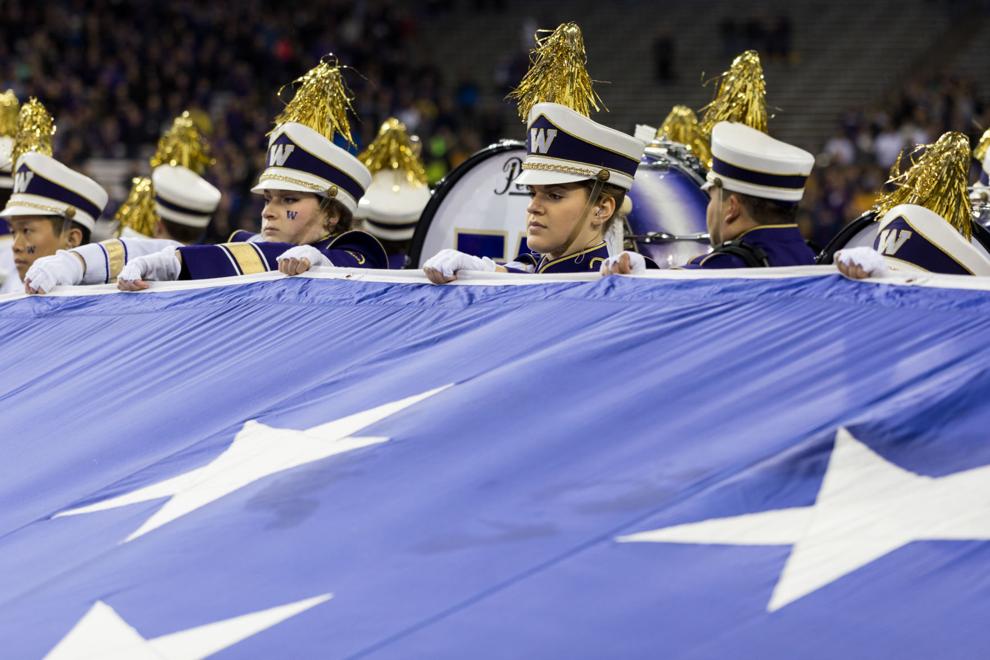 Every time the band steps on the field, they are aiming for something McDavid calls the perfect show: A program with no mistakes that takes everything the group has been working on the last few weeks and applies it.
Pregame goes well. The rain isn't falling as hard, and the band pulls off Script Huskies and the Bow Special. The band plays five songs in this first set: "Mush Huskies," "Talk to Me, Dance with Me," "Grand Old Flag," "America the Beautiful," and of course, it ends with "The Star Spangled Banner," in its immediately recognizable flagpole formation.      
"Script Huskies is our best pregame show of the year," piccolo co-section leader Madison Johnson said. "We only do it once a year for homecoming traditionally, but this year we're also doing it during the Salute to Service. We practiced really hard, dozens of times over the last two weeks, and we work really hard to clean all the curves. I had fun, and I think everyone else did too."
The show, a tribute to members of the armed services, is the only one whose theme is repeated every year. The added coordination with the ROTC and an Air Force flyover makes the show even more interactive. For many band members, especially those with family members in the military, the show is one of the most special of the year.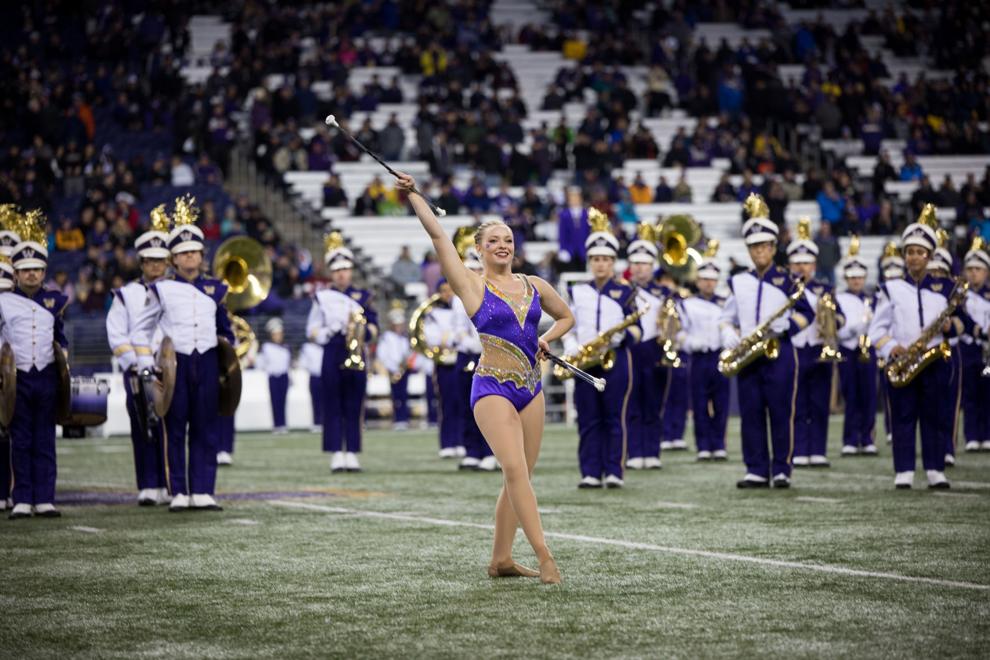 "My brother is in the Navy, so the last Salute to Service, he was actually here," trumpet co-section leader Cierra LeBlanc said. "So it's fun to do this and know that my family is in the service too. Then we have other veterans here and ROTC with the flags, so it's a good show for sure."
Saturday, Nov. 3, 6 p.m. — Kickoff  
The actual playing of the game is maybe the most relaxing part of a band members' gameday. From their spot behind the end zone, in front of the Dawg Pack, the view is great, and when teams kick extra points in their direction, water droplets fall off the net, showering a few of the players below.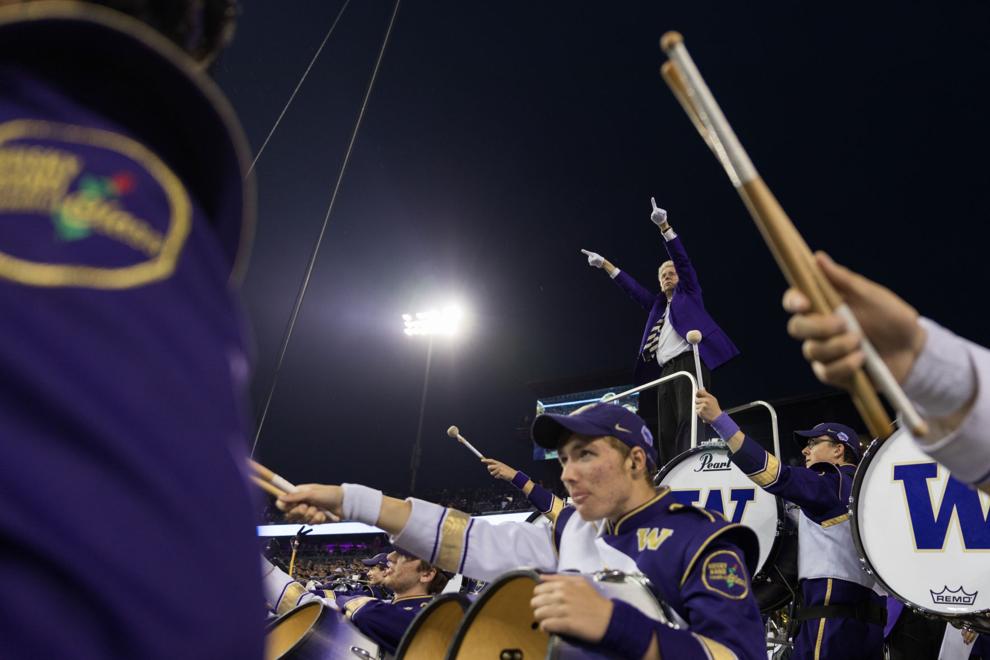 "The most important thing we have to pay attention to is first downs because that's when we have to play and get the crowd into it," trombone section leader Eric Westergard said. "We mostly get to watch and enjoy it, which is great because we've got great seats over here. But we keep our eyes on the director all the time so we can see what songs are coming up."
Saturday, Nov. 3, About 7:35 p.m. — Halftime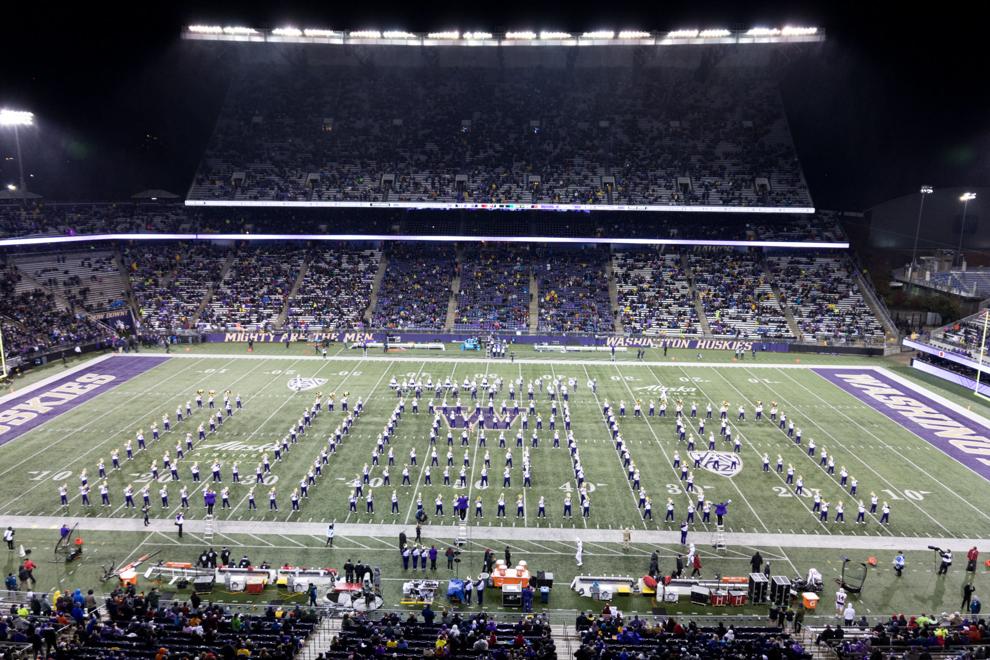 For halftime, the band plays "March Grandiose," "Armed Forces Medley," and "Sweet Land of Liberty," paired with several complicated drills to go along with it including an airplane, a tank, and a submarine. It's a very good performance, although its perfection varies depending on who's asked about it.
"Personally, I think I could've done better," piccolo co-section leader Tiffany Galicia said. "It was mistakes that no one would really notice from the crowd necessarily, but as a performance it wasn't my best. I know no one saw or heard what I did wrong, but I know next show I can definitely do better."
There are also outside factors that pose some challenges. Wet batons, wind, and the stadium lights make twirling much harder, while players on the field have to deal with tuning due to the cold temperatures, wet music, and slippery grass.  
"Every week, we have new things that happen within the stadium environment that change the way we practice a little bit," drum major Zach Basich said. "This week, it was the rain and the wind so not every single one of my tosses was 100 percent but I feel pretty good about that, dealing with what we can as it comes. We do a lot of practicing in these elements so it's not as much of a big thing, it's really just kind of an adjustment."
3rd Quarter — President's Suite, Husky Stadium
Once the band returns from halftime, a small group splits off to do one last pep band. Starting on the north side, the ensemble moves around the horseshoe structure, playing at the East Gate and the south side of the stadium before climbing up to the President's Suite to play for UW President Ana Mari Cauce and any other university guests.
At each stop, the group plays about four songs, usually from its stand set. The music echoes throughout the concourse, making it sound about 10 times louder, and at each spot, a large crowd gathers to cheer them on. The pep band dances with more energy than should be possible considering that a few minutes before, they were doing strenuous marching on the field.  
"It's an opportunity to do a little more playing, a little more dancing," Basich said. "You're not necessarily marching in step with everyone, you get to dance around and have a little fun."
Sat., Nov. 3, 9:40 p.m. — Postgame Show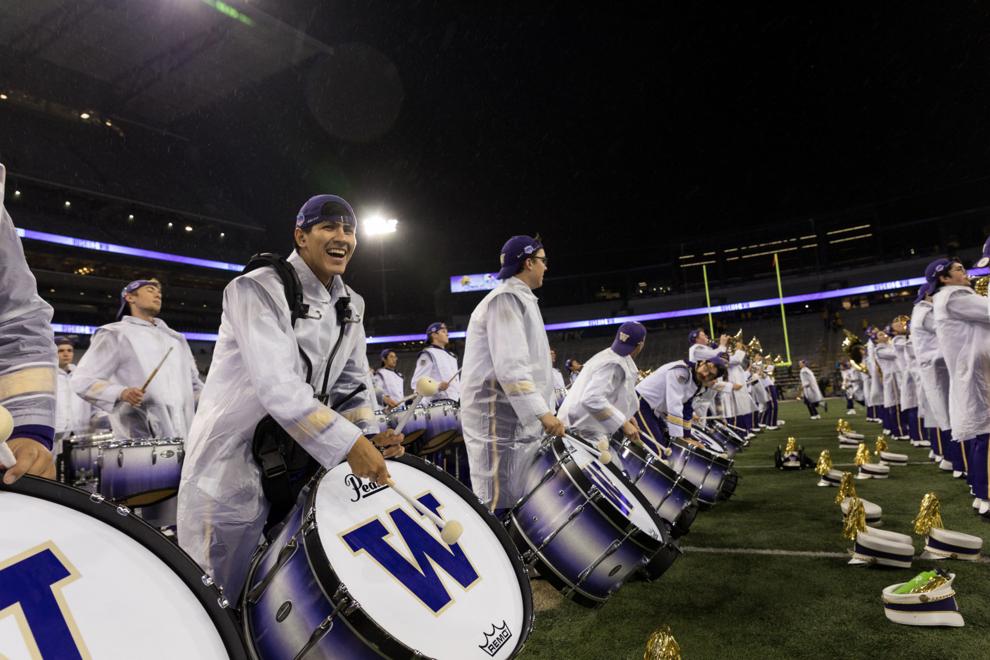 The band has essentially been on its feet for the last eight hours without rest. Yet, as soon as the game is over the band members flood onto the field to join the football players in singing "Bow Down to Washington." It's a relationship that is rare, even among the UW athletics program, as only the football and the softball teams sing with the band following the ends of games.
Once the football team heads back into the tunnel, the band forms up in a block, with directors on either side of the 50-yard line and somehow, some way, plays seven more songs, each one amping up in volume, energy, and fun for the 20-ish people still left watching them. They flip back and forth, with sections splitting off, running around the block, and playing with as much vigor as they had at kickoff.  
48 Hours with the Husky Marching Band
"I think our first goal is to entertain, and if we're not doing that then we're not doing well," alto saxophone section leader Sofia Dolce said.
After this, they'll put everything away — just for a day — before getting up and doing it all over again. That's the special thing about music; there is always a chance to get better, to do something new, and to never be satisfied. They've already got the music for their next show, two weeks from now, and are already starting to learn the drill.    
"They spend so much time learning and since Dr. McDavid has been here, we practice five days a week. It's a lot of work for a 13 minute halftime show and a 10 minute pregame show," said Sabo as he fought back tears. "We have a motto, 'A touch of class,' which means do everything because you're proud of it, not because you want attention or anything like that. We just want to go out and have a great performance."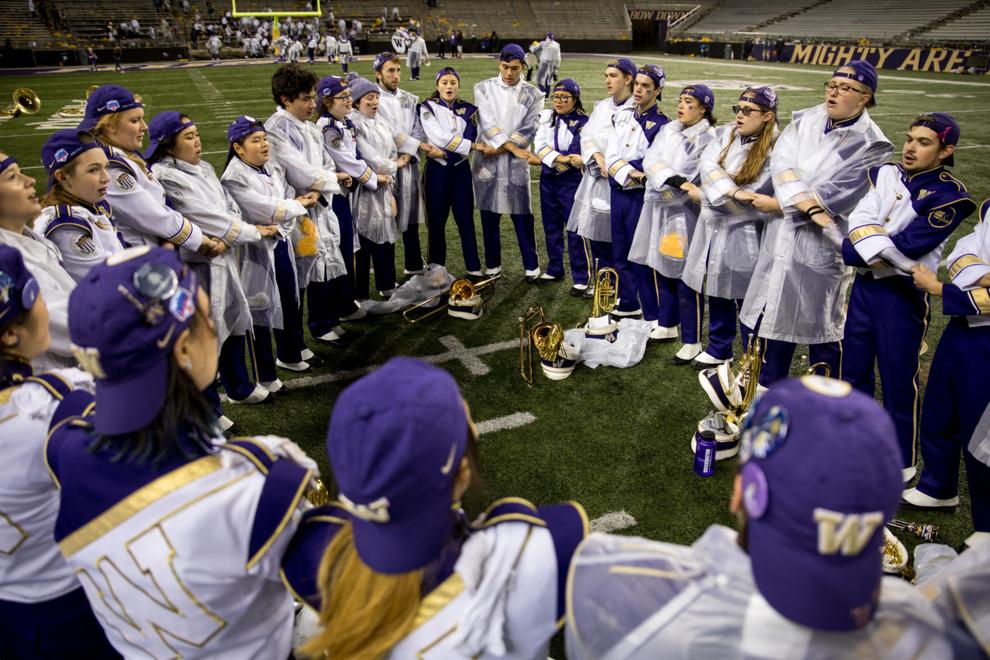 [Corrections: Originally, James Hornes' name was incorrectly spelled "Horn," and Madison Johnson and Tiffany Galicia were referred to as flute section co-leaders, when they are actually piccolo section co-leaders. Both errors have been fixed.]
Chris Angkico contributed to reporting on this article.
Reach reporter Andy Yamashita at sports@dailyuw.com. Twitter: @ANYamashita @chrisangkico
Like what you're reading? Support high-quality student journalism by donating here.