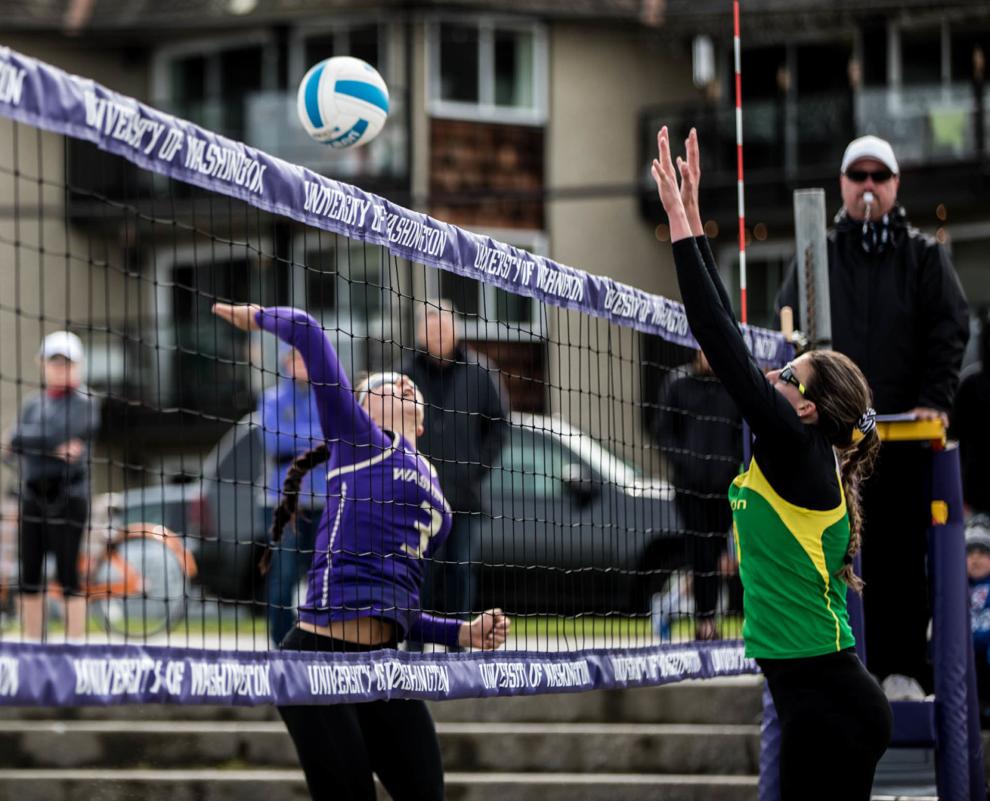 The Washington beach volleyball team breezed through its first matchup of the year, needing barely an hour to clinch the three necessary points in a 5-0 sweep over Stephen F. Austin in Tucson, Arizona.
Thanks to a second-set comeback by Emma Calle and Claire Hoffman, the Huskies (1-0) didn't drop a single set. After dominating its first set 21-11, the pair fell behind for most of the second, but pulled it to an 18-16 deficit before going on a run to win 21-19 and seal the sweep.
Five of the UW's 10 players were suiting up for their first beach action at Washington. But it was the only Washington pairing of two newcomers drew first blood at No. 4. Addie Picha, a grad transfer from San Diego, teamed up with Shannon Crenshaw, who joins the beach squad two years into her collegiate indoor career, and the two won their match 21-19, 21-13 in less than an hour.
Right after them, the Huskies' No. 2 pairing of Natalie Robinson and Chloe Loreen, a transfer from Santa Clara who played two seasons of indoor and one of beach for the Broncos, went the other way, winning 21-12, 21-19.
After a break in matches going final, Steve Whitaker's only pair of returning players was the next to finish, as the Huskies' duo of Shayne McPherson and Kara Bajema cleaned up 21-12, 21-16 on Court 1.
Scarlett Dahl, Washington's only beach-only true freshman this year, teamed up with sophomore Callie Webber at No. 5, and the two won their match 21-18, 21-13.
It's the second time in UW beach volleyball's short history that the Huskies have swept their season opener.
Huskies fall to Arizona
The Dawgs weren't able to follow the sweep up with another win though, losing to 4-1 to No. 13 Arizona.
McPherson and Bajema were the only Huskies to take a set, beating Arizona's top pair of Brooke Burling and Olivia Hallaran 21-17, 21-19.
Other than that, the Huskies weren't able to do much. Calle and Hoffman forced extra points in the first set of their 22-20, 21-16 loss, and Robinson and Loreen had a close second set in a 21-12, 21-17 defeat on Court 2, but they were the only duos to finish a set within five points of the Wildcats. Crenshaw and Picha fell 21-12, 21-9 on Court 4, and Webber and Dahl lost 21-14, 21-15 at No. 5.
Washington will finish its opening weekend in Tucson against Colorado Mesa at 9 a.m. Saturday.
Reach Managing Editor Josh Kirshenbaum at sports@dailyuw.com. Twitter: @J_Kirshenbaum
Like what you're reading? Support high-quality student journalism by donating here.