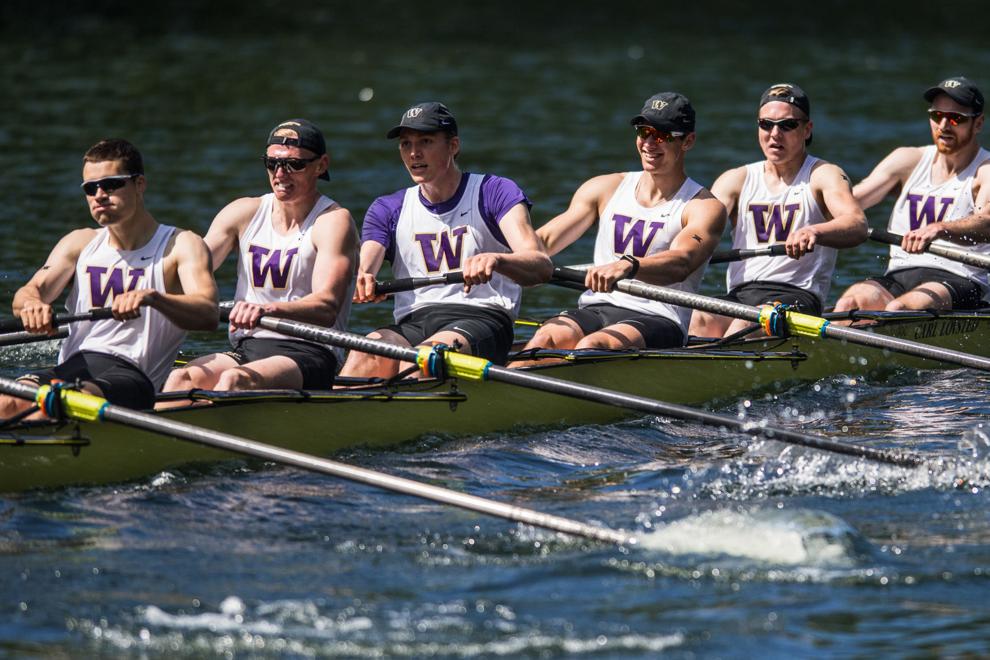 Boating and rowing fans were out in full force Saturday morning to see the Washington men's and women's rowing crews take on some of the best competitors the world had to offer.
The 32nd annual Windermere Cup pitted the Husky men against the University of British Columbia and Oxford Brookes University, a crew that is considered one of the very best in Europe. Head coach Michael Callahan said at Thursday's press conference that the Huskies sought "the best competitors possible," and that they had long been admiring the Oxford Brookes program.
The respect was mutual between the two world rowing powerhouses.
"We've been enjoying watching Washington's success for the last 10 years with eyes wide open," Oxford Brookes head coach Henry Bailhache-Webb said. "We've been very impressed."
The Dawgs got off to their usual dominant start. Washington had two boats competing in the men's four. The second varsity boat (6:36.693) won the race, finishing nearly four seconds ahead of its first varsity counterpart (6:40.244). Seattle Rowing Center (7:03.300) and UC-Santa Barbara (7:09.844) finished third and fourth, respectively. 
It was a similar story in the women's fours. This time things stayed true to form as the first varsity boat (7:14.137) won big against the second varsity (7:38.974), followed by Western Washington and Seattle University.
The sizable margins were a recurring theme for the Washington women, as the second freshman boat dominated a field of second varsity crews from Pacific Lutheran, Seattle Pacific and Seattle University. The first freshman boat (6:54.981) won by nearly 20 seconds in the Collegiate third varsity eight against first varsity crews from Seattle Pacific (7:13.261) and Seattle University (7:23.785).
After four more victories in the smaller races, the Windermere Cup races against the international schools would decide the regatta champions.
First up was the men. The mutual respect between Washington and Oxford Brookes made for a highly competitive race from start to finish. The Dawgs (5:35.782) ultimately won their 10th Windermere Cup in the past 12 years, defeating Oxford Brookes (5:36.239) by less than a second. UBC (6:04.385) was a distant third.
In another competitive and exciting race, the UW women faced a Dutch National squad that placed sixth in both the 2016 Rio Olympics and 2017 World Championships.
The Huskies raced two boats —  "Purple" and "Gold" — against the Dutch National Team. The purple boat (6:19.619) was edged out by just over one second by the crew from the Netherlands (6:18.394), ending Washington's pursuit of a sweep of the 2018 Windermere Cup.
Nonetheless, they will look to carry their momentum over to the Pac-12 Championships which take place next Sunday, May 13 in Gold River, California.
Reach contributing writer Jordan Duncan at sports@dailyuw.com. Twitter: @JordanDuncan43