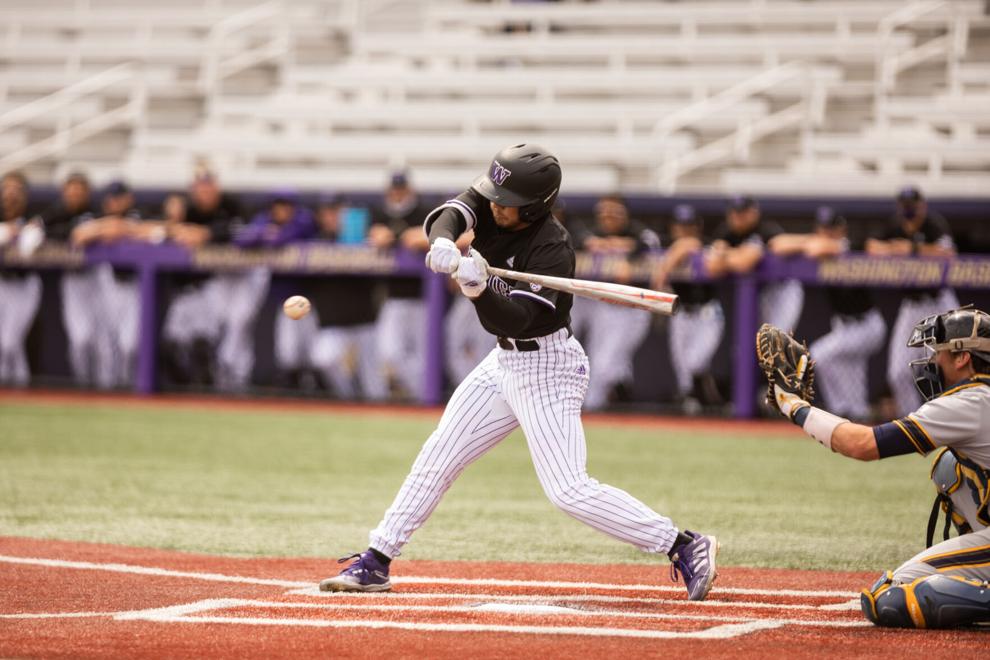 Washington baseball starting pitcher Adam Bloebaum (1-3) left the door open for his teammates on Sunday afternoon, while effectively slamming it shut on the California offense throughout most of his six-plus innings of work.
But as much as they tried, the Huskies (17-21, 3-12) just couldn't kick things open, falling 3-2  to the Golden Bears (22-19, 9-9), who completed their Seattle weekend sweep. For Washington head coach Lindsay Meggs and his team, the loss continued a rather disappointing season in conference play.
"One of our challenges is just trying to get them to do the little things," Meggs said. "We can't put the ball in play, [runners on] second and third early in the game. That cost us. That's a little thing — just putting the ball in play."
After issuing three free passes in the first inning — two walks and a hit batsman — Bloebaum settled down, limiting the Bears to just four hits and one more walk in his final five innings of work.
Of course, one of those four base knocks clipped the foul pole over the right field fence in the third inning to put the Huskies in an 1-0 deficit. That would be the only run Bloebaum allowed all game, giving his team plenty of opportunities to offer support.
"I thought we pitched great today," Meggs said. "Bloebaum, he had a shaky first. But he's such a good competitor. That's the difference between him and a lot of guys you'll see. You know, it'll go south on him, but he can get it back. He does not want to come out of the game."
As cool-headed as Bloebaum may have been after the first, with the way the UW offense had handled the batter's box to that point in the series, it appeared as though its goose egg on the scoreboard might never go away. 
For a moment, though, it looked as though they'd flipped the script, albeit after Bloebaum's departure. With two outs and nobody on in the bottom of the seventh, Washington freshman catcher Carson Blatnick drew a pinch-hit walk.
Meggs immediately sent another true freshman out to pinch-run, as utility outfielder Emilio Corona trotted out to first base. Sophomore second baseman Noah Hsue took advantage of a passed ball and scored Corona with a ball into right field.
From there, it was in the hands of the UW bullpen to support its starting pitcher. Redshirt freshman Stu Flesland III (0-2) took over on the bump for the Huskies and promptly gave up a lead off double, and in no time, the Bears had the bases loaded with nobody out.
Ultimately, before they'd recorded an out in the eighth, the Huskies once again trailed, this time 3-1, solidifying the loss for Flesland III, who contributed to the big inning with a wild throw to first on a sac-bunt attempt after the lead off double.
"We give up the lead off double in the eighth, lefty on lefty," Meggs said. "We've gotta get an out against a team like this that's swinging the bats well. When somebody gives you an out, we gotta get one, and we didn't. And that hurt us."
Meggs' team threatened again in the bottom of the inning, scoring a run on a two-out single from freshman Michael Snyder, but it wasn't enough.
In all, the Huskies spent their entire weekend without ever holding a lead, losing by a combined run total of 17-3. So while Bloebaum did his best to shift momentum in game three, the rest of the team couldn't muster up enough firepower to keep that inertia moving in the right direction.
With a 3-12 record in Pac-12 play on the season, the Huskies' woes this weekend were nothing new. And five days away from a daunting road trip down south, they'll need to dig deep to find the strength to knock off two top 25 teams in the next two weeks.
"We're going to come back to work on Tuesday," Meggs said. "We need to work on the bunting game. We need to work on defending the bunting game. We need to work on getting those two-out hits. If we could generate a little bit more offense, we might have a little bit more wiggle room."
Washington's first weekend stop is in Eugene, starting Friday, May 7, when it takes on No. 16 Oregon for a brutal three-game set with the Ducks.
Reach senior staff reporter Nick Mendro at sports@dailyuw.com. Twitter: @m_mendro
Like what you're reading? Support high-quality student journalism by donating here.