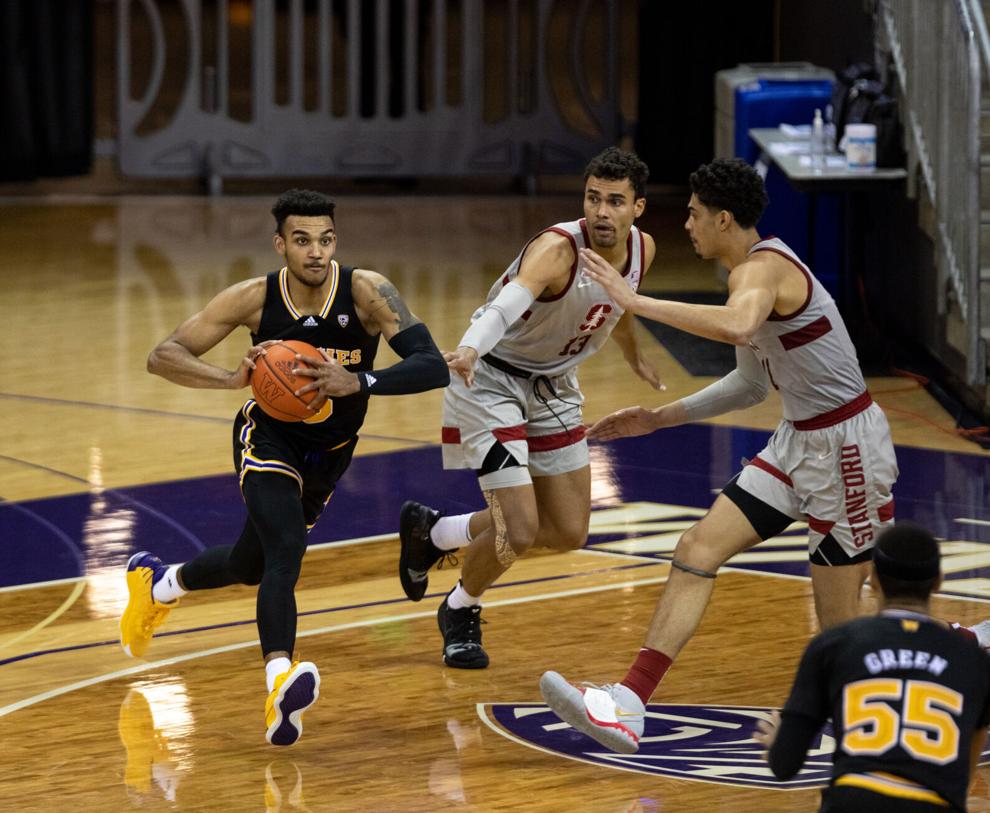 Three games.
That's how many matches the Washington men's basketball team has left on its regular season schedule. It's also the number of games the Huskies have left in this busy final stretch, which became even more hectic when the Pac-12 added a makeup game with Arizona State in Tempe, Arizona on Tuesday. 
Since Feb. 11, Washington has played five games in just 13 days. With three games still to play, the Huskies will enter the Pac-12 tournament having played a brutal stretch of eight games in 16 days, essentially a contest every 48 hours, far beyond the normal workload for college players. While head coach Mike Hopkins appreciates the opportunity to play, he understands the stress added minutes will create for his players. 
"It is what it is," he said. "We're not gonna harp on it. It's not going to be the easiest thing. It's gonna be another challenge during this time but we'll do the best with what we have with it."
Washington is heading to the desert with a boost in confidence after defeating California 62-51 on senior night Saturday. The Huskies (5-17, 4-13 Pac-12) have seen their defense improve, holding four of their last five opponents under 70 points. Washington has also won two of its past three games, beating Washington State on Feb. 15 before losing to Stanford. 
The minutes have added up for Washington's core group in particular, especially as Hopkins has shortened his rotations and found more consistent minutes for his players. Senior Hameir Wright, juniors Jamal Bey and Erik Stevenson, and sophomore Marcus Tsohonis are all averaging more minutes since Feb. 11 than they have been all season.
Bey and Stevenson have seen their minutes increase the most. Bey, the Las Vegas native, who has averaged 30.8 minutes per game this season, has seen his time escalate to 33.2 since Feb. 11. Stevenson, meanwhile, has played 29.4 minutes per game during the past five games after averaging 25.7, including a season-high 39-minute shift against Washington State Feb. 15. Tsohonis also set a high-mark for minutes against the Cougars, seeing the court for 38 minutes.
Senior Quade Green, who missed the game against Washington State due to non-COVID illness, is playing right at his season average of 31 minutes per game. 
To help relieve the workload, Hopkins hinted he might look to extend his bench this week in the desert. The UW head coach mentioned both sophomore RaeQuan Battle and junior J'Raan Brooks, who Hopkins said impressed during the weekend. 
"Against Stanford, he came in and just looked good," he said. "He looked hoppy, he looked bouncy, and then, you know, we played ten guys in our game against Cal. J'Raan was a guy who came in and gave us incredible minutes, I thought. It was one of the reasons why we had the lead at halftime."
More pressing for Hopkins, is the amount of travel the Huskies have endured since Feb. 11. Washington already had to go on the 570-mile round trip journey to Pullman, Wash. on short notice after the Pac-12 scheduled them a makeup game against Washington State, and now head to the desert early to play Arizona State. Hopkins said the extra travel has cost the UW important practice and recovery time.
The Sun Devils missed the Huskies in Seattle after COVID-19 issues in the ASU program prevented them from traveling, and while Hopkins lamented losing home court advantage, even without the Dawg Pack, he said the team wouldn't use the heavy minutes or the scheduling as an excuse. 
"We're not gonna complain about it," he said. "It's what the league gave us. We've got to move forward and use it to our advantage, put a little chip on our shoulder, maybe go a little bit deeper on the bench to save the legs, but we get to play."
Washington will kick off its final road trip of the season Tuesday, Feb. 23 against Arizona State at Desert Financial Stadium for a 6 p.m. tipoff. 
Reach Sports Editor Andy Yamashita at sports@dailyuw.com. Twitter: @ANYamashita
Like what you're reading? Support high-quality student journalism by donating here.