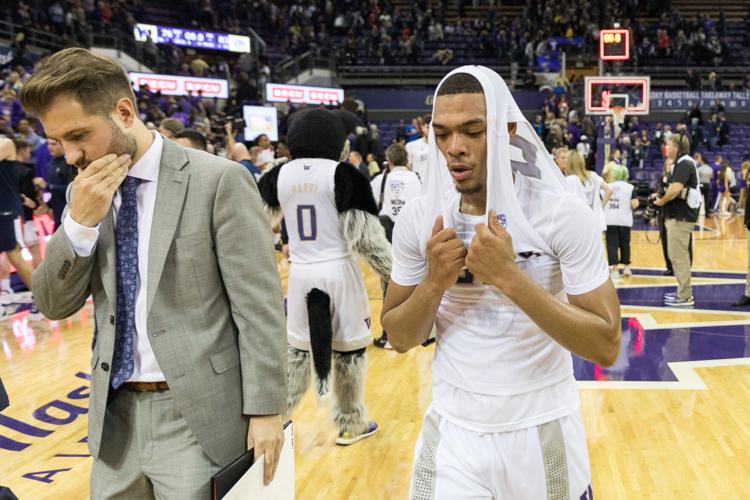 With 9:03 on the clock and the Washington men's basketball team trailing UC Riverside 44-36, senior point guard Quade Green hit a jump shot from inside the paint, cutting the Highlanders' lead to six points with plenty of time left for the Huskies to make a comeback. 
Instead, Green's jumper was the last field goal Washington scored in the game and kicked off a dismal nine minute stretch which saw the Huskies (0-2) go 0-of-12 from the field and scoreless for the final four and a half minutes. 
"We couldn't hit shots really," Green said. "We had some open looks, had some bad looks, forced some. That's what caused it — force shots and that's what happens." 
Washington's failure to score down the stretch was emblematic of the team's' offensive struggles throughout its 57-42 loss to UC Riverside, Tuesday in Las Vegas.
A four-minute, 9-0 Highlanders' (1-1) run early in the first half set the tone early for UCR, and was foreshadowing for the UW offense. Even with the lack of preparation afforded by the last-minute scheduling of the game, UW head coach Mike Hopkins believes the team's slow start to the season simply came from a failure to execute. 
"We just didn't have that same pop," he said. "We were missing layups to start the game, we were missing open passes. Those are things that we have to be able to do." 
As a team, Washington shot 29.6% from the field and went 3-of-20 from three-point range in its second game with head coach Hopkins' new guard-oriented offense. Following the relative success of its four-guard small ball lineup, the Huskies tried to take advantage of Highlanders' center Jock Perry by utilizing senior Hameir Wright's shooting ability and giving the UW forward opportunities to fire away from three-point range. 
The strategy backfired though, as Wright didn't hit his shots, going 1-of-10 from three-point range. His teammates weren't much better. Junior Erik Stevenson was third on the team with six points, but went 0-for-3 from deep. Sophomore RaeQuan Battle — Washington's leading scorer during the team's drubbing by No. 2 Baylor Sunday — missed both of his attempts from three as well, although he didn't even attempt a field goal until the 11-minute mark of the second half. 
Wright and Green also missed crucial right before halftime that could have cut the lead to three points heading into the break. 
"We just looked slow," Hopkins said. "We looked lethargic, we weren't cutting hard — you know things we talk about with the guys that we've just got to get better at."
Green though, was the lone bright spot for Washington Tuesday, scoring a team-high 18 points on 8-of-17 shooting. He dished four assists, grabbed eight rebounds, and added two steals in 39 minutes. Green also went 2-of-3 from behind the arc, making him responsible for 66% of Washington's made three-pointers.
However, Green's performance wasn't enough to overcome the lack of offensive production from the rest of the team. No other player had more than seven, and the Huskies only managed seven assists as a team. Washington also scored just 12 points off turnovers despite UC Riverside giving the ball away 16 times. Despite his decent performance Tuesday, Green didn't shy away from shouldering the blame for some of UW's offensive problems. 
"I'm the point guard," he said. "I've got to make sure we're all together. Tonight, I didn't do that at all." 
Washington's next game will see the UW start conference play with a matchup at the Jon M. Huntsman Center in Salt Lake City against Utah Dec. 3 at 3 p.m. The Utes haven't played a game yet after the team paused activities Nov. 13 due to COVID-19, but have been practicing for the past week.
Reach Sports Editor Andy Yamashita at sports@dailyuw.com. Twitter: @ANYamashita
Like what you're reading? Support high quality student journalism by donating here.