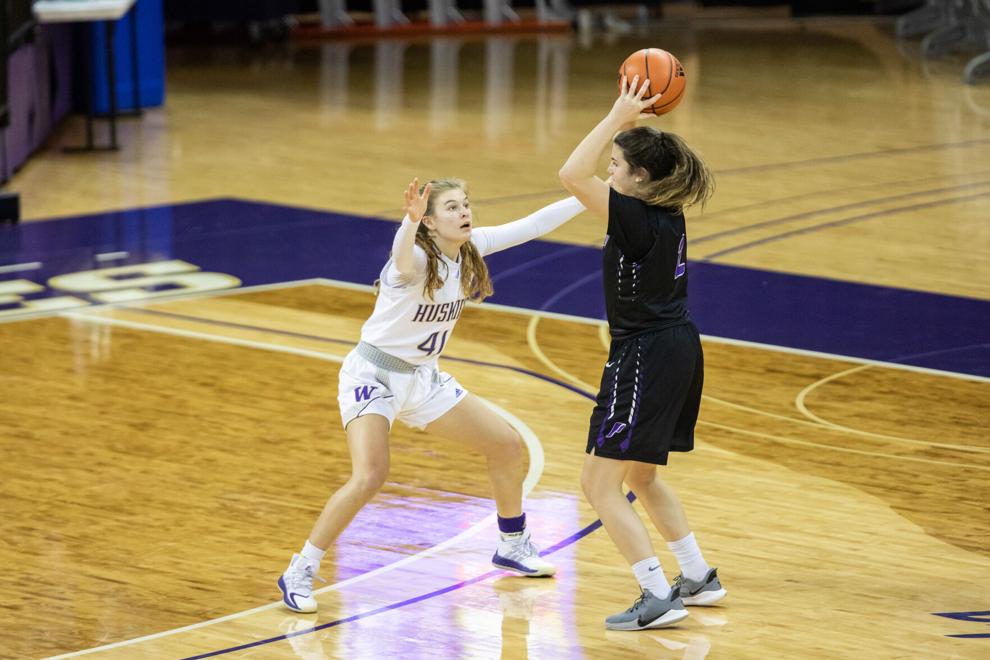 In need of some scoring, it was the Washington bench that stepped up against Portland to help secure the 83-56 win. The Huskies (4-2, 1-2 Pac-12) scored 23 points off the bench against the Pilots (3-2). This almost doubled the bench points from Friday's loss to Washington State.
"It was a great team win," Wynn said. "The bench was outstanding."
Twenty-one of the Huskies' 23 bench points came from two players. Junior center Darcy Rees scored 10 points going 5-of-7 from the field. Sophomore guard Callie Lind finished the night with 11 points on 4-of-6 shooting and made three from beyond the arc.
"Callie was outstanding and Darcy was outstanding," Wynn said. "They'll make the difference when someone like Tameiya comes back into the fold."
Lind who was a walk on last, just earned a scholarship earlier this season. Her recent play has shown she deserved that scholarship. She has an increased role this season following the injury to senior guard Missy Peterson and is averaging 5.6 points per game.
The bench helped push Washington to record setting night for shooting percentage. 64.8% is the record for any women's team in Alaska Airlines Arena. The Huskies will hope to build off of the record breaking performance when No. 2 Oregon travels to Montlake next Saturday. 
Sadler misses the game as Washington dominates Portland
When the Washington women's basketball took the floor against Portland, they were without a key piece of their lineup in freshman guard Tameiya Sadler, who had started every game for the Huskies this season before Sunday. She did not suit up for the Huskies in an 83-56 win over the Pilots. 
However, head coach Jody Wynn clarified that Sadler has not been seriously injured and was only inactive tonight for rest. She will be available when the Huskies take on No. 8 Oregon next Saturday.  
"Her body is just a little sore right now," Head Coach Jody Wynn said. "We're just gonna give her a couple of days rest."
Sadler, who won Pac-12 Freshman of the Week during the first week of the season, has been the offensive leader for the Huskies. In the first five games of the season Sadler averaged 14.4 points per game leading the Huskies in scoring and 5.4 rebounds a game. 
"We missed her presence on the court," Sophomore center Quay Miller said. "But we still felt her presence from the bench." 
In the absence of Sadler, Miller and the Washington offense had a record setting night, in large part thanks to the scoring off the bench.
Reach reporter Nick Lombroia at sports@dailyuw.com. Twitter: @lombroia
Like what you're reading? Support high-quality student journalism by donating here.