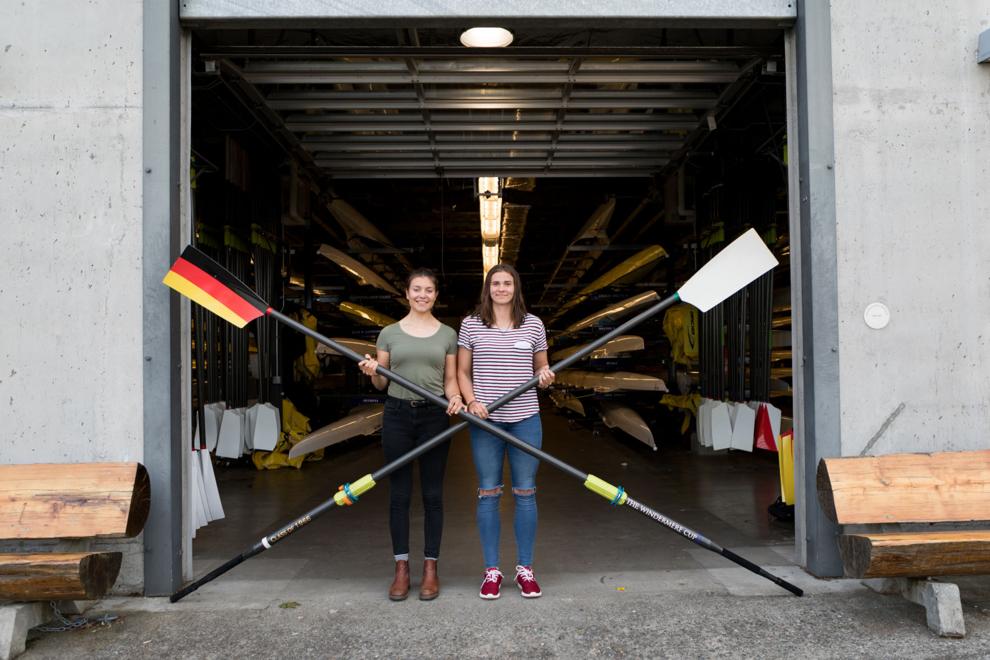 Good things come in pairs.
For the UW and its women's rowing program, senior Calina Schanze and junior Tabea Schendekehl comprise the German duo that have led the Huskies throughout their season.
Behlendorf, in northern Germany, is under 40 miles from Hamburg and about 120 miles to the border with Denmark. Schanze was one of the town's 395 residents, grew up surrounded by nature and a small community, and started rowing at a summer camp.
"I'm from a rural area in Germany that is really fortunate to have the national training center," Schanze said. "There's not a lot to do but you can row really well."
Schendekehl hails from a suburb just outside of Dortmund, Germany. She did a handful of other sports before being introduced to the sport of rowing by her uncle at the age of 12.
"My uncle was like, 'When you're 12, I'm taking you to the boathouse,'" Schendekehl said. "I just tried it, stuck with it, and fell in love with it."
Their journey to Seattle and the Washington rowing team followed similar paths as they were both recruited due to their success at the European Junior Championships. Former interim head coach Conor Bullis and current assistant coach and recruiter Josh Gautreau both played important roles in bringing the two Germans across the Atlantic to attend and row at the UW.
Two years apart in age, the two rowers never met through the German national team. Schendekehl was participating on the junior team while Schanze was competing with the under-23 squad. Both experienced unique recruitment processes that paved their path to Washington.
"Conor Bullis came up to me and was like, 'Hey, have you thought about going to the U.S. at all?'" Schanze said. "I'm open to it. I came on an official visit and I fell in love with the city, the team, the campus, and the whole setting here."
Schendekehl looked into the potential move to the United States following her performance at the World Rowing Junior Championships.
"I didn't even know about UW before I was contacted by Josh, but it just fit and I'm really glad I came here," Schendekehl said.
She came to Seattle for an official UW visit in the fall of 2016 and officially joined Washington during winter 2017.
When it comes to recruiting rowers outside of the United States, Washington head coach Yasmin Farooq has high expectations for incoming international recruits which Schanze and Schendekhel have surpassed.
"When you recruit an international rower, generally, it's because they've got ability and they're going to contribute to the top of your team right away," Farooq said. "Both of them definitely did that. To have them come in here and to be the excellent students and leaders that they both are. It's like hitting the jackpot, you get it all."
In addition to rowing with their Husky teammates throughout the NCAA season, Schanze and Schendekehl wanted a shot at making the German senior team. This senior team is a part of the national team that represents Germany in some of the world's most competitive platforms such as the World Championships and the Olympics.
The two teammates asked Farooq if they could pursue this goal by going back to Germany for the first round of trials in March. With the trials occurring during the UW's spring break, the timing was perfect. Schanze and Schendekhel spent plenty of time training together to prepare for the trials and ended up winning.
By winning at trials, the German pair's performance provides the German team selectors with an accurate comparison to other senior members on the team. These selectors end up determining which boats Schanze and Schendekehl could contend for later this summer.
This year's World Championships serve as the initial qualifier for the 2020 Olympics; if Schanze and Schendekehl are selected to a senior team boat, they'll go to the World Championships in August and vie for a berth in Tokyo.
The German duo ensured they were able to pursue their goal without letting their teammates down in the midst of the NCAA season. Being proactive and transparent about their personal ambitions was important for themselves, their teammates, and especially their head coach.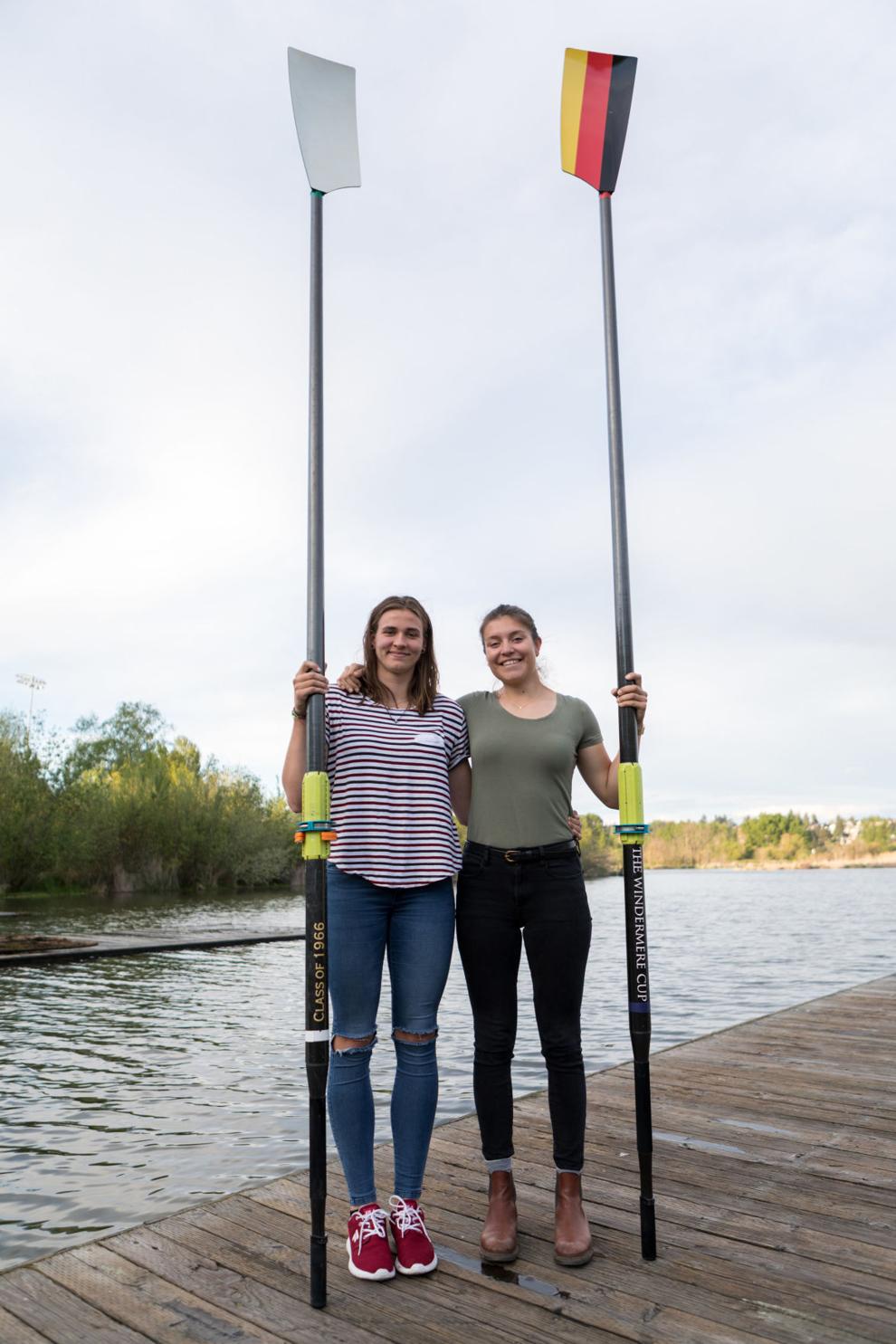 "There's a lot to be said for writing your own future," Farooq said. "They really created a win-win situation for themselves. That really kind of just shows the kind of people that they are. They are fantastic teammates and they're motivated athletes."
With the Windermere Cup coming up on Saturday, the two Germans and the rest of their teammates face off against the German national team, as well as UCLA.
"There is just no other race like it, anywhere," Schendekehl said. "Having the yachts line up and really having people cheer for you for the full 2,000 meters. You don't really have that anywhere else so that's makes it so special."
Schanze's last Windermere Cup brings bittersweet feelings. Experiencing three of them and having the last one hang in the balance has allowed her to reflect on how fun of an experience Windermere Saturday can bring.
"This is the highlight of the year," Schanze said. "When you can't hear your own coxswain, that just has to bang on the sides of the boat so you know that you have to go sprint. I'm really sad it's my last one that I can compete at."
Reach reporter Evan Wong at sports@dailyuw.com. Twitter: @evan_wong29
Like what you're reading? Support high-quality student journalism by donating here.