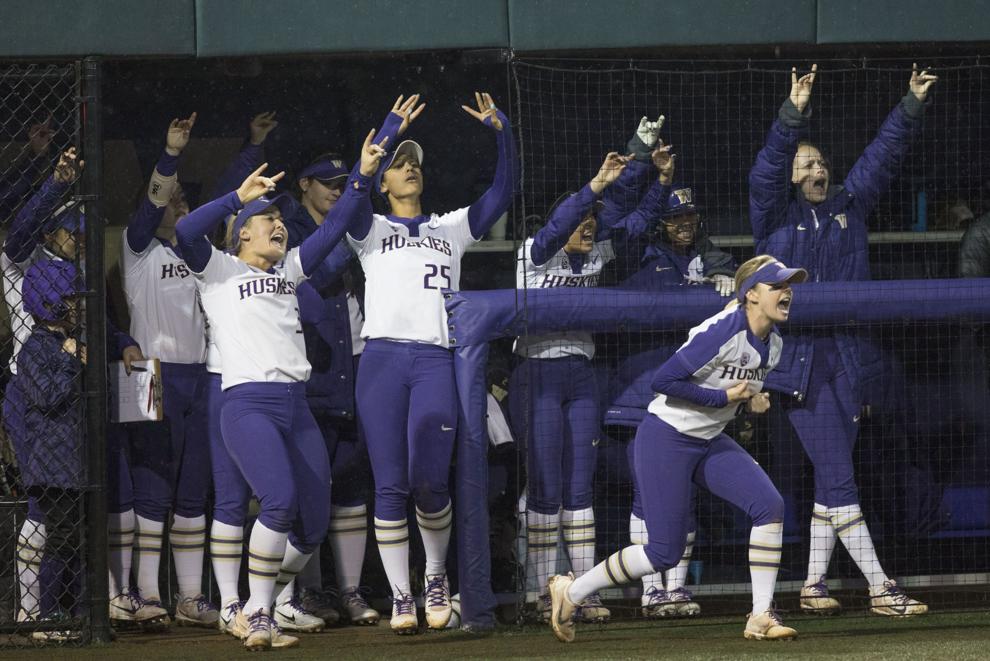 Across all sports, there are plenty of coaches, teams, and talking heads that don't believe in momentum. The No. 5 Washington softball team is not one of them.
"It's huge in our game," senior third baseman Taylor Van Zee said. "Every inning and every pitch, there's momentum embedded in there. As a team, we really take pride in momentum."
Last year, the UW bounced back from a five-game losing streak early in conference play, ending the regular season by winning 14 of its final 16 games and riding the momentum all the way to Oklahoma City. This season, the Huskies (44-8, 15-8 Pac-12) started hot and stayed hot most of the way through their slate, but stumbled in a six-game skid against No. 2 UCLA and No. 1 Oregon just a few weeks ago. 
A three-game sweep of Oregon State got the Dawgs back on track, but before the train could get fully revved up, Washington drew its bye week on the last week of the season.
"It's not ideal if you have a heck of a lot of momentum," head coach Heather Tarr said. "Fortunately for us, we didn't really have a streak going. I think our team is veteran enough to do whatever we need to do."
The bye week also gave junior pitcher Taran Alvelo an extra week to get back to full strength. Alvelo was pulled at gametime in each of the three games against Oregon State, and only threw two innings over the course of the weekend. With another week to come back before action restarts, the coaching staff didn't have to worry about rushing her back into form.
And if, at the very least, momentum is nothing more than the next day's starting pitcher, that could be huge for Washington. Even if Alvelo isn't quite back to 100 percent, though, the Huskies have developed a nice insurance plan through Gabbie Plain. With Alvelo drastically limited, the freshman, who was already having a stand-out first year on Montlake, took her game to a new level, earning all three wins and pitching 17 combined innings. 
"It was definitely a confidence-booster," Plain said. "When I went up against Oregon twice, I didn't know if I could do it. But now I know I can if it comes to it."
The Huskies have scored six runs just once in their past nine games, and while this would be a good time for the bats to get hot, they know that they may have to lean on their pitching until that happens.
"We just have to continue to know that our pitching and our defense are our constants and our strengths," Tarr said. "Offensively, it's going to come and go. But we just continue to know how much depth we have in the circle, and we believe in that, trust in that, and allow it the patience to give us the time to score runs against other teams that are really good too."
Of course, the UW's opponents this weekend might have something to say themselves. First up for Washington is a late-night matchup with Boise State. The Broncos (40-14, 18-6 Mountain West) have plenty of momentum themselves, with a six-game winning streak and their first-ever conference championship in their pocket on the way to Seattle. First pitch is scheduled for 8:30 p.m., and will air on ESPNU.
The Dawgs will also welcome Minnesota and Texas to the shores of Lake Washington. The Golden Gophers (39-15, 17-4 Big Ten) just won their own conference title, and all but three of their losses came against teams that made the NCAA Tournament. The Longhorns (32-24, 10-8 Big 12) gave the Huskies their first close game of the year, when Washington beat them 2-1 in Austin. 
That game will take place before the UW's, starting at 6 p.m.
Washington could face either Minnesota or Texas on Saturday, depending on how Friday's games go. Having to gameplan for three teams instead of one makes preparation challenging, but for the Huskies, most of the work has been directed internally.
"It's important that we go in with good plans against who we're playing," Tarr said. "But it matters more about how we're doing and what we're doing."
"This is a new season. The opponents are different. We're prepared for anything. We've gone through a lot together as a group." 
Reach Sports Editor Josh Kirshenbaum at sports@dailyuw.com. Twitter: @J_Kirshenbaum