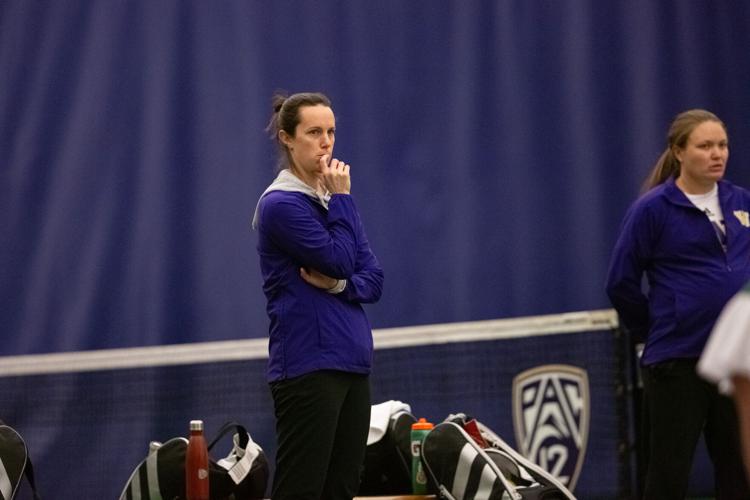 Robin Stephenson has always prioritized the team over the individual. This mindset has led her to find a home in college tennis. 
"I think college athletics is kind of where I always belonged and knew I'd fit in," the UW women's tennis head coach said. "I think my mentality is made for a team sport and it was really cool to be able to do this in a team setting. I love tennis and the individuality of it, but I also think bringing it to a team sport is very special."
Before becoming the head coach of the Huskies, Stephenson had already been involved in tennis throughout her life. Her first experiences with the game came from an early age growing up in Kitchener, Ontario. Stephenson's father was a big tennis fan, inspiring her to get involved with the sport.
As a young athlete who played a variety of sports, Stephenson began to play tennis more seriously around the age of 12. With tennis as her focus, she improved as a player and began to realize the potential opportunities within the sport.
The next step for Stephenson was a choice between becoming a professional player directly out of high school or making the transition to collegiate athletics. She chose the latter, committing to Alabama, where she got to play for Daryl Greenan, a coach she worked with in Canada.
"I just felt like I just needed some more time to develop and really wanted to get that experience," Stephenson said.
As someone who grew up in Kitchener, moving to Tuscaloosa presented an entirely new environment.
"It was a big transition in terms of geography and where I ended up was very different from what I knew growing up, but it was an awesome experience," Stephenson said. "As you know, a huge sports school, I had awesome teammates and the support there was unbelievable."
The experience proved to be the right choice for Stephenson. Although tennis is largely viewed as an individual sport, the team aspect of the college level was, and is, something that Stephenson values greatly. The college experience at Alabama was the opportunity that allowed her to experience this first hand.
Stephenson's college experience at Alabama and being a team player was important to her development as she became one of the best players in the nation, earning All-American status in 2005. As a professional, she maintained aspects of the collegiate experience by becoming an assistant coach at Georgia Tech, going on to help the program win a national championship in 2007.
The professional game showcases the individuality of tennis, with much less focus on any sense of team. However, the opportunity to become an assistant coach with the Yellow Jackets allowed Stephenson to get the best of both worlds. 
"I was still in that environment that I loved, being around a lot of other people training as a group working with the program," Stephenson said.
In addition to benefiting from having a group of supportive teammates, this was the beginning of Stephenson's transition to coaching. Although she was not sure whether or not her future would be in coaching, the opportunity to be involved with college athletics beyond playing garnered her interest. 
"I think those were a couple of my favorite years of my life because I was coaching at a program that was doing incredibly well and I was off chasing my dream at the same time," Stephenson said.
Stephenson later moved on to a leading role at Georgia State. After leading the Panthers to the most successful season in school history, Stephenson became the head coach at Washington. Since taking the role in 2014, Stephenson has guided the Huskies to national prominence. In the past two seasons, the Huskies have gone a combined 32-8, highlighted by being ranked 10th in the country at the conclusion of the 2019 season.
Stephenson's success at the college level can be attributed to her attitude and coaching style, characterized by a calm demeanor and an open relationship with players that emphasizes communication. 
"I think it really makes a difference on the court," Stephenson said. "On matchday, when it comes down to it, they feel they can really trust their coaching staff and what we're saying, and really open up about what's going on with their game and what they're thinking. Tennis is such a mental sport, so we spend a lot of time focusing on that."
As Stephenson stepped off the court to pursue a coaching role, she became more composed. Her calmness in tough situations has also been crucial to the Huskies', displayed in a victory over Kentucky this past season where the UW came back to win following a frustrating loss against Princeton the previous day.
"The last thing you want as a player is your coach to be out of control mentally," junior Vannessa Wong said. "I think she does an incredible job of staying calm and thinking rationally. As a player in the moment, you might lack that rational thought because you're so wrapped up."
Stephenson has echoed that sentiment, reflecting on how her experiences coaching have changed her point of view.
"When it's somebody else [playing], it's a lot easier to have that perspective and to help somebody else through difficult times if you're not emotionally attached to it," Stephenson said. "I am emotionally attached to it, but in a different way."
A large part of Washington's success under Stephenson has been the culture created through recruiting the right players. While it's important to recruit talented tennis players to create a successful program, finding players that share a desire to work for the team and willingness to buy into the culture is just as important.
"One of our team sayings or team values is to 'leave your mark' and to leave everything better than you found it," Stephenson said. "One of the things we look for in people is that they have a lot of pride in playing here and that they care about what the culture is going to be like in three years, five years, or 10 years from now."
Reach reporter Luka Kučan at sports@dailyuw.com. Twitter: @luka_kucan
Like what you're reading? Support high-quality student journalism by donating here.