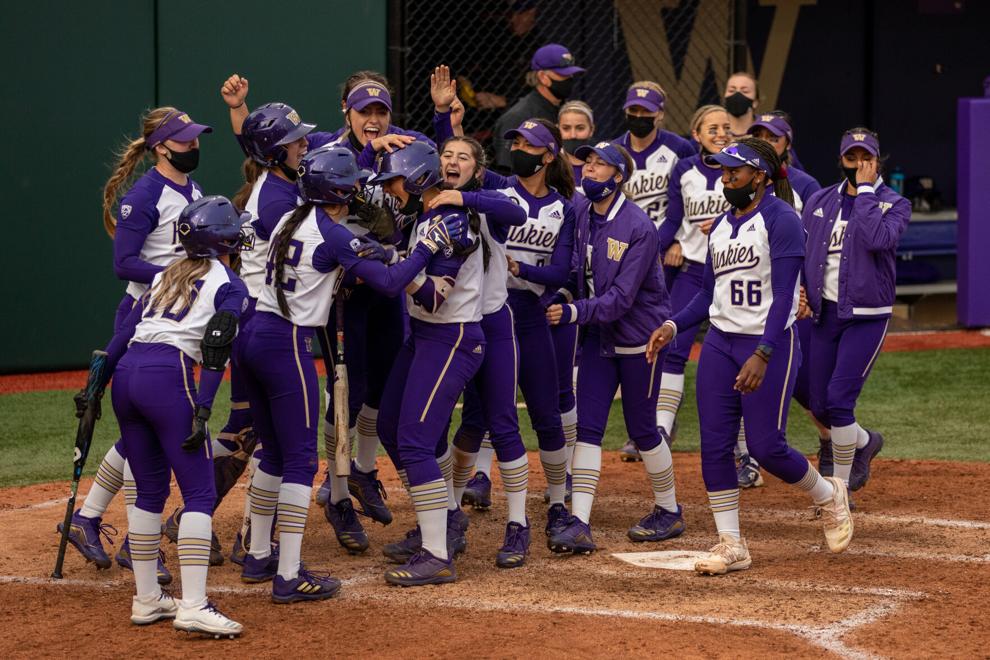 For the fifth straight season, the Washington softball team will host Regionals of the NCAA Softball Tournament.
In the NCAA Selection Show on Sunday evening, the committee dropped the Huskies (41-11, 18-5 Pac-12) down from their No. 5 spot in last week's NFCA Coaches and USA Softball polls to No. 16 for the tournament. Washington's RPI certainly factored into the decision, as the UW dropped to 16th following two losses to Stanford.
With a large drop in the rankings, No. 16 Washington just barely made it inside the top-16 seeds for Regional host sites. It welcomes Seattle U, Portland State, and Michigan starting Friday, May 21 at 7:30 p.m. with a matchup against PSU. The Huskies defeated the Vikings (15-24, 8-10 Big Sky) twice in March during the Husky Classic.
Should it advance past Regionals, Washington will likely travel to face No. 1 Oklahoma, assuming the Sooners win their Regional.
Due to COVID-19, the NCAA selected predetermined sites for Super Regionals, so even if there is an upset, Washington must travel the round for 16 should it advance from the first weekend.
Washington has advanced from the Regional round to the Super Regionals in each of its past three full seasons. In all three of those seasons, the Huskies have reached the Women's College World Series semifinals or better, peaking with a loss in the championship series in 2018.
The Huskies finished in second place in the Pac-12 Conference this season. A series loss to UCLA in late April ultimately doomed the UW, as it finished just shy of a conference title.
Although this year's conference record is an impressive 18-5, Washington has struggled throughout the season with doubleheaders, which will certainly be scheduled a few times this postseason should the team make a deep run.
The Pac-12 adopted a new schedule this season, with two games on day two of the conference series. Game 1 counted toward the conference standings, while Game 2 was considered non-conference, counting only toward conference records if another game was canceled.
Washington dropped four of its seven non-conference games against Pac-12 opponents, including four of its last five. Without the availability of senior pitcher Gabbie Plain in back-to-back games, the Huskies relied on younger arms such as sophomore Kelley Lynch and freshman Sarah Willis.
Lynch struggled, especially late in the season, taking the loss in her final four starts with an ERA of 6.94 during those 11 1/3 innings. Willis was unable to throw many innings, being pulled in the second inning in four of her five final starts, walking multiple batters in each of those games.
Without Taran Alvelo as a complement, Plain has racked up a large number of innings this season, already eclipsing her career high with 200 1/3. If the Huskies want to repeat their success of the 2018 and 2019 seasons, they will need to find a reliable second pitcher, or hope that Plain's arm can work through opposing lineups quickly.
Although pitching might be a glaring concern for Washington, its lineup has been consistent throughout the season.
Eight of Washington's nine regular starters batted over .300 this year, combining for a team average of .327. That number has dropped against tougher pitching in conference play, to a collective .285, but the production has been enough for 4.8 runs per game.
With junior Baylee Klingler's bat, the hottest of any Washington player, head coach Heather Tarr has split the junior between second and third base, slotting in junior SilentRain Espinoza at third and fifth-year senior Taryn Atlee at second depending on the day.
While there may be more questions than answers for the Huskies with postseason play on-deck, there is no questioning their talent.
Washington wins 11 year-end awards from Pac-12, most since 2010
The Pac-12 Conference announced its year-end awards Sunday morning, as Washington took home 11 such honors — its most since 2010, when it earned 13.
Graduate senior Sis Bates won Defensive Player of the Year, Plain won Pitcher of the Year, and both were named to the All-Pac-12 First Team. Klingler and graduate senior Morganne Flores joined the First Team along with Bates and Plain. Bates was also named to the All-Pac-12 Defensive Team.
Junior Sami Reynolds was named All-Pac-12 Second Team, while three Washington players were named to the All-Pac-12 Freshman Team: Jadelyn Allchin, Willis, and Lynch.
Reach Co-Sports Editor Anthony Edwards at sports@dailyuw.com. Twitter: @edwardsanthonyb
Like what you're reading? Support high-quality student journalism by donating here.