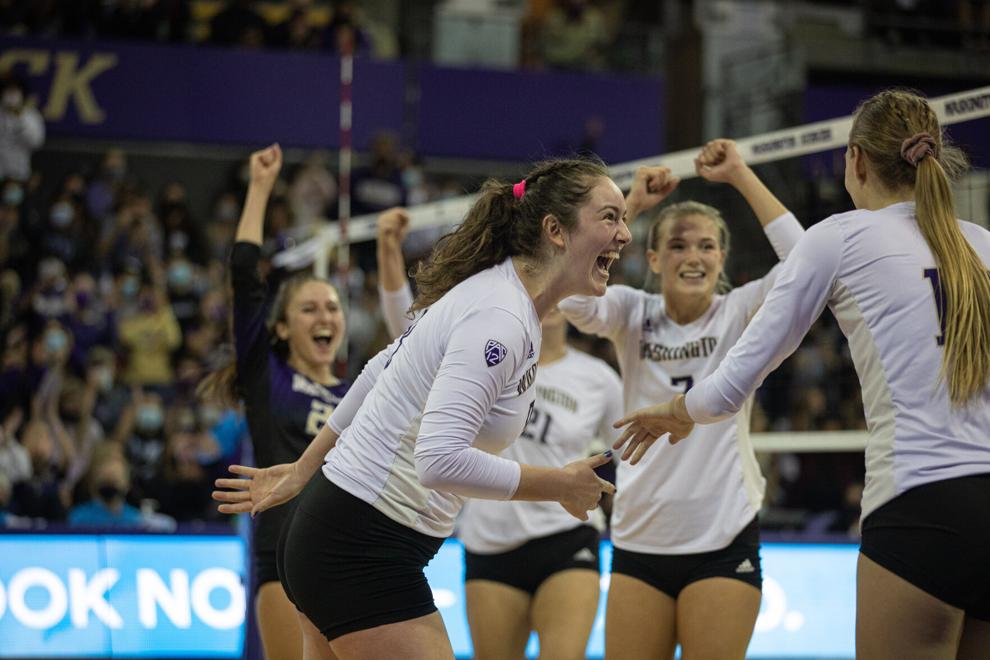 If there's one thing the No. 13 Washington women's volleyball team seems to prove week after week, it's that it's not over until it's over.
After looking nearly out of the game in a poor start, the Huskies (8-3, 1-2 Pac-12) completely turned it around in five-sets for the first time this year. The impressive 3-2 (21-25, 21-25, 25-13, 27-25, 15-12) comeback victory against No. 15 UCLA was Washington's first Pac-12 win of the season.
"Certainly we've always been a team that can chase people down," head coach Keegan Cook said. "It's one of the best feelings. When you give everything you have and get a return."
Washington attempted to find a sturdy set lead early — something Cook noted he wanted to change after last week's losses — and stuck close with UCLA until finding a 21-21 tie. UCLA stepped up to the challenge, scoring four points in a row to take the early 1-0 lead. The Huskies would rue their mistakes in this set, allowing the Bruins (9-2, 2-1 Pac-12) to score six points directly from serves. 
"We've talked about being better from the start, which I thought we were aside from serving," Cook said.
The second set was no different than the first for the UW. The Bruins earned a lead early on in the set and maintained it throughout, finishing with another 25-21 victory and a convincing 2-0 lead.
It was at this moment that the Huskies decided that enough was enough and mounted an incredible comeback. What exactly fired up the Huskies? Maybe it was flashbacks from the loss at Washington State.
"It was a really tough week last week, facing adversity and two matches that were definitely winnable," Cook said. "Because of that, I knew that everyone had everything in this match."
The third set was pure dominance from Washington. With the Dawg Pack backing them, the Huskies rallied to gain footing for the night. It was clear that the Huskies stepped up their defense, as six blocks helped them earn a resounding 25-13 victory. 
But the Bruins weren't going to simply roll over and not put up a fight.
The fourth set was a continuous back and forth between the two teams, trading points until the score was tied at 25-25. Despite UCLA's best efforts to halt Washington's momentum, an ace by junior Claire Hoffman and a kill by freshman Emoni Bush forced a fifth and final set.
Once again, under intense pressure Washington showed that nothing is impossible, as a 15-12 win in the set concluded an astounding story for the Huskies. 
The Huskies would be throwing two parties tonight, one for after the game and the block party that occurred during. With 16 blocks, Washington's highest this season, defense played a crucial part in today's victory. Offense stayed strong as well, as the UW ended the night hitting .273. 
The Huskies hope to continue this momentum in their next game against USC on Oct. 3 at 1 p.m.
Reach reporter Spencer Smith at sports@dailyuw.com. Twitter: @spencerssmith24
Like what you're reading? Support high-quality student journalism by donating here.