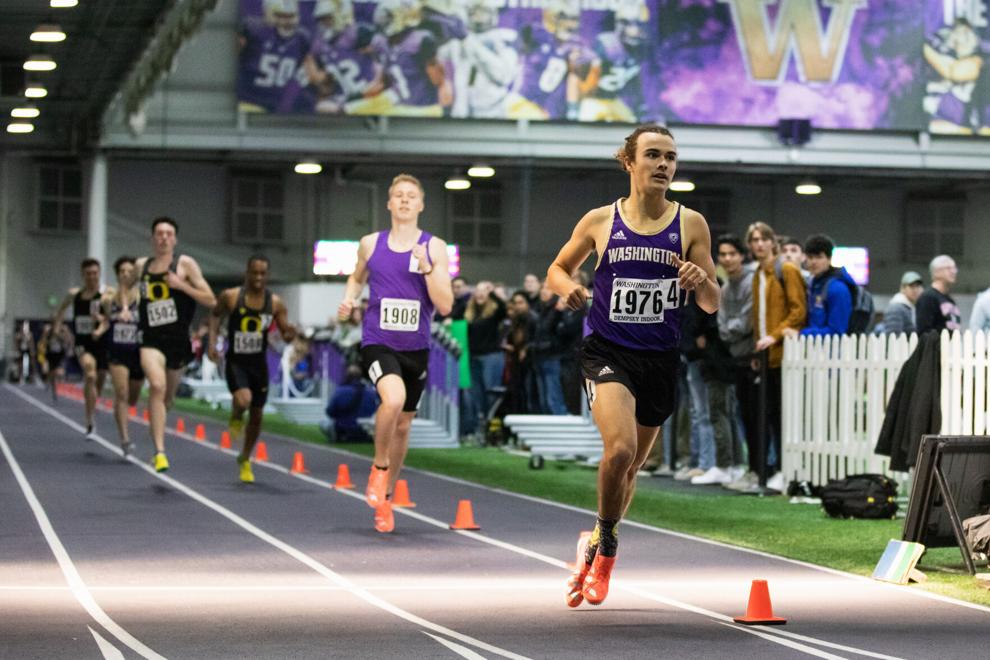 As the Husky Classic on Friday and Saturday draws near, the Washington track and field team is in a very familiar place this season: Dempsey Indoor. 
For many of the athletes, this will be their third meet of the indoor season, with all of the previous meets also coming at Dempsey Indoor. With less traveling, the team as a whole has interacted more with fellow Washington track and field athletes, but also with opposing athletes. 
"We had to create our own atmosphere amongst our team, and so we've had a unique relationship with Washington State," track and field head coach Andy Powell said. "They've kind of been one of the key teams that have come to our indoor meets at least and we've kind of instead of a rivalry, it's been almost been more of a bond with them and the coaches and athletes, just to try to work together to get stuff done."
With the group spending so much time together as a whole team, Powell feels the Huskies might be as close to one another as ever.
This theme of getting stuff done together will continue for Washington, as they look to have as many athletes qualify for the Indoor Championships as possible, with the Husky Classic being the last chance to qualify. 
One group which has already been performing in peak form from the start has been the throwers. 
In shot put, both junior Jonah Wilson and freshman Sam Van Peursem are ranked in the top 20 in the NCAA men's shot put throws. As for the weight throw, freshman star Jayden White is currently ranked 16th in the NCAA men's weight throw.
"It'll be the last opportunity for a lot of people," Powell said. "That's always our kind of theme, try to get as many people qualified for the indoor meet. For others it's just to get a little bit better at this indoor and then kind of propel them into the outdoor season."
Meanwhile, two runners who'll be trying to qualify in their event will be Andrew Jordan and Sam Tanner.
Powell says Jordan will be looking to qualify in the 3k race, while Tanner will be looking to qualify in the mile run. Neither Jordan nor Tanner have raced in that event at a UW meet so far this year. 
Jordan's current PR at the 3k is 7 minutes, 51.29 seconds — if he were to run that again, it would put him at the ninth fastest time in the NCAA this year. As for Tanner, his current PR at the mile is 3 minutes, 59.1 seconds, which would put him at 24th in the NCAA on the year. 
This season has definitely been unique so far, with the team traveling very little and constantly racing against the same teams at each event at Washington State and BYU. Powell's biggest takeaway from all this has simply been the excitement that the team has created from within. 
"The willingness and excitement for everyone to compete, even though it's just been at home —  I think everyone's just really rallied around each other and just done a good job of getting better, not having the normal fall or even winter break and just seeing the majority of our team PRing and getting better every meet has been really exciting," Powell said.
The Husky Classic at Dempsey Indoor will begin Friday, Feb. 26.
Reach reporter Nathan Mathisen at sports@dailyuw.com. Twitter: @NathanMathisen
Like what you're reading? Support high-quality student journalism by donating here.