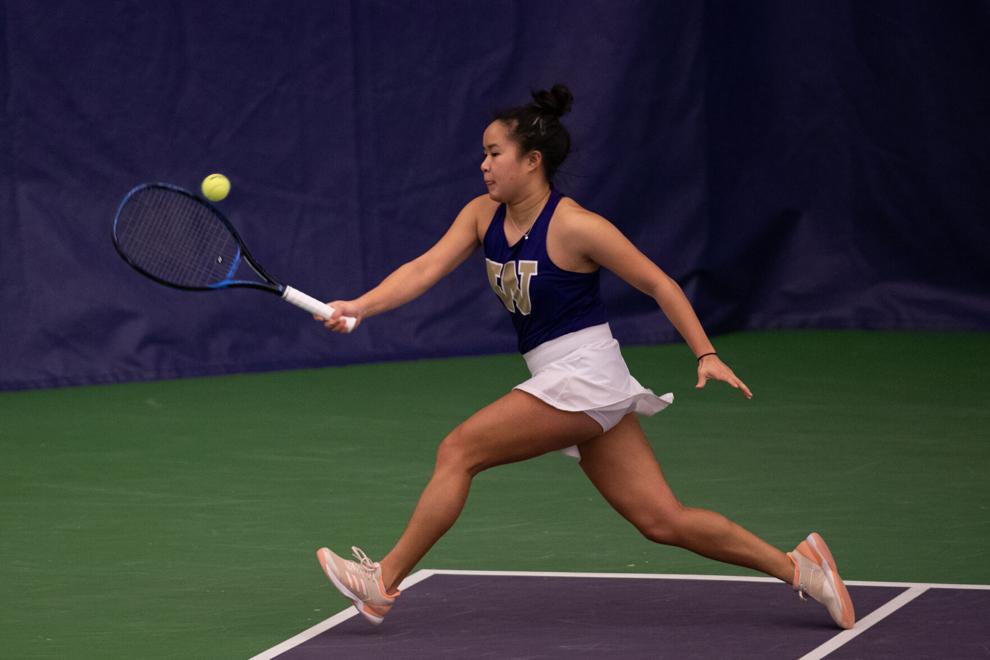 After an offseason like no other, Washington women's tennis captain Vanessa Wong found herself down two games to none in the first 10 minutes of her senior season. She then won 18 of her next 22 sets, headlining Washington's decisive season-opening win against Idaho.
"People don't understand what it's like, going from playing all the time to not playing for 11 months," Wong said. "For sure I think it was a little rusty, just because it's been so long, but it just feels good."
Wong entered the match against Idaho (0-1) with a career singles record of 75-22 in three years of high-caliber tennis. Before COVID-19 safety protocols forced the untimely cancellation of the 2019 season, she'd put together a 20-5 singles record and ranked #82 in Division I competition.
This season, Wong looks to finish off one of the more prolific careers in the annals of UW tennis. And Saturday afternoon's win was a good place to start.
"She's played at the top of our lineup for a few years now and has the confidence to play with anybody in the country," UW women's tennis head coach Robin Stephenson said. "This was a good start for her and, yeah, expecting some big things from her this year."
For a couple minutes, though, it looked as though the season might start on a disastrous note.
In an 0-2 hole to begin the first set, Wong and her doubles partner, junior Sedona Gallagher, regained their footing on the hardcourt at Nordstrom Tennis Center. Encouraged by the cheers of their teammates, the duo rallied to a 6-4 victory, completing a clean sweep in the doubles segment for the Huskies (1-0). 
From that point forward, it was just business as usual. Having brushed aside the rust of an elongated offseason, Wong retook the top court for her singles match against Idaho junior Laura Spataro.
Methodically, Wong pulled Spataro around the court on a string, painting all four corners of the court with a nasty barrage of drop shots and forehand winners. She ultimately took the first set 6-0 and led 4-0 in the second before dropping two close games.
At that point, however, Wong had effectively sealed the deal and finished off the match with a commanding 6-0, 6-2 victory. At one point, after finally eking out a game in the second set, Spataro rolled her eyes and pumped her fist in exasperation, calling out, "One game, just one game." 
While her opponent found meek relief in just winning a single game, Wong also expressed feelings of gratitude after the match — a sentiment that helped propel her to victory throughout the competition.
"We talked as a team, just being grateful and focusing on the present — what we can control," Wong said. "I think that's how we pulled through in that doubles and then brought it into singles, too. There's a lot to take away from this match. Battling through the rust at the beginning I think is something we can take away."
As the Huskies continue deeper into the season, Wong's precision and consistency on the court should serve as a motivator for the rest of a youthful, relatively untested roster. 
On Sunday at 10 a.m., they have an opportunity to cap off a successful opening weekend with another match against Idaho.
Reach senior staff reporter Nick Mendro at sports@dailyuw.com. Twitter: @m_mendro
Like what you're reading? Support high-quality student journalism by donating here.