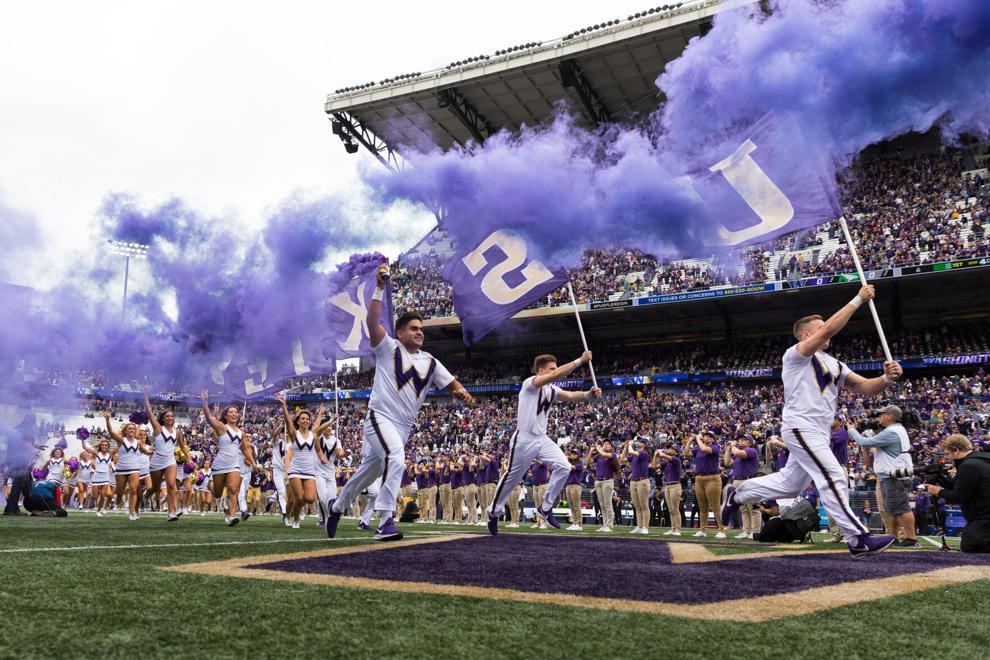 Football in a pandemic was always going to be different. 
No fans were in the stands Saturday, and there was no tailgating or sailgating before the game. But fans weren't the only thing noticeably absent Saturday when Washington kicked off its season against Oregon State: Head cheer coach Kenny Dow says the UW spirit team will not be attending any games for the foreseeable future .
"All of our activation will be done virtually," Dow said. "We currently won't be performing at any in-person events."
This news, while unfortunate for the spectators at home, is devastating for the athletes themselves, who had committed themselves to providing energy and entertainment for the fans on Montlake. Never did they realize, even upon the announcement of the initial nationwide lockdown last spring, that their next season could be stripped away too.
In fact, given that their past season was essentially over by the time the 2020 Pac-12 Men's Basketball tournament in Las Vegas was canceled, the initial loss didn't seem overwhelming at first.
For current senior cheerleader Isabelle Miller, who had broken her hand just prior to the cancellation, the news initially even provided a hint of solace.
"Part of me was immediately relieved in a sense, when the first announcement of an 'early spring break' came due to the first few cases of COVID," Miller said. "It meant I would get a chance to heal my hand a bit more and hopefully perform [strongly] my senior year of coed tryouts.
"Little did I know, this lengthened spring break would end up with nearly my entire senior year of academics and cheer being online."
The current cheer seniors aren't the only ones left disappointed. The past years' seniors, while they may have been fortunate enough to participate in a near-entire season, still suffered some of the disappointment current cheerleaders are feeling, Dow explained.
"The toughest part was not being able to celebrate them in person with our end-of-year banquet and with graduation," Dow said. "I told them that we will get through this time together, and that we will do all we can to support them and make sure they have a successful spring term."
But the pandemic's impact on the cheer team did not end there. Traditionally, the team recruits new talent by attending a variety of cheer and dance combines across the country, including both high school state and national championships from Washington to Florida. This year, those events haven't been realistic or feasible.
"Due to the pandemic, all of our recruiting has been done virtually by hosting info sessions via Zoom, and we will be hosting virtual clinics later this winter," Dow said. 
Miller says the virtual recruiting process has made it difficult for the team to develop the bond and cohesion that they typically work so hard to establish, as well.
"UW Spirit — while known for being the group of energetic individuals on the sidelines and in the crowd for UW Athletics — is also known for our sense of family," Miller said. "Each year brings a new group of talented and funny individuals, and it was challenging to begin the season having not met everyone in person."
And while the football team has been able to return to in-person practices, generating a sense of normalcy, the cheer team is still working in a strictly virtual manner.
"We moved to virtual practices in May, where we spent a month doing team-building exercises within our program for the remainder of spring term," Dow said. "With the new team, we have been doing virtual practices twice a week since the middle of August."
In all, while Dawgs fans who have been anxiously awaiting the opportunity to once again marvel over the talents of the likes of Elijah Molden and Cade Otton, Husky football games will certainly feel different in the absence of our spirit squad.
However, members of the cheer team have managed to take a positive outlook on the overwhelmingly negative situation that they are confronted with.
"While I am saddened the pandemic has taken over like it has, it makes me look back and appreciate each and every moment I have gotten through cheer," Miller said.
Reach reporter James Price at sports@dailyuw.com. Twitter: @_jamesprice_
Like what you're reading? Support high quality student journalism by donating here.