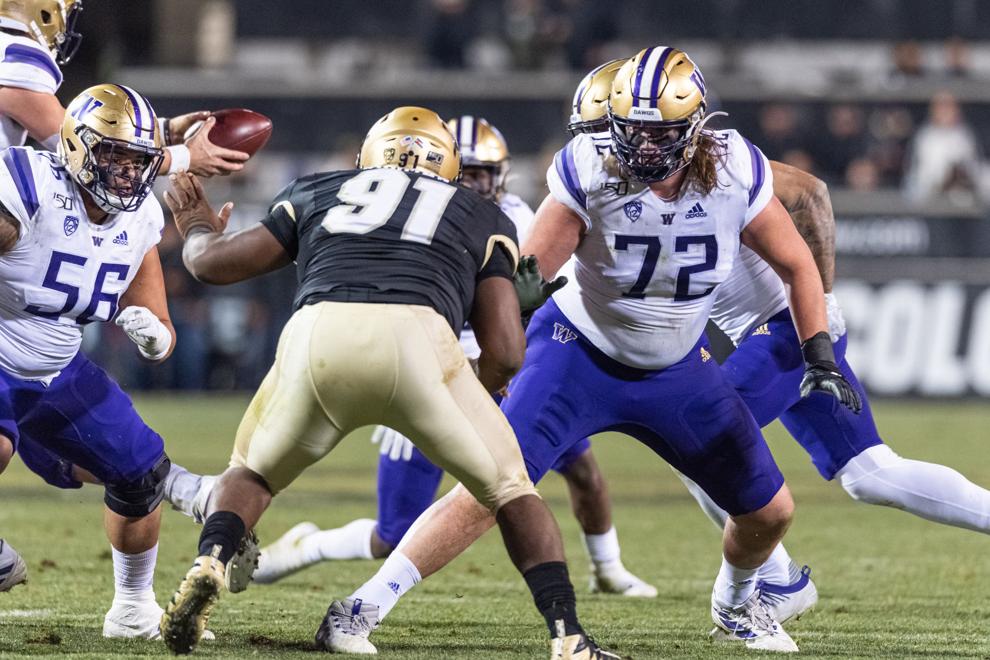 Trey Adams' journey with the Washington football team has been anything but easy. 
It started out with a bang in 2015. Adams was the first true freshman to start on the offensive line in three years. He started in nine of the 10 games he played that season and won the in-team award for Washington's most outstanding freshman. The next season he started all 14 games and was named to the first-team All-Pac-12 and second-team All-American teams.
But soon things came grinding to a halt. First, a torn ACL took him out halfway through the 2017 season. Then, surgery to repair two bulging discs in his back took him out for most of 2018. 
"He's shown that he can persevere through a lot of different stuff," offensive line coach Scott Huff said. "I don't think people realize the pressure that's on a guy like him, the expectations, and then the injury, then to come back from the injury, and then that didn't go well. This guy's a stud. He's gone through, in a year and a half, more than most people go through in their life."
Adams was the UW's star offensive lineman, and was named a preseason All-American in 2018 despite missing the back half of the previous season with an injury. There was a good chance he could leave early after his junior season and declare for the NFL draft. He was predicted to go as high as the first round.
The surgery changed that. He redshirted that season, playing in only the final three games and ending any chances of getting drafted in the early rounds. 
While Washington missed Adams, the redshirt meant that this year, his senior season, the Huskies would have five returning starters on the offensive line. It gave his replacement, Jared Hilbers, a chance to get starting experience beside returning Adams for one more season. 
Once Adams was returned, he fit right back in on the left side. 
"He's definitely come back to his old self after being hurt for so long," junior offensive lineman Luke Wattenberg said. "It's really good to see him back the way he was."
Now that Adams has one more Apple Cup and one more bowl game, he's reflecting on how far he's come since his freshman year.
"Hopefully better looking ... I've become more of a leader. I've definitely gotten better at football," he said.
And he's savoring every moment that he has left. He's imagining that final Apple Cup game and what it means after spending five years at Washington.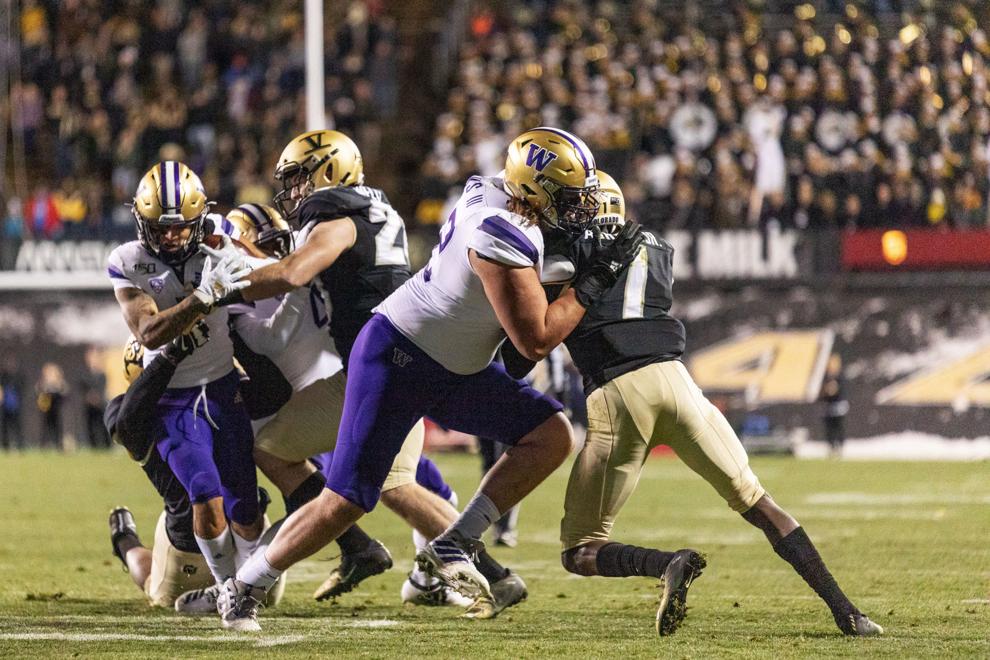 "I think about running out of the tunnel to my family with the flowers, just what that's going to be like," Adams said. "The last time playing here will definitely be special for me, just because I've been here for frickin' 10 years, it feels like."
Most importantly, does Adams still feel good about all five years, despite everything?
"Hell yeah," he said. 
This team isn't quite like the one of his sophomore year, when they made it to the College Football Playoff, or even the Rose Bowl team last year, but that doesn't mean Adams is disappointed with the way things are wrapping up.
"This year, this team, even though we haven't played as well as we've wanted to, it's still special," he said. "We're going to go to a sweet bowl game, these dudes are going to be lifelong friends. You make so many good buddies and you work so hard, that just because you don't win, you can't be down on yourself. It's all about the experience."
Reach Engagement Editor Hailey Robinson at sports@dailyuw.com. Twitter: @haileyarobin
Like what you're reading? Support high-quality student journalism by donating here.