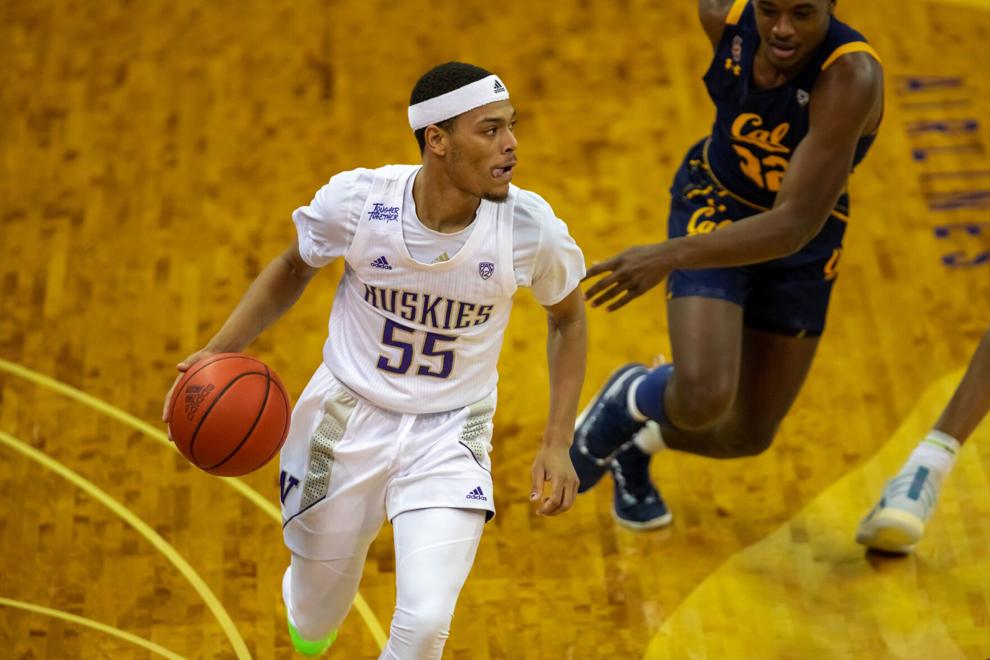 In what is potentially his final game on Montlake, Quade Green helped propel the Washington men's basketball team to a 62-51 win against California. 
The Huskies played one of their most complete games of the year, and apart from late foul trouble, and a few second-half runs, held off the Golden Bears for a convincing senior night win at Alaska Airlines Arena Saturday, Feb. 20. 
Washington's first basket came from a surprising source Saturday night. Starting his first career game in his final game on Montlake, senior walk-on Travis Rice came off a screen and buried a three-pointer on Washington's first possession, sending the bench into a flurry of cheers before Rice was subbed out. 
While Rice's three-pointer provided an emotional boost for the Huskies (5-17, 4-12 Pac-12), neither team was able to create much separation in the first ten minutes. Washington got three-pointers from junior Jamal Bey and senior Hameir Wright, but Cal stuck around, getting four early points from junior Grant Anticevich. 
The Huskies' offense finally began to heat up near the five minute mark though. With junior Nate Roberts in foul trouble — the UW picked up 12 personal fouls in the first half — Washington went small, bringing in junior J'Raan Brooks at center and junior Cole Bajema at power forward. 
The move worked, and a three-pointer from junior Erik Stevenson kicked off an 8-0 Washington run which put it up 10 points with 10 minutes left, and helped the Huskies head into halftime with a 30-23 lead against the Golden Bears (8-17, 3-15 Pac-12). 
Washington's momentum continued out of the break. While the Huskies struggled to find their range from behind the arc, they attacked the paint, with Stevenson, Bey, and Green scoring in the paint to extend Washington's lead back to double-digits four minutes into the second half. 
Cal stuck around though. An 8-0 Bears run with 13 minutes remaining halved the deficit to six points, free throws from sophomore Kuany Kuany put Cal down just three near the nine-minute mark. 
Washington re-established its lead with five minutes to go, but fouls and Cal free throws kept the Bears in the game. Washington was called for 10 personal fouls in the second half, making it 22 for the game and giving Cal 27 free throws, with the Bears hitting 59.3% of them.   
But Washington's starters managed to hold the Bears off. Green and Bey led the team in scoring with 17 and 15 respectively. The latter also led the team with nine rebounds, and had two blocks and a steal to finish a team-high plus-15. Green added six rebounds and three assists to his game, and finished with just one turnover.  Washington also clamped down on Cal's Matt Bradley, who scored 13 points on 3-of-16 shooting. 
The Huskies will prepare for their final road trip of the conference season next week, when the team heads to the desert to take on the Arizona schools. Washington will begin the week with a makeup game against Arizona State Tuesday, Feb. 23 for a 5 p.m. tipoff. 
Reach Sports Editor Andy Yamashita at sports@dailyuw.com. Twitter: @ANYamashita
Like what you're reading? Support high-quality student journalism by donating here.