During his time at Washington, Matt Anger has seen it all. 
From Grand Slam wins, his induction into the ITF Hall of Fame, coaching at the UW, and nearly everything in between, men's tennis head coach Matt Anger's professional and coaching career has left an undeniable legacy on Washington's tennis program during the past two and a half decades. 
Anger's latest milestone of 400 career wins as head coach at Washington is simply another addition to his list of accomplishments. But he explains his success modestly, noting that wins come with longevity, passion, and excitement for every season and match, along with each player's contribution. Anger says that's what has gotten him to where he is now: the winningest coach in Washington history. 
"They are the ones actually out there hitting the ball," Anger said. "I've definitely hit a few balls in my life, but in those 400 wins, I didn't hit one shot."
A few is a massive understatement. 
Before the age of 30, Anger won the 1981 Wimbledon Boys' Single title, made it to the final 16 of both Wimbledon and the U.S. Open, was a three-time All-American at his alma mater USC, and had been ranked No. 23 in the world at the height of his playing career. He finished playing on the ATP pro tour in 1991. 
After more than a decade of playing at some of the highest levels in professional tennis, Anger transitioned to coaching, taking positions as the assistant coach at both Washington for the '92-'93 season and USC for the '93-'94 season, in which he helped the Trojans win a national championship.
Following his lone season at USC, Anger received an offer to become the head coach at Washington. 
"The athletic director called me up," Anger said. "He asked if I'd be interested in coming back and of course I was." 
A perfect blend of timing, growing up in a family of Washington fans, and seeing potential in the UW program made it an easy decision: Anger accepted the offer. Since 1995, he has been the head of the men's tennis team, leading hundreds of players through their athletic and academic careers. 
It's easy to list the stats and numbers that explain the impact Anger has on the men's tennis program, but according to former Washington men's tennis player Jeremy Berman, his coaching goes far beyond the court. 
"You are going to be playing for a coach who is just as excited about tennis after 400 wins and 25 years of coaching," Berman, who played for Anger from 1996-2001, said. "He's just as excited about tennis today as he ever has been. He loves his players like his children and he would do anything for them. The relationships that he has developed with players over the years is why he keeps doing this I'm sure."
"As a player, if you are willing to work hard and are motivated, having a coach like Matt, you just have a really unique opportunity to become a better player and become a better person."
Anger's transition from being one the best tennis players in the world to coaching has given him the experience, patience, and knowledge to build a program not only on wins, awards, and rankings, but also one that prepares and motivates athletes to strive for success and fulfillment beyond their collegiate careers. 
"You can improve any aspect of your game just as you can improve any aspect of your life," Anger said. "When guys can know that, they are going to do well with whatever they do."
Sophomore Jack Pulliam, who transferred to Washington from Texas A&M last year, sees Anger's goal of creating well-rounded players who not only succeed on the men's tennis team, but also after they leave the program. 
"I think Coach Anger's goal for his players when they leave the program is to be ready to attack living in the real world," Pulliam said. "He wants us to leave the program as mature men who are prepared for whatever they chose to do in their next step in life."
As milestone wins and seasons have passed, the head coach now faces a challenge he has not met before: dealing with the implications of the novel coronavirus. 
Anger's 200th win was a dramatic victory against traditional powerhouse UCLA. His 300th was a key victory in the NCAA tournament against North Carolina State. His 400th win was the last match the team played in the 2019-20 season before it was canceled.
Despite the uncertainty of when the team will be able to be together again, Anger's obvious love for the game and his players remains all the same.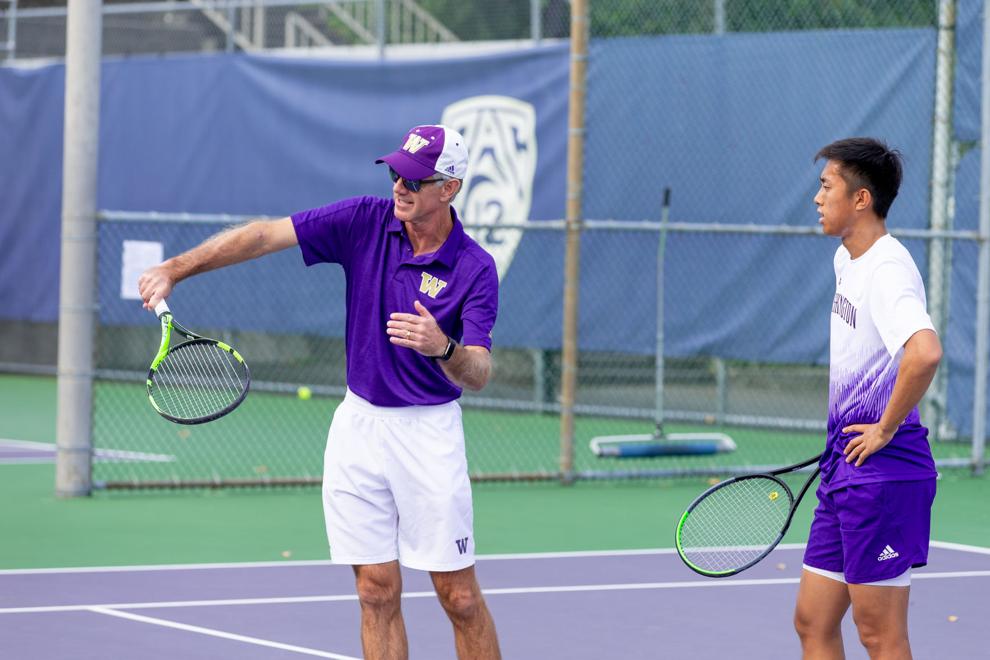 "My old joke is that the guys have given me grey hair and yet they are the fountain of youth," Anger said. "Every team each year is different, but the enthusiasm and excitement of a season, while being different, is always there."
His 400th win is not just a number. Rather, it is a symbol of his commitment to improve every season, support his players in whatever way possible, and his lifelong passion for tennis. 
Reach reporter Sydney Nash at sports@dailyuw.com. Twitter: @sydneym_nash
Like what you're reading? Support high-quality student journalism by donating here.